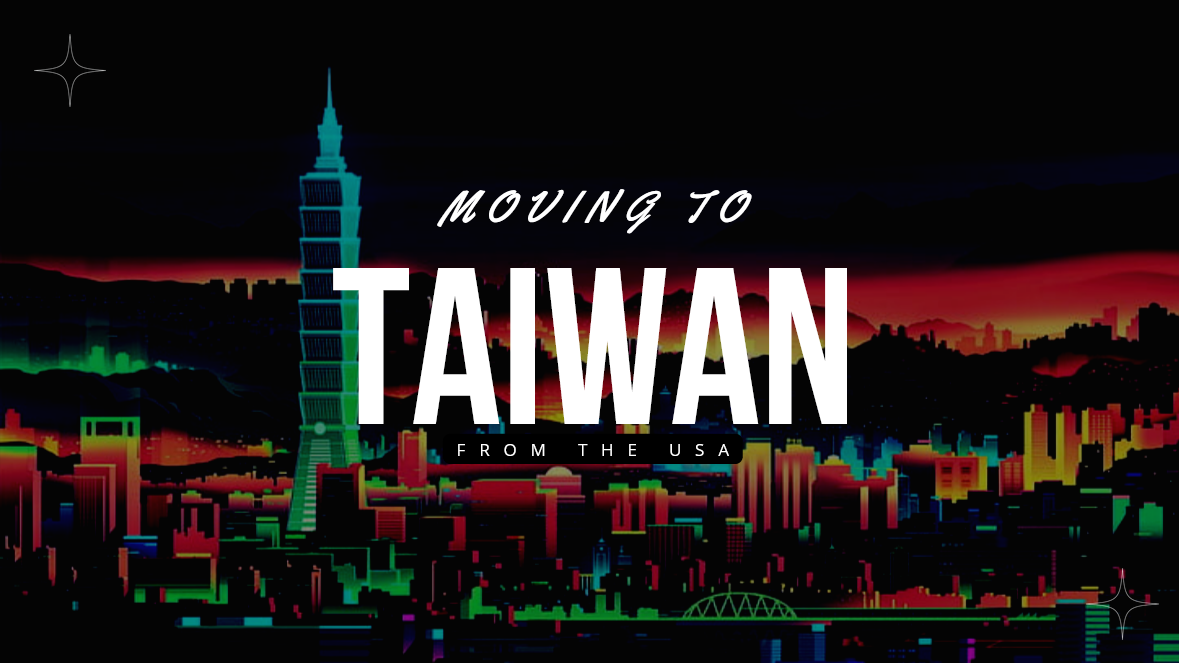 Moving to Taiwan From the US – How to move to Taiwan from the US

The island country of Taiwan has a vibrant cultural and spiritual heritage, fantastic food, world-class hot springs, and stunning scenery.
Taipei 101, a towering skyscraper with the same number of floors as its name, is a well-known landmark in Taiwan's capital city of Taipei. The building houses a shopping mall, dining options, offices, and an observation deck on the 89th floor with breathtaking city views, especially at night.
Moving to Taiwan from the US is certain to be a cultural shock that's both amazing and inspiring.
How to Move to Taiwan from the US

Keeping things organized and manageable when moving to Tawan from the US is imperative. There are numerous tasks to perform and keep track of throughout the process. Create a digital or written international moving checklist, including the things you'll need to accomplish—Then, break each task down into smaller, manageable steps.
First and foremost, contact a trusted international relocation specialist to help you get started on your journey.

What is the Process for Moving to Taiwan from the US?
There's plenty to do before packing your bags for Taiwan. The more you can accomplish before you arrive in the country, the easier your transition will be. Follow these guidelines for moving to Taiwan from the US.
Obtain a visa: You'll need a visa to enter Taiwan, which you can apply for at a Taiwanese embassy or consulate in the US. The type of visa you need depends on the purpose of your stay, such as study, work, or temporary living.
Arrange your housing: Before arriving in Taiwan, identifying a place to stay is a good idea, whether as simple as a hotel or finding an apartment or other accommodation.
Get a local SIM card and bank account: To stay connected and manage your finances, you will need a local SIM card for your phone shortly after you arrive in the country.
Register with local authorities: After you arrive in Taiwan, register with local authorities such as the police or immigration office as necessary by law.
Register for National Health Insurance: You must enroll in the National Health Insurance program within 45 days of arrival.
Note that these requirements may change, and it is always best to check with the Taiwanese government or a local immigration consultant for up-to-date information.
Top Moving Companies to Taiwan
Here is a table of the top International Movers to Taiwan from the US. Ratings are based on Years in Business, Reputation, and Customer Reviews.
How Long Can I Stay in Taiwan?
As a U.S. passport holder, you can stay in Taiwan for up to 90 days, provided your passport remains valid for the entire length of your stay. Longer stays require you to apply for temporary or permanent residency.
Work Visa
A Taiwanese work visa is necessary to work legally in Taiwan. In addition to a work visa, you must also secure a Taiwanese work permit and a residency permit to be eligible for employment. Your work visa application can only be submitted after you have received a job offer from an employer in the country.
Retirees
Taiwan does not currently offer a retirement visa. However, if that's your end goal, foreign national retirees who want to settle in Taiwan for the long term can apply for one of several non-retirement visas.
Student
You'll have a few choices if you'd like to apply for a student visa. The one you choose will depend on the purpose of your studying. You'll need to start the process online and then apply to a specific school. An acceptance letter is required as part of the visa application process.
Digital nomads
Taiwan doesn't offer a digital nomad visa at this time. However, Taiwan does provide various other permits that'll give you a chance to stay long-term.

Getting Your Stuff to Taiwan
You have a couple of options when deciding how to get your stuff to Taiwan. Airfreight is the way to go if you want your items to arrive quickly. But sea freight is a more budget-friendly option if you want to save a few bucks.
How do I Ship My Household Items to Taiwan?
The number of possessions you plan to take to Taiwan, how much moving time you need, and your budget are just a couple of the more crucial determinations to consider when making your move.
Expect ocean freight moving to take up to 50 to 54 days to complete while sending your belongings by air can take as little as three to eight days.
Before choosing, remember that the best international movers are on your team and can guide you through each process to ensure your decision is the best for your situation.
Whichever way you end up going, you may also consider temporary or long-term storage at your destination or in your former location for some of your belongings. Employing storage solutions is common for people moving long distances to keep everything simple and organized.

How Much Does it Cost to Move My Belongings to Taiwan?
Moving overseas typically costs between $7,200 and $24,000. The cost of moving to Taiwan depends on how much you take and how fast you need it to get there.
How Can I Save Money Moving to Taiwan?
Moving to Taiwan from the US is a significant investment of both time and money. However, you can reduce the stress on your moving budget by following a few practical tips and tricks.
Less is best. Packing light is essential for lowering the cost of any move and doubly so when moving internationally. Purging and downsizing is the most effective way to conquer a limited moving budget.
Your mover should offer professional packing services. However, they should also offer you the opportunity to save money by packing your own possessions.
Unloading your own container when you arrive in Taiwan can save significant funds over having your mover perform the task.

If your moving date is flexible, let your mover know in exchange for a discounted rate.

Use an international moving cost calculator to discover where else you can save a few dollars.

Compare individual moving companies based on price and the services they can provide. Be wary of extremely low offers, as they seldom reflect the actual cost of your move.

Don't be shy about asking for discounts from your mover. A good moving company understands that flexibility on its part is good for business.
Read Here: 10 Brilliant ways to save money on an overseas move
Can I Ship my Car to Taiwan?
You can ship your car overseas to Taiwan. However, bringing one from the US can be tricky. Be sure to give yourself plenty of time to gather the necessary documents. Your car must be produced in compliance with Taiwan regulations to pass the mandatory government inspection successfully. The key requirements for automobiles aren't generally found in US autos. The key requirements include the following items.
EUR 4 emissions standards compliance

Left-hand drive configuration

A metric speedometer
Read Here: Best International Car Shipping Companies of the Year

Navigating Taiwanese Customs
Bringing your household goods to Taiwan can be a smooth process with proper preparation. Make sure to have a detailed inventory list and necessary documents, such as a bill of lading or proof of ownership.
One of the services your international moving company provides as part of your move is assisting you with the paperwork and compliance requirements for clearing Taiwanese customs.
If you have any items that may require special clearance, be sure to talk that over with your moving company. With these steps, you can expect a smooth customs process and a successful transition to your new home in Taiwan.
Should I get moving insurance before moving to Taiwan?
Moving insurance is a wise investment when moving abroad as it provides protection for your belongings during transit, and provides peace of mind knowing that your belongings are safe and a plan is in place in case of any unforeseen circumstances.
Purchasing additional international or marine insurance costs an average of 3% of your shipment's declared value.
Read Here: Do you need International Shipping Insurance?
Can I Take My Pets to Taiwan?
Yes, you can take your furry friend on the trip after fulfilling a few requirements before you leave. Your pet must be at least 3 months old and not pregnant. It must be microchipped and vaccinated against rabies at least one month before your trip, and a blood sample must be taken and sent to a lab for a rabies antibody test at least six months earlier. Additionally, you must quarantine your pet for 20 days leading up to the day you leave, and you must receive a pet permit through the BAPHIQ animal quarantine authority.
Know more Here: Tips for moving overseas with Animals
How Much Does it Cost to Live in Taiwan?
The cost of living in Taiwan varies depending on location, lifestyle, and personal spending habits. However, as a US citizen, you can live comfortably in Taiwan on an average budget of around $1,500 to $2,500 per month, which covers housing, food, transportation, and entertainment expenses. Compared to many Western countries, the cost of living in Taiwan is relatively low, making it an attractive destination for expatriates looking for a high standard of living at a lower cost.
How Much Money Should I Take to Taiwan?
Expect expenses such as the cost of moving, rental deposits and monthly rent, food, transportation, insurance, and entertainment. A general guideline is to aim for three to six months of living expenses to take with you to Taiwan.
Read Here: Money Saving Tips when moving Overseas

Living in Taiwan
Taiwan offers delicious cuisine, friendly locals, and affordable living. Its efficient public transportation system makes exploring the bustling cities and beautiful natural surroundings easy. Its blend of urban excitement and natural beauty makes it a great place to call home.
Finding a Place to Live in Taiwan when moving

Finding a place to live in Taiwan can be an exciting experience. There really are no poor choices of places to live. Research different areas and consider factors such as cost of living, access to public transportation, and proximity to schools and other amenities, depending on your needs. Numerous resources, such as online forums and local real estate agents, are available to help you find the perfect place to call your new home.
Finding a Job in Taiwan
Having a booming economy and a rich cultural heritage, Taiwan offers many opportunities for job seekers. However, knowing the necessary steps and requirements to secure employment is essential. Obtaining a work visa and having relevant qualifications and language skills are crucial. Networking and researching potential employers can also greatly increase your chances of success.
Getting Around in Taiwan after relocating

Taiwan offers a variety of options for getting around the country, including public transportation, such as buses and trains, or you can use taxis, scooters, or car rentals. The most convenient and efficient way to travel between cities is by high-speed rail, while the Taipei metro system is an excellent option for getting around the capital city.
Taxis are widely available and affordable, while scooters are popular options for short trips and navigating congested city streets. Car rental is also an option, but traffic in cities can be heavy, so a good understanding of local driving rules and customs is necessary. Regardless of your mode of transportation, getting around Taiwan is relatively easy and convenient.
Know More Here: How to find the Best International Movers
Healthcare in Taiwan
Taiwan's healthcare system is considered one of the best in the world and is highly accessible to foreigners. The government provides universal health coverage to all citizens, and many high-quality hospitals and clinics are available.
Healthcare is affordable, and services are efficient and prompt. English is widely spoken in the medical industry, and many healthcare professionals have received international training, making it easy for foreigners to navigate the system.
Additionally, Taiwan is known for its cutting-edge medical technology and innovative medical practices, making it a destination for medical tourism.
Understanding Education in Taiwan when moving

Higher education in Taiwan is highly regarded and offers a wide range of programs at universities and colleges. It's not free, but it is relatively affordable compared to many other countries, including the United States.
Tuition fees vary depending on the institution and the program, but most students can expect to pay between $2,000 to $5,000 per year. Additionally, the cost of living in Taiwan is lower than in the US, making it an attractive option for international students looking to pursue higher education.
Finding an International Moving Company to Taiwan
Finding the right international moving company for you is crucial for making the adventure to your new home as seamless and straightforward as possible. Ensure your mover is up to the task by meeting the following criteria.
The company is listed and in compliance with FMCSA
Listed and in compliance with the Federal Maritime Commission

Is appropriately licensed and insured

Offer additional moving insurance protection

Provides verifiable referrals from past customers
Get an International Moving Quote to Taiwan
To get an international moving quote to Taiwan, start by researching reputable moving companies. Provide accurate information about the amount and type of items you plan to move and your desired move dates. Consider factors such as insurance, customs clearance, and storage options, and ask your candidate company about its experience in moving to Taiwan—Then, contact your international moving company and request a moving quote today.
More about International Van Lines