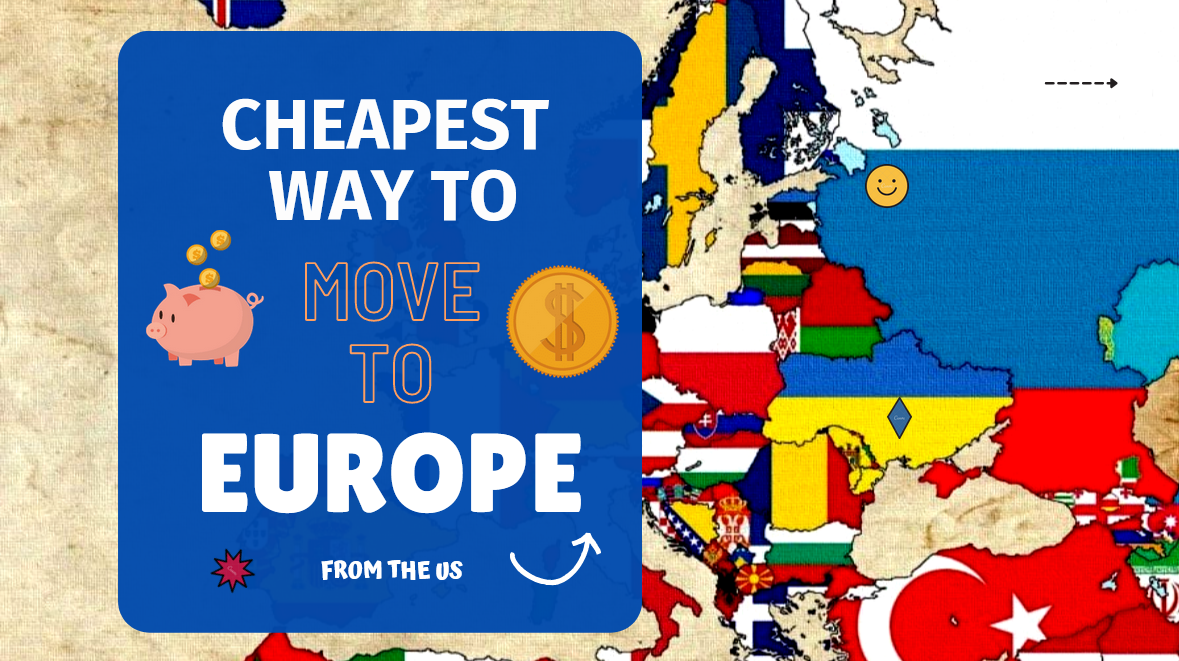 The cheapest way to move to Europe – Useful tips that will help you move to Europe more efficiently.

Shipping items to Europe can be daunting and expensive, especially if you need to familiarize yourself with the various options. This article will explore the cheapest ways to ship stuff to Europe while providing essential tips and tricks to save money and ensure your items reach their destination safely.
Whether you're a small business owner, an online seller, or moving overseas with household goods, these strategies will help you save time and money on your shipment.
Read Here: How to Save Money when Moving Overseas
Let's start with the basics of moving to Europe

Understanding your shipping options to Europe

Understanding your shipping options is the best way to find the cheapest way to ship stuff to Europe. Below is an overview of the different shipping options you can choose from based on the size and weight of your shipment.
For large shipments: If you're moving household goods, pallets, or freight, ocean shipping is the cheapest route. You can choose from a container or consolidated shipping services.
For speed: If you're hurrying to get your stuff, you can look into air freight. Air shipping is the quickest mode of transportation, but it can get costly. Air freight can be up to three times the cost of ocean shipping.
For small shipments: International parcel shipping is the best option to send a few boxes to Europe from the US. Popular companies like USPS, FedEx, and DHL offer international parcel shipping services. You can also request a rate from an international moving company which typically offers a discount.
Read Here: More Info on Air Freight Services

Who are the cheapest international movers?
The best and least expensive international moving companies that offer moving services to Europe are International Van Lines, Allied Van Lines, Atlas Van Lines, North American Van Lines, and United Van Lines.
Each company listed has experience with shipping stuff to Europe from the US. They all offer ocean freight, air freight, and consolidation services. Additionally, they maintain an excellent reputation with the Better Business Bureau.
The cheapest way to move furniture to Europe
If you're moving to Europe with household goods, you'll want to seek out an international moving company with experience in your desired destination country.
International shipping options include container shipping, shared container service, and air shipping. Ocean freight is the most commonly used shipping method for household goods.
It's best to seek international moving companies with experience shipping household goods to Europe. A mover with experience will offer cheaper shipping rates and have more experience with the customs clearance process.
Read Here: All about International Container Shipping
Downsize and Declutter for cheaper moving costs
It's been said before, but there's no better time to purge than when moving overseas, especially to Europe. Your new home may be a bit smaller, and who wants to live with a bunch of clutter?
Take time, go room by room, and create a list of stuff you can live without. Consider selling items online for extra cash, having a garage sale, or donating to a non-profit that will pick up the items for free.
How much stuff you're shipping overseas will significantly impact your international moving costs. So remember, the less item you ship to Europe, the cheaper the cost will be.

Read Here: How to Prepare for an Overseas Move
Save money by self-packing for your move to Europe

One of the best ways to save money when moving abroad is to self-pack. Packing your boxes will help reduce your shipping costs by 8% to 10%, but some work is involved.
You can purchase packing supplies from any local department store like Walmart or Home Depot or online from the comfort of your home. Either way, you must consult an international moving company regarding the supplies and the type of boxes best used for international moving.
There are cons to self-packing. First, it will affect the type of insurance you can get. You will be eligible for basic valuation coverage only. Secondly, it takes time and can be labor intensive. It would be best if you weighed the pros and cons before committing.
Read Here: Pros and Cons of Moving Abroad

Packing tips to Europe

Use smaller boxes for heavier items like books and documents. Consider using old shirts, linens, or pillowcases as stuffers to ensure your things don't shift while in transit.
Ask about cheaper moving services before your move to Europe

Most international moving companies offer both modes of transportation, ocean and air freight. However, you'll have some additional shipping options that can reduce the cost. Below are a few examples of the services you can choose from:
Least expensive: A port-to-port shipping service is the cheapest way to ship to Europe. However, you must drop off and pick up your shipment at both port locations.
Average cost: If you're moving or shipping items to Europe on a budget, consider a door-to-port shipping option.
Highest cost: The most convenient but expensive international shipping service is a door-to-door service. Your items are picked up from the pickup location and delivered to your European door.
Know More Here: All about Moving on a Budget
Why sea freight is the cheapest way to move your stuff to Europe
Due to cost, sea freight is the most widely used method for shipping stuff abroad and the cheapest way to move things to Europe. Sea freight vessels, such as container ships, can carry vast cargo, making it less expensive than air freight.
Additionally, some international moving companies offer consolidation services, which means they can group a small move into a container with other shipping to Europe, saving you money.
The downside to ocean shipping is the length of time it takes. The typical transit time for a door-to-door move is 4 to 6 weeks, so if you're in a hurry, consider air shipping options.
Read Here: How to ship household goods overseas by ocean freight
Is international air shipping cheap?
Due to cost, there are better options than air shipping for people moving household goods to Europe from the US. However, it serves a great purpose. Air shipping is the quickest mode of transportation, so if you need to get your stuff quickly, it's the best option.
Remember that shipping stuff by air freight is double and sometimes triple the cost of shipping by ocean. It's best to speak with an international moving company to compare the cost differences between sea and air freight.

Compare international moving quotes
Comparing international moving quotes can be a daunting task, as there are many factors to consider. Here's a step-by-step guide to help you find the best option:
Gather quotes: Contact multiple reputable international moving companies that ship to Europe and request quotes. Aim to get at least three to five quotes for a good comparison.
Check included services: Carefully review the quotes and note the services included in each. Typical services include packing, loading, transportation, customs clearance, and delivery. Ensure that all the sections cover the same benefits for an accurate comparison.
Compare estimates: Look at the total cost of each quote, but also consider any additional charges, such as insurance, storage, or taxes. Remember that the cheapest quote may be better, as it could indicate lower quality service or hidden fees.
Verify credentials: Research the moving companies to ensure they are licensed, insured, and have a good reputation. Check for membership in international moving associations like FIDI or IAM and read reviews from previous customers.
Assess communication: Pay attention to each company's responsiveness, professionalism, and clarity of communication. It can be an indicator of their overall customer service.
Follow these steps, and you'll be on your way to finding the cheapest way to ship stuff to Europe.
Read Here: How to Create an Inventory List when Moving Overseas
How much does it cost to ship boxes to Europe?
The average cost of shipping boxes to Europe varies depending on a few factors, such as the destination country, parcel weight, dimensions, and the chosen shipping carrier or service. Additionally, shipping costs can change over time due to fuel prices, exchange rates, and other economic factors.
Read Here: Average Moving Costs
To give you a general idea, shipping a small parcel (up to 2 lbs) from the United States to a European country using USPS First-Class Package International Service might cost around $35-$50. However, this can increase if you choose a faster shipping method or if the parcel is heavier and larger.
For a more accurate estimate, you can speak with an international moving company or use an online shipping cost calculator, providing the necessary details like weight, dimensions, and destination.
Read More: All About International Moving Insurance
What's the cheapest time of year to move items to Europe?
Shipping costs vary depending on various factors, including the time of year. However, generally speaking, the cheapest time to ship items from the US to Europe is during the off-peak season, typically between September and April.
During this time, the demand for international moving services is usually lower, and businesses still need to ramp up for the summer season. As a result, carriers may offer lower rates or discounts to attract customers.
Remember that rates can still vary, so it's a good idea to compare prices from different international moving companies to find the best deal.
Know More Here: How to move during the peak season

Understanding Customs and Duties
Familiarize yourself with the customs and duties regulations for your shipping country. Accurately declaring the contents of your shipment and ensuring that you're aware of any import taxes can help avoid delays and additional charges.
If you move to Europe with used household goods, you will not pay taxes or duties. A reputable international moving company can guide you through the process and ensure you avoid getting hit with unnecessary import charges.
It never hurts to ask for a discount
We're all looking for cost savings, but one thing that is often overlooked is asking for a discount. It may not be feasible for smaller international moves. However, if you're moving a household worth of furniture to Europe from the US, you should ask for a discount.
The best international moving companies understand a budget and will work with you to meet your expectations. Asking for a discount is a small thing that can greatly impact the overall cost of your move.
Conclusion
Understanding your options is critical to finding the cheapest ways to move stuff to Europe. The size of your move and what you're shipping will significantly impact the method of transportation you choose.
Ocean shipping is generally less expensive for shipping larger items overseas, whereas air freight is a quicker mode of transportation for smaller moves.
The best international moving companies can walk you through the process of different shipping options and make suggestions that fit your budget and needs.
International Van Lines offer shipping, moving, and storage service to Europe from the US. You can complete an online form or call us for a free, no-obligation quote.
More about International Van Lines