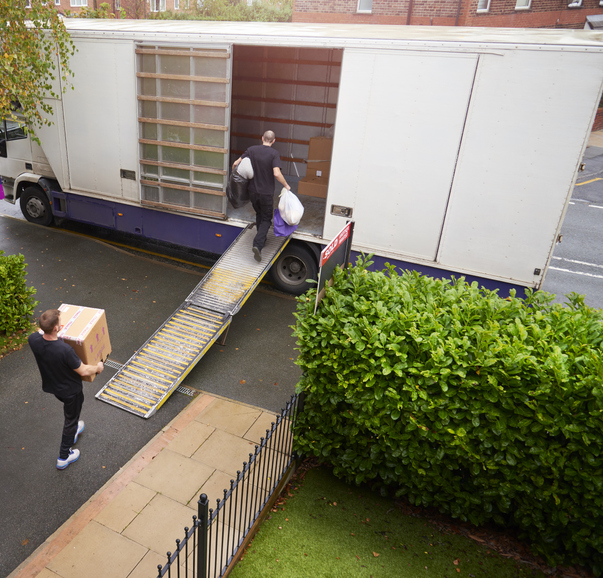 Find the breakdown and costs for hiring a national moving company.
Costs for hiring a national moving company vary from company to company. Some variables determine the costs involved, but you will find the complete breakdown of how costs are calculated and the average prices for moving out of state.
In addition, you will find tips on how to reduce costs for hiring a national moving company.
How are National Moving Costs Calculated?
National moving costs are calculated by weight or cubic feet, mileage, packing, and whether or not storage is required.
There are also accessorial charges that can affect the cost of a move. Shuttle, long-carry, stairs and crating are a few.
It's essential to ask the right questions when getting quotes. Don't leave any rock unturned, as you should know what you're getting into when hiring a national moving company.
Costs for hiring a national moving company will also vary from business to business. A smaller mover may sound ideal, but they have a little reach that can cause overinflated moving costs.

How are Accessorial Charges Billed?
Accessorial charges can occur if not discussed before the move. They consist of a possible shuttle, long-carry, flight of stairs, and or special handling.
Shuttle: A shuttle would be required if a mover can't fit a semi on the origin or destination. The crew would rent a truck and then shuttle all of your household goods from the semi to the smaller truck for delivery. The average cost for a shuttle is 75 cents per cubic foot.
Long Carry: A long-carry is when the driver can't park the truck near your location, and the movers would need to lug your stuff 75ft or more. It's a flat rate of $75.
Special Handling: If you have a treadmill, piano, or 500lbs safe, you require special handling. The charges will vary based on the item but will range between $250-$500 on average.
Flights of Stairs: Charges for flights of stairs do not apply to houses, only to apartments. The costs would be $75 per flight (one time) after the first flight, free. However, the costs for hiring a national moving company can vary.
How and Why would Moving Costs Increase?
The most significant impact on costs will be will the weight or cubic feet. The more stuff you have, the higher the cost of your move.
If you add more than was discussed on the day of the move, your moving costs will increase. However, a company has the choice to negotiate with you.
Remember that national moving companies make money based on space. The more space you take up, the less a company can make on a route unless they charge you.
Avoiding overages is easy. Make sure to get a visual or virtual survey.

What's the Difference between a Binding and a Non-Binding Estimate?
A binding estimate means that your quote is locked in. However, are binding moving estimates guaranteed? In short, no! Your price is locked in based on the information a moving company has. However, if you exceed the discussed inventory, a mover has the right to increase your cost.
A non-binding estimate is a non-guaranteed cost that's determined by the final weight. Some people prefer a non-binding estimate because they feel that they have less than the quoted amount or plan to get rid of stuff.
How is Packing Charged?
Packing can be charged in a couple of ways. Some national moving companies will charge per box, and some will offer a flat rate for packing.
Our preferred method of charging for packing is offering an all-in rate. We feel that it makes it easier for the customer and us.
We don't have to worry about re-calculating costs and charging you for things like tape and paper.
The customer has the right to self-pack, which is an excellent way of reducing moving costs. Costs for hiring a national moving company can be expensive, so everything helps.
Is it expensive to hire a National Moving Company?
In short, yes! Out-of-state moving isn't cheap. There are ways of saving money, but it can take a toll if you're paying out of pocket.
Below are some averages that you can use to help budget for your move.
500-700cft from California to New York = $4000-$5500

900-1500cft from Florida to Chicago = $6500-$8500

700cft – 1000cft from Texas to NJ = $5500-$8000
These are just examples. It's always best to get an accurate moving quote. The costs for hiring a national moving company are high, but when you compare companies, they shouldn't be too far off from each other. You can also use our moving estimate calculator.
Costs for Hiring a National Moving Company – The Botton Line
Costs for hiring a national moving company will vary. It's always best to go with a company that provides an accurate quote.
A visual or virtual survey is the best approach. If a company denies you a virtual or visual survey, move on.
It's very challenging to get an accurate cost via a phone survey. It leaves room for error.
Also, if the costs for moving seem too good to be true, it is. Remember that we all share similar costs.
We wish you the best of luck with your move.
Moving Resources: