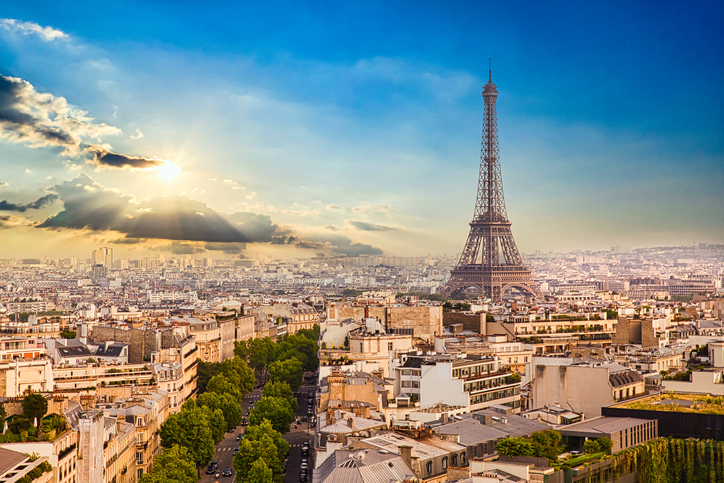 France is a gorgeous country that is home to some of the most elegant landscapes in the world. It's crisp mountainous views of the Alps to the clear blue waters and sandy beaches of the French Riveria. France has some of the most beautiful scenery globally, making it a desired destination for many.
France is also known for its first-class public transportation and intercity travel. It's a beautiful country that has a lot to offer. However, what's the cost of moving from Florida to France? This article will give you a complete breakdown of the cost of moving your household goods and tips to make it a pleasant experience.
Average Cost of Moving from Florida to France
Quick Answer: The average cost of moving from Florida to France is $3800 to $6500. The size of your move is the most significant factor in terms of price. The service type, time of year, and mover you chose will also affect the average cost.
Move size: There's no one-size-fits-all when it comes to moving. Ocean freight is based on cubic feet (volume), so the more stuff you have, the higher the cost. Moving overseas is the perfect time to downsize, so go room by room and leave behind unwanted items.
Service: A full door to door with professional packing is the most expensive option for an international move. You can reduce cost by choosing to self-pack or even pick it up at a major port in France. Before you decide, you should weigh the pros and cons of self-packing for a move.
Moving company: An international move requires experience and knowledge. It would help if you always got estimates from the best international moving companies before you decide. According to the FMCSA, there are approximately 7000 moving companies in the U.S. However, less than 100 are certified to perform ocean freight service.
Also Read: How much will it cost me to move overseas
1 Bedroom
200-400cuft
$

2500-3500

All in

Door to Door
2 Bedroom
500-800cuft
$

3800-5000

All in

Door to Door
3 Bedroom
1000-1500cuft
$

6200-8500

All in

Door to Door
4 bedroom
1700-2500cuft
$

9200-12000

All in

Door to Door
Cost of Moving a car from Florida to France
Quick Answer: The average cost of moving a car from Florida to France is $1800 to $3500. The mode of transportation is the most significant factor in terms of price. The time of year, car size, and mover can also affect the cost.
Service: There are a few options when shipping a car. The least expensive option is called a roll-on roll-off service. However, it will require you to bring your vehicle to the nearest port and pick it up at the destination port. Other shipping options include container shipping and consolidated services.
Documentation: When shipping a car from Florida to France, you must have the original title. Also, you will need to mail the title to the mover of your choice so they can get approvals from customs. In addition, you will also need to fill out the proper shipping forms. You should also check with French customs before shipping your car.
Duty and Tax: You may be subject to local customs duties and value-added tax or VAT of 19.6% by the French government. However, in some cases, you may be able to gain an exemption from paying taxes.
How to reduce your moving costs
Ocean freight is the most common form of transportation when it comes to moving abroad. The cost of moving from Florida to France can be affected by several factors. The service you choose and the volume you're moving are the most significant factors in terms of price. However, there are a few ways to cust costs.
Self-packing: If you're looking to reduce expenses, you may want to consider self-packing. It will help save approximately 15% of the cost. However, it will affect the insurance you can get. You can purchase packing supplies online or at any local department store like Walmart or Home Depot.
Service type: You will have the option of a complete door-to-door move which will be the most expensive service. However, other options will include a port pickup or drop-off. It's recommended that you ask your mover for a couple of quotes for comparison.
Move size: The size of your move is the determining factor in terms of cost. Moving is a great time to purge, so consider getting rid of unwanted items to reduce the cost of moving from Florida to France.
What's the best time of year to move from Florida to France?
Anytime is a good time to move from Florida to France. However, when it comes to cost, moving in the winter months can help with the price. Understandably, not everyone can control their moving date, but do it if you can move during the winter.
The winter months are off-season for international moving companies making it more competitive. Companies will reduce costs by up to 25%, and there will be more moving dates available. In addition, you will be able to find the best national moving company to handle your move. The cost of moving from Florida to France will be significantly less expensive.
Items you can't move to France.
If you're planning on moving from Florida to France, it's essential to know what you can and cannot ship. Below is a list of prohibited and restricted items. Before you plan your move, make sure you run through the list. It would help if you also spoke with your international moving company about prohibited items.
PROHIBITED ITEMS IN FRANCE
French customs prohibit the following items. If you have any questions, it's always best to contact businesses directly. A freight forwarder is not held liable for any prohibited items that are shipped.
Paints, polishes, and cleaning solvents

Drugs and narcotics

Live plants

Ivory, all animal skins

Pornographic material

Explosives & matches

Counterfeit goods
RESTRICTED ITEMS IN FRANCE
Some articles require special authorization or the payments of duties and taxes to clear customs.
Alcohol:

must be inventoried separately with a brand name, type, amount, number of bottles, and value (Import License or Liquor License may be required)

Tobacco products:

allowed, but subject to duty or tax.

Medications:

may be limited to personal use amounts, may require proof of prescription

New items (less than six months old):

subject to tax if arriving from EEC countries or tax and duties if coming from other countries and must be documented with sales invoices

Works of Art, oil paintings, sculptures, antiques, etc.:

should have a Certificate of Authenticity.

Videotapes, fax machines, telex machines, and books:

will be held temporarily by customs until necessary authorization is obtained for each item

Coats, fur, and leather shoes made of protected animals:

will need special authorization.

Meat and dairy products:

French customs have complex requirements, restrictions, and limits that apply to imported food as well as meat and dairy products

Plant products:

may require permits or inspection at the port of entry by Plant Health Inspection Service.

Guns, weapons, and ammunition:

highly regulated, and require various registrations and certificates and have the authorization from the French Defense Ministry (provide make, caliber, serial number, and purpose)

Some weapons are strictly prohibited (firearms that have no legitimate sporting or recreational use are not permitted entry into France)

Do not ship with household goods.
The cost of moving from Florida to France – Conclusion
Moving from Florida to France is exciting. However, it's important to do some research. Research moving companies, find out about services and learn about the process.
Unlike domestic moving, moving abroad required knowledge and skill. The Federal Maritime Commission regulates ocean freight so a company must be lisenced. It's always important to get up to three moving quotes for comparison.
We've also shared ways you can reduce your moving costs. If you have any questions or if you're looking for a quote on your move feel free to contact us at any time.