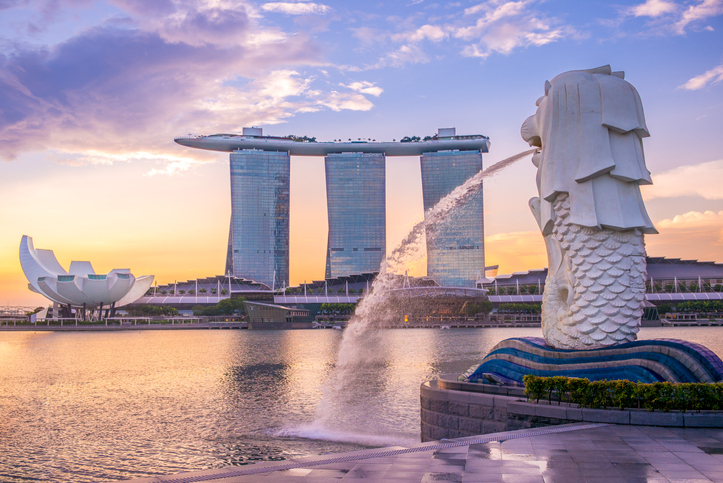 More than 30,000 U.S. citizens live in Singapore. Most were probably lured by its big-city and fast-paced environment. Still, New York is 11.5% more expensive than Singapore, ranked as the second most expensive city to live in. Working with a specialized international moving company can help you get everything in place if you plan to move from New York to Singapore. Read on to learn more about living in Singapore.
What to expect when relocating from the United States to Singapore
Comparing the United States to Asia is rarely possible. Mainly because the two are different in terms of foods, culture, and lifestyles. However, New York and Singapore share many similarities, with both being big cities that offer a multicultural way of living and a fast-paced environment. Here are some interesting facts about life in Singapore you should know about:
Singapore's weather is characterized by constant temperature and pressure, high humidity, and abundant rainfall due to its geographical location and coastal exposure. So bring an umbrella, plenty of sunscreens, and a thick hat to protect yourself from the sun's rays.

Singapore's public transportation system is dependable, fast, and inexpensive, with over 100 railway stations placed throughout the island. Owning a car is expensive, but most New Yorkers will feel at ease using public transportation.

Singapore's national languages are Malay, Tamil, English, and Mandarin Chinese. After Singapore obtained self-governance in 1959 and independence from the British in 1965, the Singaporean government decided to preserve English as the primary language to promote.

Singapore values education. Children are enrolled in many activities from a young age. They begin kindergarten when they are three to six years old and continue for another six years in primary school. Students are put in different secondary education tracks based on their performance in their primary school leaving exams.

Renting an apartment in Singapore's core business district is too pricey. However, if you already reside in New York, shifting to an apartment with a monthly asking price of $5,000 may not seem too expensive.
Also Read: Top 10 Cities to Move to

Cost of moving from New York to Singapore
Moving from New York to Singapore can be expensive. The average cost of moving to Singapore starts at around $7,200 for a one-bedroom apartment and $24,000 for a three-bedroom house. It all depends on the date, the method of shipping, and the container size you'll need to ship all your belongings. You should learn more about how much it will cost to move overseas.
Methods for transporting goods to Singapore
Singapore is a sunny, tropical island off the southern tip of the Malay peninsula in Southeast Asia. You can only transfer your items from New York by air or sea.
Sea freight
This takes roughly 50 to 54 days and is the most cost-effective option if you want to wait for your items.
Full container load (FCL):

You can use this option if your goods can fill a 20 or 40-foot long container. This will save you money because pricing is done on a flat basis regardless of whether or not your container is full.
Less than a container load (LCL):

If your goods do not fill a complete container and you don't mind sending them with other people's shipments within the same container, you can use this. Consolidation at the origin port and deconsolidation at the destination port is required for your goods. This explains why LCL shipment takes longer than FLC shipping.
Pro Tip: Check out the Singapore customs website for more information about the process.
Air Freight
Air shipping is often speedier and more expensive than maritime shipment. In Singapore, it usually takes three to eight days for your items to arrive and clear customs. However, keep in mind airfreight can be expensive, with cargo shipments for a one-bedroom apartment reaching over a thousand dollars. This method of shipment is usually only reserved for fragile and valuable items.
Also Read: Moving from New York to Florida
Where should you ship your belongings if you are relocating to Singapore?
Luckily, Singapore has many ports to ship to, which gives you flexibility regarding how much you'll pay. In addition to learning about the ports, you can ask your international moving company about door-to-door services. In this case, the movers will come to your house, pack everything, and they'll deliver it straight to your new home in Singapore. Singapore's ports include:
Brani

Keppel

Jurong

Tanjong Pagar

Pasir Panjang
Tips for Preparing for a Move to Singapore
Anytime you're planning an international move, there's a lot of planning and prepping you should do. Ideally, you want to work with a licensed and certified international moving company to help you make arrangements for your move from New York to Singapore. They'll go overpacking, customs, and even help with documentation to help you have everything ready for your move.
Documentation
The most important documentation you need to move from NYC to Singapore permanently is a visa. Depending on your status and your plans for going abroad, you'll have to file a visa application with Singapore's government. Luckily, a lot of this can be done from New York, working with the embassy and online documentation.
Visas that are available if you intend to work or study in Singapore include:
Employment pass.

For positions that pay more than S$3,300 per month.
The S pass.

For employment that pays at least S$2,200 per month.
Training employment pass.

This will set you back at about S$220. If you're working with a company in Singapore, they might require this.
Work holiday program.

This is offered to anyone aged 18 to 25 and is suitable for up to six months. To obtain this visa, you will need to pay S$150.
Entre pass.

Primarily available for entrepreneurs who are looking to relocate their businesses in Singapore.
Dependents' pass.

You are eligible for this visa if you are the spouse or child of someone with an S Pass or an Employment Pass.
Students pass.

You will have to enroll in an accredited university or college for this visa to start the process.
Taxes
In Singapore, you will be taxed at 15% or the progressive resident rate based on your incomeYou can pay online, but you must first set up your SingPass before using it. If you are a new foreign taxpayer in Singapore, both the Inland Revenue Authority (IRA) and the IRAS can assist you.
Remember, even if you no longer reside or work in the United States, you must file a tax return as long as you have American citizenship.
Bottom line
Moving from New York to Singapore is a significant endeavor. Ideally, you should plan this move at least six months in advance. Although, we recommend starting the visa application process even sooner than that. At International Van Lines, our moving specialists have years of experience helping people relocate from New York to Asia. Contact us today to learn more about our services and how we can help you complete your international move successfully.