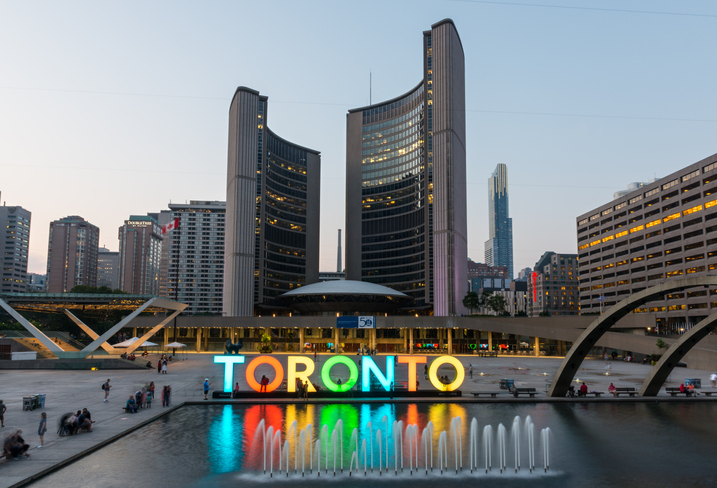 At International Van Lines, we've noticed people moving from the US to Canada more often. To continue with our "moving to" articles, we decided to help those moving from New York to Toronto. This guide has a little bit of what to expect before your move and how to get ready for a fresh start in Toronto.
Toronto is a thriving business hub that millions of people are moving to enjoy. The Great North has numerous benefits that could benefit anyone wanting to move there from New York. Things such as bigger apartments, temperature control in your space, a skyline view, and the possibility of getting a mortgage without any Canadian credit history. Keep reading if Toronto is on your shortlist of cities to move to.
Checkout: Cost of moving from the US to Canada
What to expect when moving from the US to Toronto
There's a lot more to Toronto than its booming business hub. Besides, anytime someone moves outside of New York is quite an adjustment. Before your big move, here are some things to expect:
Toronto has a lower cost of living.

New York is admittedly one of the most expensive cities to live in. Housing is at least 44% cheaper in Toronto than in New York. The cost of living, including food, healthcare, and education, is 42% more affordable in Toronto.

The subway system isn't as great.

Toronto's subway system is way smaller compared to New York's. Manhattan's subway system has at least 424 stations, whereas Toronto has only 75.

Big city means big pollution.

If you're moving to Toronto for better air quality, look further away. Both Toronto and New York have moderate to poor air quality, mainly because they're big cities.

Security in Toronto is better.

When comparing safety perception, Toronto feels safer than New York. Mainly because it still has that small-town feeling compared to NYC.

Better insurance terms.

One of the most daunting things to do in New York is getting your insurance claims passed. Most times, this process takes a very long time, plus the insurance companies always get an excuse not to compensate you. As long as your claim is valid and backed with reason, you get paid right away in Toronto.
Cost of moving from New York to Toronto
The cost of moving from New York to Toronto for a one-bedroom apartment will be about $4,500 without packing or $5,500 with packing services. For a two-bedroom apartment costs of moving can be over $6,500.
When moving from the US to Canada, your best option is to work with an accredited international moving company. They will provide you with an accurate estimate that considers all your specifics and needs.
Ways to move goods to Toronto
Did you know Toronto is only 471 miles away from New York? It's an hour and a half flight away and eight hours by car. This makes moving to Toronto cheaper and could almost be treated as a long-distance move. However, when it comes to shipping all your goods, you're going to need more than a car ride to get things over the border. Learn more about why Toronto is a great place to live.
Airfreight
This is the first and fastest mode of transport to move from the USA to Canada. However, it is the most expensive, especially if you have a lot of things. Even though it's only an hour and a half flight, you're going to have to ship your items via cargo. Still, you can use it to send fragile items and things like clothes. Learn more about air freight.
Container
Most of your items will likely be shipped via truckload. You can choose to rent a 40ft shipping container if you have enough things to fill it. Or you can opt to share a container with other individuals to cut down on costs. Luckily, it only takes about 1-2 days to get your items to Canada.
Where to ship when moving to Toronto
The Port of Toronto, one of Canada's most prominent inland ports, is located on the northwest shore of Lake Ontario. The Port of Toronto has been serving as Toronto's gateway to the St. Lawrence Seaway and maritime ports across the world since 1793, and it is located just minutes from the city's downtown core.
However, you may also choose to work with a door-to-door international moving company. In this case, the company will pick up all your items in your home in New York and deliver them straight to your new home in Toronto. Since this will be a move by land, it's one of the most popular options.
Tips to prepare your move to Toronto
Here are some tips to help you have a smoother move from New York to Canada:
Get all your documentation in check: immigration, passport, shipping details.

Before moving into an apartment, ensure that you visit it before moving.

Get a reliable and trustworthy international moving company with door-to-door services.

Make a concerted effort to save as much money as feasible. The visa application cost, aircraft tickets, international shipment fees, housing, and unexpected charges should be included.

Renew your passport. You must maintain your passport valid for at least six months after your relocation to several countries.

Fill out an application for a visa. Examine the documents you'll need for the application process, as well as which Visa best suits your reasons for migrating to Toronto.

Duplicate all important documents, such as passports, driver's licenses, birth certificates, and immunization records.
Also, learn more about what you can't bring into Canada.

Documentation
For whatever reason you are moving to Toronto, ensure that you have each needed document in order. The most vital records you will need are:
Passport.

Your passport must be valid for at least six months before your move.

Immigration documents.

Whether you will be in the country for leisure, business, or to live for the rest of your life there, you need to have all the immigration papers in check. These are things like work permits and residency documents that will tell the officials how long you will be there.

Receipts for any new items being brought into the country.

Bring all the receipts to prove your purchase if you buy anything new in New York that you intend to use in Toronto. On that same note, carry all the international moving company's permits to verify that the shipments are yours. These will be useful when retrieving your items from the ports, ship, or air.
Taxes
According to the treaty, US social security benefits provided to a Canadian resident are taxed in Canada as if they were Canada Pension Plan benefits. However, the benefit amount is tax-free in Canada to the tune of 15%.
That implies that if you get Social Security payments from the United States and live in Canada, Canada will tax 85 percent of your benefits. You can, thankfully, claim a Foreign Tax Credit on your US tax return.
If you have a permanent presence in Canada, the Canada Revenue Agency (CRA) taxes self-employed Americans on their net profits. The CRA will apply corporation tax rates ranging from 25% to 31% if you operate in Canada through your US LLC. The tax rate is determined by the province in which the permanent facility is situated.
You must still record your Canadian income on your US tax return if you are a US citizen. You may have to pay US tax on it. When you live in Canada, you can take advantage of the Foreign Earned Income Exclusion (FEIE) and the Foreign Tax Credit (FTC) to avoid or minimize your US tax obligation.
There are far more taxation obligations, including the customs you may have to pay when entering Toronto. All that you should get is confirmation from a legal advisor or accountant in Toronto.
Learn more about the tax system in Canada.
Packing tips to keep in mind
As you get ready to ship your items to Canada, getting familiar with their unusual shipping regulations is important. For example, these are some of the most common restricted items in Canada:
Used mattresses.

Unless they're cleaned and fumigated by a certified individual.

Baby walkers.

All baby walkers are banned in Canada and cannot be imported.

Lawn darts.

Standard lawn darts with elongated tips are banned in Canada and cannot be imported.

Infant self-feeding devices.

These products are banned in Canada and cannot be imported.

Weapons.

Any weapons, including tasers, brass knuckles, pepper spray, and firearms, are banned from being imported.
Check with your international movers for a complete list of goods banned, restricted, and prohibited in Canada. This will save you time and penalties when you move.
Also Read: How much will it cost to move overseas
Bottom line
There is so much planning that should go into your move from New York to Toronto. This includes getting an international moving company to help with the move, documentation, taxation, and everything in between. At International Van Lines, we've helped countless families move from New York City to Toronto and other popular cities across Canada. If you're ready for the next chapter in your life, contact us today for a personalized quote on your international move.