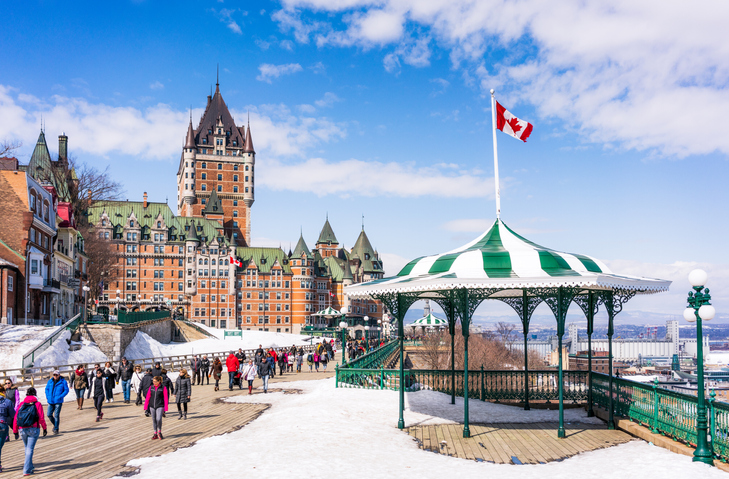 It is official: you will move to Canada from the US! What is next? Moving to Canada is a life-changing choice, and the first step is finding the right visa. This article covers the basics for Americans moving to Canada!
Moving to Canada from the US as a Permanent Resident?
Citizens of the United States can apply for citizenship in Canada. Still, they must first become Permanent Residents, much like other foreign nations. They can seek Canadian citizenship after holding Permanent Resident status for at least five years.
The procedures for immigrating to Canada from the United States are comparable to those used in other nations. However, Canada has different options for Americans, including:
Express Entry

Sponsorship by a family

Visas for startups

Provincial Nominee Programs
Read more: Things You Should Know Before Moving to Canada
Working in Canada as a US permanent resident
For those looking to immigrate to Canada from the United States, the Great White North offers a variety of permanent residence schemes. Express Entry is a mechanism for choosing applicants for various popular economic programs. You may be considered for Canadian permanent residency through Express Entry if you meet the requirements for at least one of the following programs.
Federal Skilled Trades Program (FST)
You may be able to qualify for the Federal Skilled Trades Program if you have experience in a skilled trade for two years and also if you meet the basic language requirements in English or French. Applicants must possess a Canadian certification credential to perform their business in Canada or an employment offer in your skilled trade in Canada.
Federal Skilled Worker Program (FSW)
You may be considered for the Federal Skilled Worker scheme if you fulfill minimal language criteria in English or French. You must obtain a score between 67 to 100 on the FSW screening grid. The screening grid assesses your application based on your age, education, work experience, job offers, language skills, and adaptability.
Class on the Canadian Experience (CEC)
For the Canadian Experience Class, you must satisfy the minimum language criteria in English or French. It also requires that you have worked in a technical position in Canada on a legitimate work visa for a year. Only those with at least 1-year of full-time skilled work experience in Canada can apply for this visa.
Open Work Permit for Spouse
You may be qualified for a spousal open work permit if your spouse is an interim foreign worker or an international student in Canada. A new work permit will not be necessary if you change employment as long as your existing permit is valid.
Work Permits Under NAFTA
The North American Free Trade Agreement (NAFTA) is an economic treaty between Canada, Mexico, and the United States. It promotes commerce by enabling certain temporary workers to enter one another's markets, among other things. You can get NAFTA work visas under the International Mobility Program for Americans with eligible employment offers from a Canadian business. Or those who want to come and work in Canada for a limited time.
You can also read: Find the cheapest way to move to Canada
Work Permit
Americans moving to Canada can enter Canada on an employer-specific working visa if they have a legitimate employment offer from a specific company. A Labour Market Impact Assessment (LMIA) is a statement that indicates the business sought to fill the position with a Canadian citizen or permanent resident before offering it to a foreign national. After entering Canada on an employer-specific work visa, anyone who wants to change jobs must apply for a new work visa.
If you get a job offer from a Canadian firm, you can apply for a work visa to remain in the country for a particular time. Four types of work visas are available: high-skilled, live-in caring, low-skilled, and farm labor employment. Job offers must fulfill several requirements, including pay requirements. The Canadian company must demonstrate that they attempted to fill the post with local workers.
International student visas in Canada
This type of visa, also known as a Study Permit, allows non-residents to study in Canada at designated institutions and on defined learning programs. You may not need to apply for this visa if the course you want to attend is shorter than six months or if you have relatives in Canada – But only if you are a native of a tourist-exempt country.
To qualify for a student visa in Canada, you must:
Enroll in a Designated Learning Institution (DLI)

Prove you have enough money to pay for tuition, living expenses, and transportation

Have no criminal record

Be in good health

Prove that you will leave Canada when your study permit expires
Depending on your case, your permit will state whether you can work and travel within Canada. Most study permit carriers are permitted to work on- and off-campus.
Other visas available for US citizens in Canada
Canada also has other outlets for obtaining permanent visas for US citizens. Most of these visas are available for business owners and entrepreneurs. However, it also has other options for family members of Canadian residents.
Visa for entrepreneurs
The Canadian government offers the Startup Visa program to international business people with a unique company concept. The startup visa includes a set of restrictions and qualifying criteria. Americans moving to Canada looking to come to start a business, will need to show that they can:
You own a business that complies

You have enough money to meet your expenditures until your firm begins to make earnings

You have a letter of recommendation from a specific organization. In Canada, an authorized organization provides funding and support to new enterprises
Super Visa for grandparents and parents
These visas allow grandparents and parents of Canadian citizens and legal residents to stay in Canada for up to two years. Or for repeated entries over ten years. If the candidate is from a visa-exempt country, grandparents and parents can write an introductory letter when they arrive in Canada. They will be given two years of residency without applying for the Extraordinary Visa.
Candidates must meet the following requirements:
Make an appointment with a doctor

Identify themselves as the grandparent or parent of a Canadian citizen or legal resident

Acquire medical insurance for a year with coverage worth at least $100,000 from a Canadian insurance provider
Keep in mind that while these visits allow for a long-term stay in the country, these visa holders are not allowed to work or study in Canada.
Start planning your move to Canada
Moving to another country is tasking, and Canada is no exception. It might take six months to a year to obtain the appropriate visas. Make sure you safeguard yourself from fraudsters who target new immigrants to Canada. Always speak with an immigration specialist to protect yourself and your family. Americans moving to Canada can easily obtain the right visa.
Request a Canada moving quote from an international company when ready to start making arrangements to move to Canada from the US. At International Van Lines, we've been helping Americans relocate to Canada for years. Trust our skillful moving specialists to help you navigate all the logistics of planning an international move.