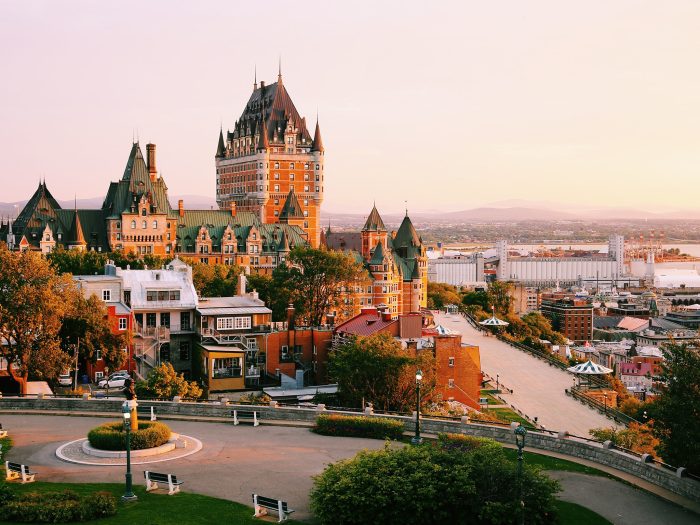 Floridians and Québécois have a strong connection. Every year, thousands of Québécois migrate to Florida to escape from the harsh winter. Now, many Floridians are moving to Quebec for a change of scenery. Honestly, many Americans are moving to Canada in 2022. Canada Country is known for its beautiful terrain, natural parks, northern lights, maple syrup, and ice hockey. But, how much does it cost to relocate from Florida to Canada? This article explores the average costs of moving to Canada.
Also check out: Moving from the US to Canada
What's the average cost for moving from Florida to Quebec?
The size of your home and your belongings will affect the cost of relocation. The most critical element is the weight or size of your move. The time of year, the mover, and the service may influence the cost. Long-distance movers often charge based on volume.
1-2 Bedrooms:

$3,200 – $5200

2-3 bedrooms:

$4,300 – $7,000

3-4 Bedrooms:

$7,500 – $9,000

4-5 Bedrooms:

$8,500 – $12,0000
Keep in mind that the only way to have an accurate cost is by requesting a free moving quote from a trusted international moving company. You should request a couple of moving quotes to Canada.
How much will it cost to ship a car from Florida to Vancouver?
The vehicle exportation process to Canada is relatively simple. Your automobile will be transferred to a bonded yard in Canada on a trailer. It will be subjected to a customs inspection and delivered to your destination. Educate yourself on the import rules ahead of time.
The price will vary significantly based on the overall distance, the shipping method selected, the car's make, model, and size. Nevertheless, the typical cost of shipping a vehicle to Canada is between $1,500 to $2,100.
Insurance is included. Upon collection and delivery, an inspection will be performed, and a report will be provided. It's good to snap before and after shots for your protection. The transportation period is around a week. Moving from Florida to Canada is relatively inexpensive compared to most overseas destinations.
Read more: How Much Does It Cost to Ship a Car Internationally?
How long will my move take from Florida to Quebec?
From the pickup time in Florida to the point of receipt in Canada, the usual transit period is 12-15 days. Transit times might also vary depending on the firm and year. Because the summer is the busiest season for movers, you may have to wait longer. The cost of moving from Florida to Quebec can go up if you request a dedicated delivery.
Furthermore, the magnitude of your relocation impacts the length of time taken. Because the mover will need to fill a consolidation, it may take longer if you have a little relocation. Although this isn't always the case, you should double-check with your moving company. If you want a particular delivery date, the cost of relocating from Florida to Quebec may also vary.
How can I save money on my move?
These are some of the most common methods for saving money on your following transportation needs:
Avoid relocating during the "peak moving season,"

which runs from May through August. Instead, schedule your move during the middle of the week between September and April.

Get free moving supplies

from various businesses, online markets, community groups, and friends. It's easy to find free boxes, and it's a sure way to save hundreds of dollars on moving charges.

Read the movers' contract thoroughly

when deciding which professional moving business to use. Examine and consider your responsibilities and insurance options simply. If you choose the Released Value option, you will save money, where the mover is responsible for no more than 60 cents per pound per object. Keep in mind that this level of security is insufficient.

Get quotes from at least three different moving firms

before picking one. Each estimator should do an in-person assessment or a video study of your things before presenting you with an estimate. Keep in mind that the weight of your possessions will determine the cost of your move. For example, whether you are migrating outside of the country or across a lengthy distance.

Consider having a garage sale.

If you are simply trying to declutter, getting rid of your obsolete belongings is one of the simplest ways to save money during a move. Suppose you remove unworn clothing, outdated technology, and redundant furniture. In that case, it will weigh less and cost less to hire a moving company.

Consider a DIY relocation.

A do-it-yourself relocation may be the best alternative if you're on a tight budget. You can enlist the help of relatives and friends to avoid performing all of the hard work alone.
Read more: Cost of Moving from Florida to Canada.
What questions should I ask my mover?
Relocation is complex, and your valuables are priceless. Don't make things more difficult for yourself by selecting a substandard moving company. Before inviting them inside your home for a walk-through, start the process of hiring movers by asking them a series of questions over the phone. Take a look at the ten questions you should ask a moving company to choose one that best suits your needs:
Is your driver's license valid?

What kind of liability insurance does your company provide?

Do they have any previous experience with the change I'm making?

Do you have any references?

Can you provide me with an actual quote or an estimate that does not exceed my budget?

Is there anything more going on that I'm not aware of? What additional moving supplies will I need to pay for?

Is there a policy in place for cancellations?

What are the various payment options that you accept?

Is there anything that restricts what I can bring and how I can bring it?

Will you include specialist information?

What's the cost of moving from Florida to Quebec?
What is the process of customs in Canada?
Though customs might seem intimidating, the process in Canada is very painless. Make a list of everything you wish to bring to Canada and write it down. Immigration officials will most likely inspect your container in person. Make sure that all of the things on your list match what's in the catalog.
To minimize delays at the border, you need to bring the required documents with your goods. Each shipment should include the following four pieces of documentation:
Bill of Lading

A Canadian Commercial Invoice or a Customs Invoice

Control Document (Manifest or Cargo)

The Shipper's Export Declaration
Moving from the US to Canada
Before moving from Florida to Quebec, you should research different movers. Get at least three additional quotes from international movers. International movers require a different set of skills that most national movers don't have. When you ask all the questions and learn more about what it takes to move to Canada, you're less likely to fall for moving scams.
International Van Lines specializes in international relocation services, like moving from Florida to and from Canada. Feel free to contact us with any questions about your move.