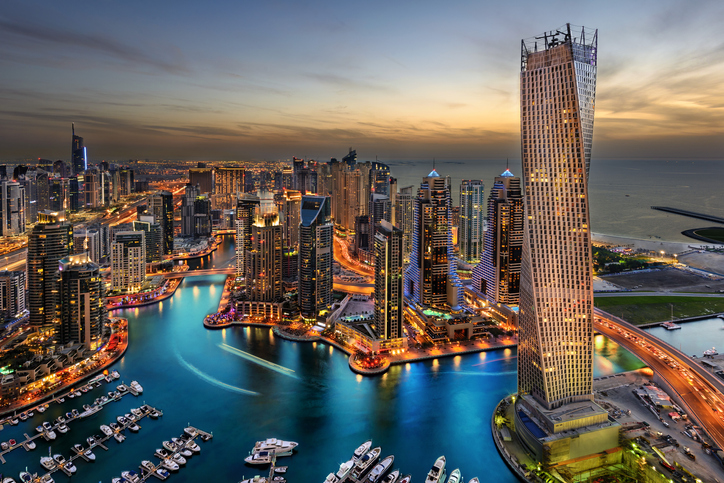 Dubai is a center of multicultural relationships with exceptional business and professional opportunities. There are currently over 50,000 Americans calling Dubai their home. If you're thinking about relocating internationally, and the United Arab Emirates is on your radar, keep reading for a complete guide on moving from Miami to Dubai.
What to expect if you're relocating from Miami to Dubai
As you can imagine, moving from Miami to Dubai is a huge change. Dubai is a 188 million years old city with a population of over 3 million. It has a masterful blend of ancient history and some of the most modern buildings in the world. Here are some things to keep in mind:
Be prepared for a flurry.

Dubai people are always on the go and live a fast-paced lifestyle. This will feel very similar to life in Miami.

Friday and Saturday are weekends.

The work week begins on Sunday, with weekends on Friday and Saturday. This is because Friday is a sacred day in Islam, and no one should work on it.

It's expensive to live in Dubai.

Food, rent, and other costs can add up to an unexpectedly substantial sum. However, the cost of living in Miami is quite similar to that of living in Dubai.

You must abide by the laws of the country.

You must follow the country's regulations if you wish to keep out of trouble. To prevent arrest or deportation, stay on the right side of the law. Being intoxicated in public, public displays of affection, photographing strangers in public, and purchasing counterfeit items are just a few of the things you should avoid as a Dubai resident.

You will meet people from all around the world.

Expats make up more than 80% of Dubai's population. You will meet people from all over the world, so keep an open mind and avoid bias against different ethnicities and cultures.

Dubai is quite hot

. Temperatures can quickly climb to 40C (157F). Thankfully, there are ways to beat it. Every building and bus stop has air conditioning to keep passengers cool.

There is a great deal of traffic.

To illustrate the gravity of the situation, a 20-minute commute can take nearly an hour during rush hour, and riding the bus takes three times as long as taking a cab.

Religion is important.

Dubai is the most liberal city in the Middle East, with Islam as its official religion. Other religions, except for Judaism, are tolerated. Learning more about these religions is vital to prepare yourself for cultural differences.
Cost of moving from Miami to Dubai
When shipping abroad, numerous factors influence shipment pricing, ranging from the quantity and weight of your belongings to the time you need them delivered to Dubai. Because there is no one-size-fits-all solution, hiring an international moving company to estimate how much it will cost is a good idea.
For the average one-bedroom apartment, air freight can start at $12,500. However, for sea freight, the price goes down to $6,500. For a five-bedroom home, it's best to choose sea freight, and costs can go from $15,200 to $16,800 depending on the container and amount of items. Expect shipping times to be 1-3 days by air and 22-27 days by sea.
Pro Tip: Visit the Dubai customs website for more information.
Methods for transporting goods to Dubai
Moving is always a hassle, but moving to another continent with all of your belongings intact is more complicated than you may expect. When moving from Miami to Dubai, you have two options to ship your items: air or sea freight.
Airfreight
Airfreight is the quickest way to transfer your products from Miami to Dubai, with a turnaround time of two to three days. However, this mode may be too expensive if you have a tight budget. We only recommend this method of transportation for small apartments or to move fragile pieces such as family heirlooms and art.
Sea freight
On the other hand, sea freight is far less expensive, typically costing around five times less than air freight. This is a slower process, and you must organize your relocation ahead of time. Moving a container from Miami to Dubai takes about 27 days.
If you choose sea freight, you can choose between a 20-foot and a 40-foot container. You can also select a less-than-container-load option, in which numerous users share the use of a single container.
Your international moving company will assist you in determining the best option based on the size and weight of your things.
Also checkout: Moving from Miami Abroad
Where to ship when relocating to Dubai
In Dubai, three maritime ports carry out cargo operations and contribute to the region's economy. Depending on your final destination, your moving company will ship items to one of these ports:
Jebel Ali

Al Hamriyah

Rashid
Tips for preparing for a move to Dubai
Moving to Dubai from Miami requires extensive planning. We suggest planning your move at least 6-months to a year in advance to account for every detail. Don't worry. At International Van Lines, our moving specialists will help you organize your items and help you prepare for your move to Dubai. Here are some tips to get ready:
Make an effort to save as much money as possible

. The visa application, plane tickets, foreign shipment fees, lodging, and emergency expenses should all be included in your moving budget.

Renew your passports

. Some nations require you to keep your passport valid for at least six months before and after your relocation date.

Fill out a visa application.

Check what documents you'll need for the application procedure and which Visa best suits your reasons for moving to Dubai.

Organize your documents.

Make duplicates of all necessary documents, including passports, driver's licenses, birth certificates, and immunization records.

Speak with the embassy. Reach out to each country's embassies to learn more about what you'll need for your move. They might be able to answer specific questions related to your unique case.
Documentation
Here's something to keep in mind. There is no mechanism for foreigners to obtain permanent residency or citizenship in the UAE. So, if you're moving to Dubai, you have to consider your visa options for long-term living.
Tourism visa
Some countries do not require a visa in advance to visit Dubai. When you arrive at the airport, you will be given one. This allows persons from nations such as the United States to live in Dubai for thirty days for tourism purposes. Other countries, such as Belgium, Switzerland, Italy, Germany, France, etc., are issued tourist visas for 90 days within one year.
If you plan to stay in the nation for an extended period, you will require a residence visa, regardless of whether you are there for business or pleasure.
Work Visa
Once you've accepted a job offer and signed an employment contract, you won't be allowed to work legally until you acquire your work permission.
So, what do you need to apply for this Visa?
Form from the general directory of residency and foreign affairs

A valid passport with at least six months remaining before the date of arrival in Dubai

Several passport-sized pictures

A medical certificate

Comprehensive CV highlighting educational and professional experience

A Dubai sponsor with a valid trade license
Taxes
There is no income tax on income earned in Dubai if you work there. Furthermore, the majority of goods and services are exempt from sales tax. Every year, foreigners in Dubai must spend 100 dirhams (about $28) to renew their national ID. This enables them to live, work, and make money in Dubai. Although the sum may not appear to be large, Dubai has a sizable expat population.
Furthermore, most foreigners rent and the government levies a 5% tax on rental income. Having said that, as long as you are an American citizen, you are still required to pay taxes in the United States. The only way out of this is to renounce your citizenship.
Packing advice
Since moving from Miami to Dubai can get expensive, some movers try to cut costs. Taking care of the packing for your move can help cut costs overall. If you do decide to do some packing yourself, keep these tips in mind to protect your belongings:
Pack heavy items in small or medium-sized boxes

Use packing paper or clothing to fill any holes in the box and protect your items

Always pack items per room and category, identifying them with permanent markers

Seal your boxes with packing tape by wrapping the bottom, top, and edges

Don't attempt to pack fragile or delicate items yourself, contact a professional for those items
Also check out: Best moving companies Miami
Bottom line
Moving from Miami to Dubai can be a lengthy process. With prior planning and gathering all of the knowledge you can to aid you along, along with the correct people to help you, you have nothing to worry about. At International Van Lines, our moving specialists will help you with every step of the process and ensure your move to Dubai is as hassle-free as possible.