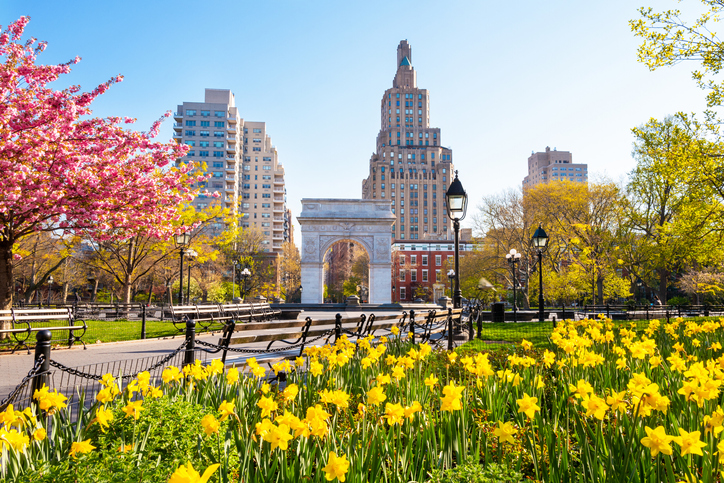 Find the Cost Breakdown for Moving from New York to Fort Lauderdale, FL
Over the past couple of years, Florida has become the number one destination for New Yorkers. The New York Post report claims that Florida should be called the sixth borough of New York City. Moving from New York to Fort Lauderdale has become a standard route for movers, and people want to know the cost and what's involved.
If you're one of the thousands getting ready to switch your license plate, you will find everything you need to know about moving from the Big Apple to the Sunshine State here.
Moving from New York to Fort Lauderdale: Costs
Before moving from New York to Fort Lauderdale, FL, you should understand the costs involved. Every move is unique and based on weight/size, service type, and the time of year you're moving. It's always best to speak with a relocation expert to schedule a visual or virtual tour. However, you can use the moving costs below to help you plan and budget accordingly.
*** Average cost of moving from New York to Fort Lauderdale***
| Bedrooms | Full Packing | Self-Packing |
| --- | --- | --- |
| 1 bedroom | $2400-$3000 | $2200-$2700 |
| 2 bedroom | $4500-$5200 | $4000-$4900 |
| 3 bedroom | $8200-$9000 | $7600-$8500 |
| 4 bedroom | $10,000-$12,000 | $9000-$11,000 |
| 5 bedroom | $14,000-$16,500 | $12,500-$15,000 |
| 6 bedroom | $17,500-$20,000 | $15,500-$18,000 |
Auto Moving from New York to Fort Lauderdale: Costs
Most movers also offer auto transport. However, your automobile will not be loaded in the same truck as your household goods. A national moving company will subcontract the transportation of your automobile through a third party. The transporter would show up in a large auto carrier which means space is required. If there's a tight squeeze to your residence you would be asked to meet the driver and a nearby location where he can park & load.
Rates vary when moving from New York to Fort Lauderdale. However, below you will find some general costs that you can use to plan and budget. All vehicles are automatically insured and inspected on site. You should also take photos of your vehicle before pickup and upon delivery.
| | |
| --- | --- |
| Compact Car | $900-$1100 |
| Mid Size | $1100-$1300 |
| SUV or Pickup Truck | $1350-$1500 |
Check out our article: What you need to know about moving from New York to Florida
How to Reduce Moving Costs
Long-Distance moving is based on weight and or volume. The more stuff you're moving, the higher the cost. Reducing your load size will significantly reduce the cost of moving from New York to Fort Lauderdale. Spend some time and figure out what you can live without and get rid of it. You can donate unwanted items to The Salvation Army or sell them on eBay.
Additionally, self-packing your boxes will also help reduce the cost of your move. You can buy packing supplies from any local Walmart, Home Depot, or on our website. You may also find free packing supplies by putting out a Facebook post or asking around.
Lastly, the time of year can affect moving costs. The peak moving season begins in May and ends in August. Moving from New York to Fort Lauderdale will be more expensive in the summertime. If it's possible to move in the winter, you will save some money on your move.
Transit times for Moving from New York to Fort Lauderdale
Transit times for moving from New York to Fort Lauderdale may vary based on the time of year, move size, and company. You can expect a speedier transit time of 5-10 days during the winter months and 10-14 days during peak season. Additionally, the more you have, the quicker it will take. Smaller moves will get consolidated, which can take some time. Movers depend on multiple loads to fill trailers before they depart.
You would imagine that transit times would be busier during peak moving season, but they're not. When long-distance movers are busy, trucks are constantly moving and may require more routes than normal. There's less traffic during the slower months and more focus on getting things delivered as soon as possible. It's always best to speak with the company of your choice to get more information about transit times.
Also Read: Moving to New York from Florida
What Kind of Insurance do I need when Moving Household Goods?
Moving insurance is typically done through a third-party insurance company. However, some movers will offer you valuation coverage which is not insurance. Federal regulations require a mover to offer optional valuation coverage. If you seek full insurance coverage, it's always best to use your homeowner's insurance or ask your mover about their insurance options.
If you chose to opt out of insurance when moving from New York to Ft. Lauderdale, you would default to limited liability, covering 60 cents per lbs per item. For example, if you have a TV that gets damaged, you may get back $60 if you're lucky. All movers work differently, so it's always best to ask the right questions regarding moving insurance.