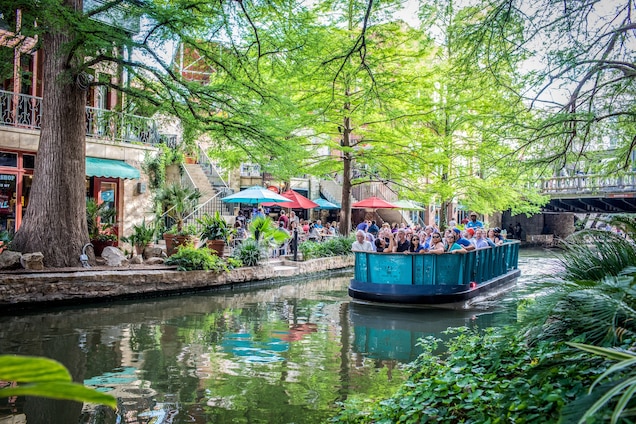 There are many reasons people might consider moving from San Francisco to San Antonio, including lower housing costs, better job opportunities, and the chance to start a new life in an exciting new location.
Texas is no stranger to high volumes of domestic migrants coming in. In fact, according to the San Antonio Business Journal, Texas ranks number one in the country for moves in – seeing a whopping 3800 new residents weekly.
You should know a few things if you're considering the move. Here you will find the cost of moving, living, and tips to help reduce the cost of your move.
Cost of moving from San Francisco to San Antonio
Quick answer: The cost of moving from San Francisco to San Antonio is $5000 to $8000. The size of your move is the most significant cost factor. However, service, mover, and the time of year can also affect the cost.
One-bedroom: $3500 to $4500

Two-bedroom: $4200 to $6000

Three-bedroom: $6500 to $9500

Four-bedroom: $9000 to $13000
Since the move size is the most significant in terms of cost, you may want to consider getting rid of stuff. Moving is a great time to purge. You can go room by room and create a list of things you can live without and donate or sell them online. Many charities will pick up the furniture at no cost to you.
Another way to help reduce moving costs is to self-pack. Packing your boxes will save 10%, but it can be labor-intensive. If you're in a hurry or have a bad back, you may want to look into the pros and cons of self-packing for a move.
Lastly, pick a good moving company. Don't waste your money and price shop movers. The quality of a moving company can be the difference of thousands of dollars in damages and a significant headache. Spend some time and do some research.
Also checkout: Moving Companies in San Francisco
Moving a car from San Francisco to San Antonio
The good news is most national moving companies also offer auto transport. The average cost of shipping a vehicle from San Francisco to San Antonio is $1500 to $2500. The service and the make and model of your car are the most significant cost factors.
First, you will need to find a reliable auto transport company or speak with your mover. It will help ensure that your car arrives safely and on time at its destination. You can start by searching online for the best moving companies in San Francisco, reading reviews, and comparing rates.
Once you have found an auto transport company that you feel comfortable working with, be sure to get quotes from several different sources and compare them carefully. Factors such as distance and type of vehicle will influence the cost of shipping your car from San Francisco to San Antonio—so make sure that you are getting the best deal possible for your needs.
Additionally, you should prepare your car for shipping. If you have time, do a thorough cleaning of the interior and exterior to remove any dirt or debris that may attract pests during transport. Additionally, go through all your personal belongings in the vehicle and ensure that they are secure before relinquishing the keys.
What's the cost of living in San Antonio?
One of the most attractive things about moving from San Francisco to San Antonio is the cost of living. According to BestPlaces.net, the cost of living in San Antonio falls below the national average, making it a very affordable place to live.
The cost of living in San Antonio, Texas, is very affordable. According to Zillow, the median home price is around $287,000, and the average rent for a one-bedroom apartment is about $1000.
The cost of food and other essentials is also very reasonable. Overall, the cost of living in San Antonio is about 10% below the national average. It makes it a great place to live for those on a budget.
Additionally, there are plenty of things to do in San Antonio that are fun and affordable. From exploring the historic River to taking in a Spurs game at the AT&T Center, there is something for everyone in this vibrant city.

The real estate market
Moving from San Francisco to San Antonio is an excellent option for those looking to get a bang for their buck. However, San Antonio's real estate market is booming. The city's population is growing rapidly, and there is a strong demand for housing.
The median home price in San Antonio is $287,000, which is significantly higher than the national average of $184,700. A wide range of housing options is available in San Antonio, from upscale apartments to luxury homes.
San Antonio is a great place to have land for real estate. There's plenty of space in the city, and there are plenty of options for finding suitable land.
There are many different areas within the city where you can find great land for real estate development or enjoy recreational activities.
For example, Mission Reach is one of the newest areas of San Antonio that has become popular among those looking for large tracts of land with access to rivers or other natural features. This area is located along the banks of the San Antonio River, providing easy access to its many trails.
Also checkout: Moving from San Francisco to Texas
Demographics
San Antonio is the second-largest city in Texas, with more than 1.5 million residents. With such a large population, it's no surprise that the demographics of San Antonio are pretty diverse. It's one of the similarities of moving from San Francisco to San Antonio.
San Antonio has a relatively young population, with an average age of 33. It may be because many young professionals and students live in and around downtown San Antonio.
The median age for white, non-Hispanic individuals is 44 years old, compared to just 22 years old for Hispanic or Latino individuals. African Americans have a slightly older median age of 30 years old, while Asians tend to be younger at just 23 years old on average.
There are also significant demographic differences when looking at education. 34% of the population over the age of 25 has a college degree, which is significantly lower than the national average of 40%.
This disparity can largely be attributed to San Antonio's large immigrant community. Nearly 30% of residents were born outside the United States, and most immigrants have little to no formal education.

What's the crime rate?
You can feel safe moving from San Francisco to San Antonio. The crime rate in San Antonio is relatively low compared to other cities in the United States. According to data from the FBI's Uniform Crime Reporting (UCR) Program, 2,851 reported violent crimes and 28,716 reported property crimes in 2016. It compares a violent crime rate of 8.1 incidents per 1000 residents and a property crime rate of 91.3 incidents per 1000 residents that year.
Despite this relatively low crime rate, there are still some areas of San Antonio where crime is more prevalent than others. For example, much of the city's Eastside has traditionally been regarded as an area with higher levels of crime and poverty than other parts of San Antonio. Factors that are believed to contribute to this include limited economic opportunities and a lack of resources in these communities.
San Antonio has taken steps to try and reduce crime in recent years, including increasing funding for law enforcement and launching initiatives such as the Safe Communities Program. While much work still needs to be done, these efforts appear to impact the city's overall crime rate positively.
Is moving to San Antonio a good idea?
When considering moving from San Francisco to San Antonio, it's essential to consider various factors. Some of the most important considerations include the cost of living, job opportunities, and access to healthcare facilities.
The cost of living in San Antonio is significantly lower than that in San Francisco. Depending on your lifestyle and income level, you may find significant savings when moving from California to Texas.
In addition, there are many jobs available in various industries, including healthcare and technology. However, it's worth noting that while Texas has low tax rates overall, property taxes can be higher than those found in California.
Additionally, the availability of quality healthcare varies depending on where you live within San Antonio; some areas have excellent facilities while others have fewer options.
Ultimately, whether moving to San Antonio is a good idea will depend on your circumstances and preferences. Some people may find the lower cost of living outweighs the other benefits, while others may find it more important to live in an area with excellent healthcare or job prospects. No matter your priorities, be sure to do thorough research before making any final decisions about relocation.