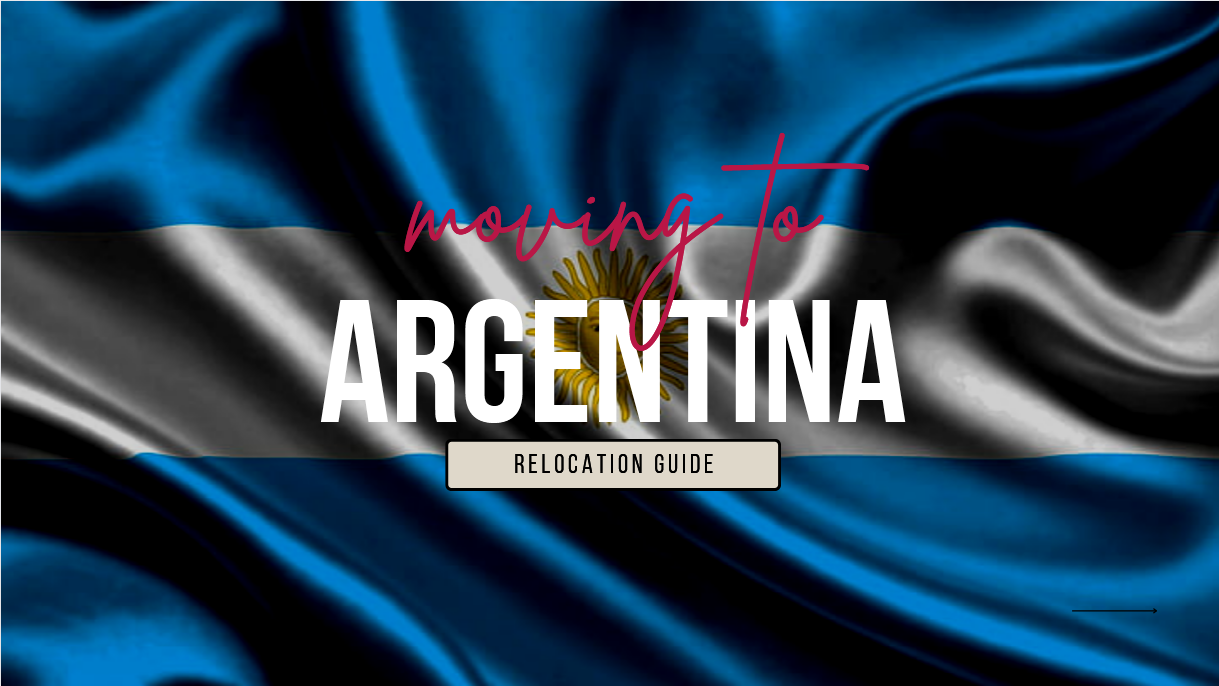 Moving to Argentina From the US – Everything you need to know when relocating from the USA to Argentina.
Moving to Argentina From the US – Moving Guide
Argentina is home to the tango, succulent Argentine beef, Patagonia, and the thundering Iguazu Falls. It's a massive country with countless places to visit and things to see. You can spend years in Argentina and never run out of things to explore.
Moving to Argentina from the US, you'll discover the people of Argentina are very friendly. Locals welcome you instantly and can offer local advice and tips to help acclimate you to your new home. Argentina is home to 11 UNESCO World Heritage sites, including Los Glaciares National Park in Patagonia, which contains some of the most stunning landscapes in the world.
Buenos Aires is considered one of the most attractive cities in South America, with European-style architecture, vibrant nightlife, and lush green spaces. Don't miss a walk through La Boca, the most colorful neighborhood in the city.
How to Move to Argentina
The key to a successful relocation to Argentina requires homework. Expect to spend plenty of time and energy researching your move and strongly consider learning Spanish. Although you can likely get by speaking only English, you'll be better received and understood if you have a decent grasp of Spanish.
What is the Process for Moving to Argentina?
Moving to Argentina can seem overwhelming, but with planning, a moving checklist, and the help of professional movers, you can make the process smooth and stress-free. Here are some key steps to keep in mind.
First, decide on your destination within Argentina, whether it's a big city, beach town, or peaceful village.

Create a budget for your move and set aside several months' worth of expenses for when you arrive.

Make sure you understand the residency requirements for living in Argentina and plan accordingly.

Don't forget to purchase travel insurance to cover your initial healthcare needs while you wait to become eligible for public or private Argentine healthcare.

Make a detailed inventory of all the items you're taking with you, including household goods and vehicles.

Finally, pack up and move to Argentina with the help of professional movers.
Remember, the best international moving companies are there to help you every step of the way, so don't hesitate to delegate tasks to them.
How Long Can I Stay in Argentina after moving from USA?
If you're a U.S. or Canadian citizen, you don't need a special visa to stay up to 90 days—just an undamaged passport with at least six months of validity remaining. You can extend your 90-day Argentina tourist visa by applying for an extension at the Buenos Aires immigration office.
Expats Work Visa
You must have a job offer from an Argentine company, and your employer must start the visa process for you to obtain a work visa. Most employees planning to work in Argentina longer than 90 days will need a 23A visa. If necessary, the visa is extendable for stays longer than one year.
Retirees
There are three types of retirement visas in Argentina that you need to know when moving.
A pensioner (pensionado) visa requires you to receive a monthly pension income amount designated by the Argentine government, paid to you from your home country.

Retirees earning an income through independent means qualify for a rentista visa. If you can demonstrate a designated monthly guaranteed income, you may apply for this visa, valid for up to three years.

The investment visa is available to retirees or investors who plan to invest a designated amount into an Argentine business or commercial activity.
The first step toward receiving any retirement visa is to contact the nearest consulate and set up an appointment for an interview.
Student Visa

Providing proof of enrollment in an accredited educational institution in Argentina and sufficient funds to cover your expenses while in the country qualifies you for a student visa that allows you to study for an extended period over one year.
Digital nomads
Argentina announced that a digital nomad visa was coming in May 2022. As of now, no applications are being accepted, although many believe it will be made effective soon. The digital nomad visa will most likely be valid for one year and can be extended. In the meantime, consider a working or business visa.

Getting Your Stuff to Argentina when moving
Getting ready for your move to Argentina involves more than just preparing yourself, it also involves getting your belongings ready for the trip. Keep in mind that the relocation company you hire is there to help you plan, organize and make the move as smooth as possible.
How do I Ship My Household Items to Argentina during move?
Relocating overseas is a time-consuming process that typically involves packing your belongings into a large metal container and shipping them via cargo ship to a port near your new home. This method can take anywhere from four to six weeks to reach your new home destination.
An alternative option is sending your belongings by air freight, which, although it's more expensive, can significantly speed up the moving process to a mere two to four weeks. This method is particularly useful for getting your household items to inland destinations.
Regardless of the shipping method you choose, it's also important to consider the possibility of needing temporary or long-term storage solutions, especially when you're moving long distances. This is a common solution to keep everything organized and simplify the moving process.
How Much Does it Cost to Move My Belongings to Argentina?
Moving overseas typically costs between $1,500 and $12,000. The cost of moving to Argentina or other South American destinations depends on how much you take and where you're going.
How Can I Save Money Moving to Argentina?
When moving internationally, there are several steps you can take to minimize stress on your budget.
To start, try to pack light and purge or downsize your possessions. Consider the option of packing your own belongings to save money over hiring the service. If possible, unloading your own container at your destination can also save cash.
If your moving date is flexible, let your mover know, potentially in exchange for a discounted rate. Additionally, use an international moving cost calculator and compare different moving companies based on their prices and services offered.
Finally, don't be afraid to ask for discounts from your mover. A good moving company will be willing to work with you to find a budget-friendly solution.
Can I Ship my Car to Argentina?
It's certainly possible to ship your car, truck, or motorcycle to Argentina. Remember that whatever you bring with you must clear Argentine customs before entry. There are numerous rules and regulations around the importation of vehicles into Argentina. Likewise, duties are very high. Be sure to familiarize yourself with the regulations before arranging transport of your vehicle.
Navigating Argentine Customs
Argentine customs monitors everything that comes into the country, whether it's a commercial product or your household possessions. One of the services your international moving company provides as part of your move is assisting you with the paperwork and compliance requirements for wherever you're moving. For the most part, leaving behind cleaners, liquids, food, or hazardous materials will make your experience through Argentine customs as smooth as the finest dulce de leche.
Should I get moving insurance?
Your stuff is traveling a long way. Nobody likes to talk about it, but things can happen that damage your goods. Purchasing additional international or marine insurance costs an average of 3% of your shipment's declared value, a small price to pay for peace of mind.
Can I Take My Pets to Argentina?
You may take your cat or dog to Argentina when moving. Other pets are admissible but have other regulations. Be sure to familiarize yourself with the rules and regulations before loading them into their crates. Dogs and cats must meet the following criteria for entry into the country.
Must have a valid US-issued rabies vaccination certificate

Can provide proof of a microchip

Is at least six months old

Is healthy upon arrival

Must arrive at an approved port of entry
Top International Movers for moving from USA to Argentina
How Much Does it Cost to Live in Argentina after moving from the USA?
The cost of living in Argentina is much lower than in the US. Daily living costs for groceries, internet, childcare, public transportation, recreation, and dining are 50% to 60% less expensive than you're used to, and housing is often 75% lower than what you'll pay in the US.
The good news is that your retirement nest egg will stretch much farther than you may expect. However, if you plan on working in Argentina, know that salaries are meager to coincide with the low cost of living.
How Much Money Should I Take to Argentina?
Plan on taking savings of at least three times your monthly expenses. Costs upon your arrival in the country could include a housing deposit equalling up to a few months of rent, insurance, and setting up your new place.
The visa or residency permit you obtain may also have additional financial requirements to meet.
Living in Argentina after moving
Moving to Argentina from the US surrounds you with rich culture and tradition. However, you'll still need to take care of the fundamentals when you arrive.
Staying Connected
Before leaving the US, make sure your phone is unlocked. Once in Argentina, buy a SIM card with no contract. Purchasing a SIM card is extremely easy in Argentina. They're inexpensive and easy to find in stores throughout the country. The most reliable providers are Fibertel and Telecentro. Monthly 1GB data plans cost less than $10. Additionally, you'll find that many restaurants, bars, and coffee shops offer free Wi-Fi.
Finding a Place to Live in Argentina when moving
There's a wide range of accommodations in Argentina that you need to know when moving to Argentina. The country's struggle with recent political instability results in low rental and purchase prices. While there are numerous apartments and high-rise studios for rent in Buenos Aires, other cities offer single-family homes, either as stand-alone properties or in gated communities.
Speaking Spanish or dealing with a bilingual real estate agent is invaluable during housing transactions.
Finding a Job in Argentina
Working in Argentina after moving typically requires fluency in the Spanish language. Finding work is straightforward through online job searches or hiring the assistance of an employment agency.
Getting Around in Argentina
Buses are the primary way to get around in Argentina. The bus system is excellent, runs 24/7, and is widely used by locals and visitors alike.
Called colectivos, buses are the most prevalent means of transportation within and between cities. Here's another opportunity where your Spanish language skills will likely come in handy.
Traveling by car allows you the most freedom to see and do what you like on your timetable. However, driving is more expensive than traveling by bus. In the past few years, Econo flights have become more available and can save hours of travel time over driving or taking the bus.
Healthcare in Argentina
Argentina offers both public and private healthcare. Public healthcare is free for everyone in the country and includes hospitalization, medical and dental care, free rehab, and medical transport. While care is good, Waiting times can be very long.
Private healthcare offers reduced waiting times, less paperwork, and more likelihood of being able to see an English-speaking doctor.
Education in Argentina
Public universities for undergrad studies in Argentina are free for citizens and international students. Private universities charge tuition ranging from $3,000 to $20,000 per year.
A central admission platform for enrollment to universities doesn't exist in Argentina. Contact your chosen university to apply and enroll.
How do I Find an International Moving Company?
To make your move to a new home as smooth as possible, it's important to find a company that meets the following criteria:
Is registered and compliant with the Federal Motor Carrier Safety Administration (FMCSA)
Is registered and compliant with the Federal Maritime Commission

Has proper licensing and insurance

Offers additional moving insurance options

Can provide positive references from previous customers.
Get an International Moving Quote to Argentina
Get in touch with your international moving company and ask for a personalized moving quote. Have a conversation with an expert who can furnish you with all you need to know to kickstart your moving adventure.