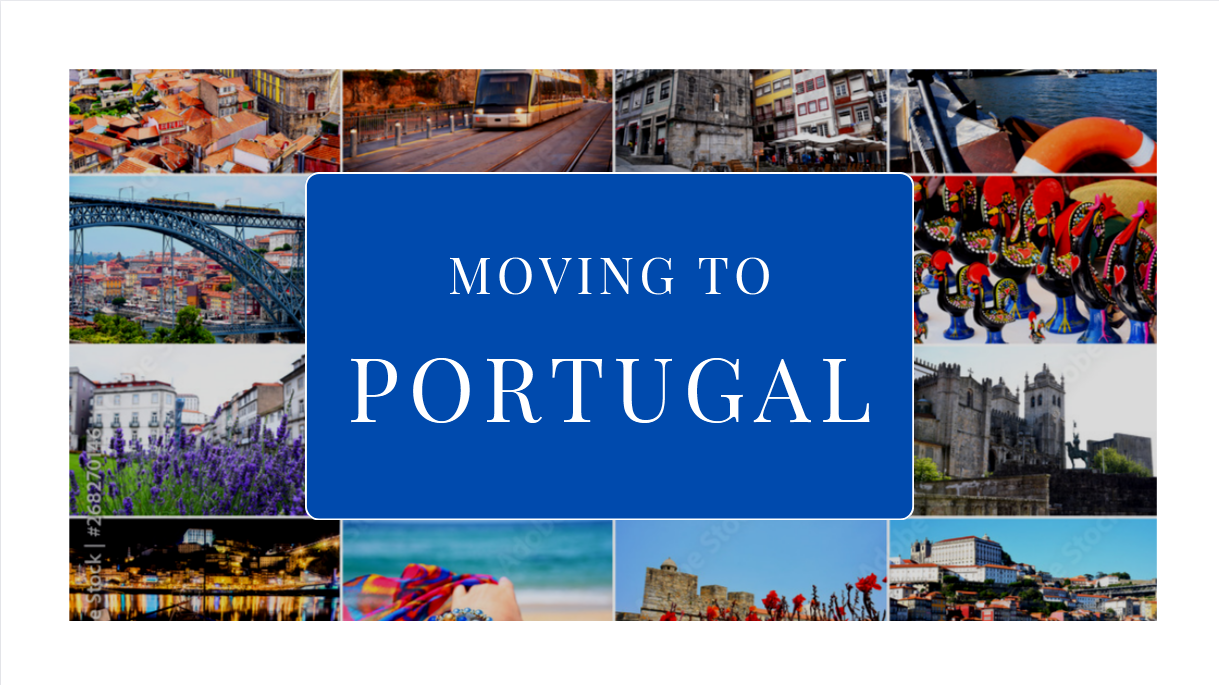 Moving to Portugal From the US – All you need to know when relocating from the USA to Portugal.
Moving to Portugal From the US
Established in 1139 AD, Portugal is drenched in history and beautiful sites to see and things to do. International Living and Forbes declared the country one of the world's best destinations in which to retire. With over 300 days of sunshine, warm summers, and moderate winters, Moving to Portugal from the US affords you the opportunity to enjoy all of it full-time.
Although speaking Portuguese isn't necessary to enjoy the perks of living in the farthest western European country with a comparatively low cost of living, having at least a few common phrases at the ready can be helpful in some situations, just in case.
Ranked as the fourth most peaceful country worldwide by the Global Peace Index, living here is nearly effortless and laid back. Portugal is defined by its world-class beaches, excellent cuisine, and exquisite wines among a long list of stunning destinations and activities.
The below guide will help you when moving to Portugal from the USA.

How to Move from the USA to Portugal
The key to successfully relocating to Portugal requires doing your homework. Expect to spend a large amount of time and energy researching your move and consider learning the language or at least a few useful phrases. Although you can likely get by speaking only English, having a little Portuguese in your vocabulary certainly won't hurt.
What is the Process for Moving to Portugal?
Moving to Portugal can be an exciting adventure, but it also involves a lot of planning and preparation. One important step is to create an international moving checklist to keep track of all the tasks ahead and stay organized. This will help minimize surprises and reduce the stress of your big move.
Don't hesitate to delegate tasks to your international moving company that can assist you throughout the process. They are there to help and can handle the more complex issues as they arise.
When planning your move, consider the different regions of Portugal in which to live, from bustling cities to beautiful beaches, mountain towns, and tranquil country villages

Create a moving budget and set aside some cash to use when you arrive.

Research residency requirements and select the appropriate visa or permit for your needs.

Don't forget to purchase travel insurance to cover your initial healthcare needs until you are eligible for public or private healthcare in Portugal.

Make an inventory of all the items you plan to bring with you to Portugal
How Long Can I Stay in Portugal after moving from the USA?
Americans who intend to stay in Portugal for less than 90 days won't need to worry about any special visas. Stays of longer than 90 days will need to be accompanied by one of several available visas or permits.
Expats Work Visa
If you plan to relocate to Portugal for work and are moving from outside the EU/EEA, apply for a Portuguese work visa. There are several work visa variations. The one you need depends on the nature of your work and your length of stay. Ensure that you start the application process well in advance of your move, as the process can take 90 days to complete.
Retirees
Portugal is happy to welcome American retirees. For visits longer than 90 days, you'll need to apply for a retirement visa to stay in the country legally. Retirees have two long-term retirement visa options. The Golden Visa allows you to live in Portugal after making a significant financial or business investment in the country. The D7 visa removes the investment requirement and allows long-term residency to those who meet modest passive income requirements.
Students
Students who wish to study in Portugal must obtain a student visa along with a residency permit from the country after being accepted into a university. Requirements for both permissions include a health certificate, proof of paid tuition and financial sustenance, a criminal-free background, and proof of residency. Universities in Portugal can provide assistance to new students.
Digital nomads
The primary requirements for the Portugal Digital Nomad Visa program are that applicants must be foreigners who are remote workers and are employed or operate a business originating outside the country.
Remote workers must also meet the government's minimum income requirement to qualify for the Nomad Visa, which currently equates to about $2,750 per month.
Getting Your Stuff to Portugal when Relocating
Making sure you're ready for your move to Portugal is important, but don't forget about getting your belongings ready too. Keep in mind that your relocation company is there to help you plan, organize, and make your move go smoothly.
How do I Ship My Household Items to Portugal?
Moving to a new home overseas is fun and exciting. But it takes some time to accomplish. One popular moving option is container shipping, where your belongings are carefully packed into a large container and shipped by cargo ship to your new home. The process usually takes about four to six weeks from start to finish.
Another option is air freight, which costs more but can get your household items to your destination within about two to four weeks.
No matter which option you choose, you may consider storage solutions to keep everything organized. This is especially useful if for moving long distances, as is the case here. Whether you need temporary or long-term storage, there are plenty of options available to help you with whatever you need.
How Much Does it Cost to Move My Belongings to Portugal?
Moving overseas typically costs between $1,500 and $12,000. The cost of moving to Portugal or other European destinations depends on how much you take and where you're going.
How Can I Save Money when Moving to Portugal?
Moving internationally can be costly, but there are ways to save money. Here are a few tips.
Pack light and declutter before you move. This will not only make the move easier, but it will also reduce the number of items you need to move and, therefore, reduce the cost.
Consider packing your own belongings to save money over hiring professional packing services.
Unloading your own container at the destination can also save you money.

If your moving date is flexible, let your mover know. This could result in a discounted rate.

Use an international moving cost calculator to see where else you can save money.

Compare different moving companies based on price and services.

Don't hesitate to ask for discounts from your mover.
Can I Ship my Car to Portugal?
You can ship your car, truck, or motorcycle to Portugal. However, whatever you bring with you must clear Portuguese customs before entry, and you'll need to pay import duty and taxes on the vehicle when it arrives, which, for long-term stays, can equal 23% of the car's value.
Additionally, you can expect costs for registration, a driving permit, road tax, and any alterations the car may need.
Navigating Portuguese Customs
Understanding Customs when moving to Portugal.
Portuguese customs monitor everything that comes into the country, whether it's a commercial product or your automobile and household possessions. One of the services your international moving company provides as part of your move is assisting you with the paperwork and compliance requirements for wherever you're moving. For the most part, leaving behind cleaners, liquids, food, or hazardous materials will make your experience through Portuguese customs a piece of Pão de ló.
Should I get moving insurance?
Your stuff is traveling a long way. Nobody likes to talk about it, but things can happen that can potentially damage your goods. Purchasing additional international or marine insurance costs an average of 3% of your shipment's declared value, which is a small price to pay for your peace of mind.
Can I Take My Pets to Portugal?
Your pets are welcome in Portugal under similar requirements shared by other EU countries. Your pet must meet the following criteria and be older than three months old to enter the Country.
Each pet needs a valid, signed veterinary certificate of health

All animals must be up to date on rabies vaccinations.

Pets must have an identifying microchip

Pets must be accompanied by their owners

Birds must be quarantined for 30 days or be tested for bird flu before entry.

How Much Does it Cost to Live in Portugal?
Living in Portugal is surprisingly inexpensive compared to other European countries. However, salaries in Portugal are often a third of what they are in the US. Expats and freelancers earning dollars to spend in the country, however, can enjoy low prices on most living expenses, with only a few exceptions.
How Much Money Should I Take to Portugal?
Plan on taking savings of at least three times your monthly expenses. Upfront fees upon your arrival in the country could include a housing deposit equalling up to a few months of rent, insurance, and the costs of settling into your new home.
The visa or residency permit you obtain may also have additional financial requirements to meet.
Living in Portugal – What you need to know when moving to Portugal
Moving to Portugal from the US, you'll realize many similarities. You'll also be immersed in a land of history and culture, so there won't be any confusion about where you are.
Staying Connected in Portugal after Moving
Before leaving the US, ensure your phone is unlocked. To enjoy public Wi-Fi in numerous places and stay connected as you explore this beautiful place, pick up a SIM card without an attached contract.
Finding a Place to Live in Portugal
Choosing a setting in which to live in Portugal is likely the most challenging part of finding a place to call home. As you start your housing search in Portugal, internet searches will return numerous results from unique destinations. Working with a relocation specialist while still in the US can provide even more opportunities.
There are no restrictions prohibiting foreign nationals from renting a home in Portugal. Residents can purchase property in the country with few restrictions. Most Portugal natives choose to purchase their home over renting one.
Finding a Job in Portugal
As with job searches in the US, many employment opportunities can be found online in Portugal as well. Internet job search platforms provide lists of job openings and let you know if speaking Portuguese is necessary for the positions. However, although improving, employment availability can be relatively tight outside of high-tech and specialized jobs.
Many expats who must work while in Portugal opt to start a new business instead of seeking outside employment.
Another excellent option is to contact a recruitment agency service. They can walk you through the process and identify opportunities that match your skills and strengths.
Healthcare in Portugal
Portugal's healthcare system models itself under standard European rules. Public healthcare is mainly free and high-quality, with excellent preventive care. However, you must be a permanent resident to apply for coverage. Foreign nationals and temporary residents must purchase private or travel insurance valid across the entire Schengen Area.
Education in Portugal
Portugal's higher education system is well-structured, well-funded and consists of 47 universities and 74 polytechnic schools. International students are welcome. However, start the application process early to ensure the paperwork is complete before the strict deadlines. Students also must pass an entrance exam for their field of study and provide proof of economic sustainability while studying in the country.
Top International Movers to Portugal from the USA
How do I Find an International Moving Company for moving to Portugal?
Looking for a reliable international moving company to help you relocate to your new home? Here are a few tips to help you find the perfect mover for your needs.
Make sure the company is listed and in compliance with both the Federal Motor Carrier Safety Administration (FMCSA) and the Federal Maritime Commission. This ensures that the company follows the necessary regulations and standards for international moving.

Check if the company is licensed and properly insured. This will give you peace of mind knowing that your belongings are protected in case of any accidents or damages during the move.

Look for a company that offers additional moving insurance protection. This will give you added security and protection for your belongings during the move.

Finally, ask for checkable referrals from past customers.
By following these tips, you can find an international moving company that will make your move as smooth and stress-free as possible.
Get an International Moving Quote to Portugal
Call your international moving company to request a moving quote. You'll have the opportunity to speak with a professional who'll provide you with the information you need to get your journey started on the right path.