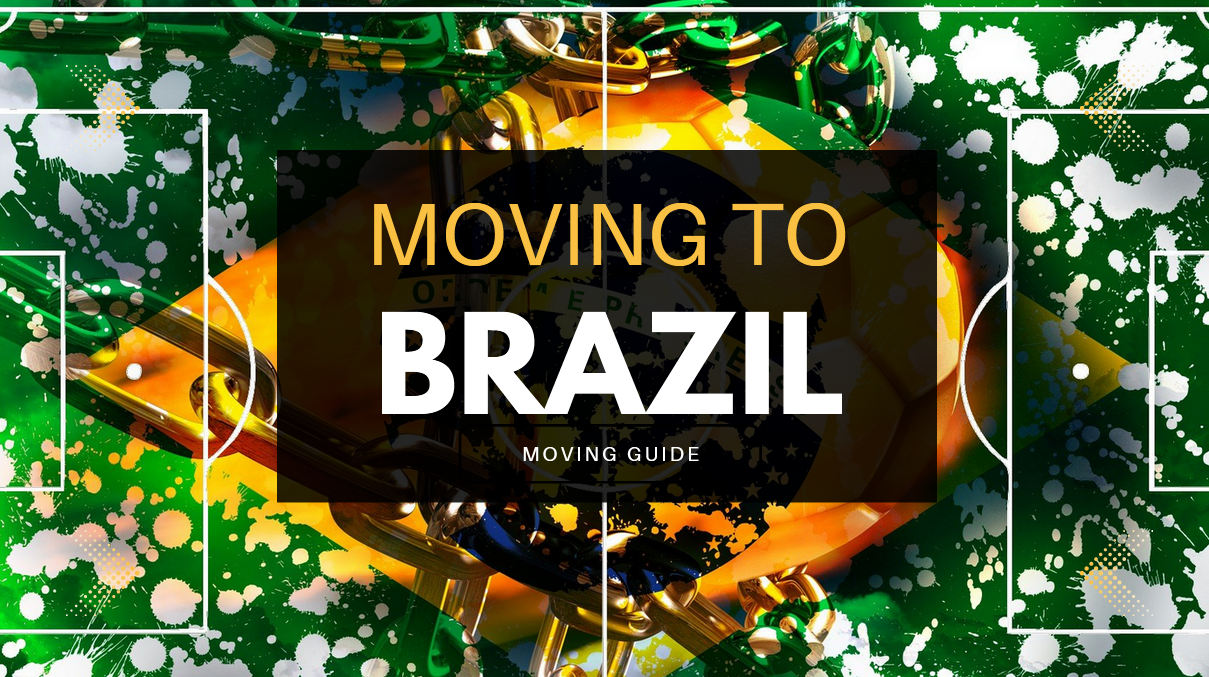 Moving to Brazil From the US – Everything you need to know when relocating from the USA to Brazil.
Moving to Brazil From the US
Brazil is home to the Samba, mouth-watering Brazilian churrasco, epic carnival celebrations, and Christ the Redeemer—one of the New Seven Wonders of the world. It's a massive country with countless places to visit and things to see. You can spend a lifetime in Brazil without running out of adventures.
The area is also home to gorgeous mountain ranges dotted across the country, not to be upstaged by some of the world's most beautiful beaches that make up the country's shoreline. Almost limitless terrain and microclimates, such as desert-like areas, lush valleys, and plains, make up most of the rest of the landscape.
Brazil is also home to 22 UNESCO World Heritage sites, including Iguazu National Park and the Brazilian Atlantic Islands. It's no wonder moving to Brazil from the US is becoming more popular.
How to Move to Brazil
The key to successfully relocating to Brazil requires doing some homework. Expect to spend plenty of time and energy researching your move and strongly consider learning Portuguese. Although you can likely get by speaking only English, you'll be better received and understood if you have a fair grasp of the native language.
What is the Process for Moving to Brazil?
Moving to Brazil takes patience and organization. A crucial first step is creating an international moving checklist to keep track of all the tasks ahead to stay organized and minimize the effects of unwelcome surprises.
Remember to delegate early and often. The best international moving companies are ready to help you every step of the way. Let them deal with the complex parts. The process of moving to Brazil follows the steps below.
Choose your destination. Brazil has everything, large bustling cities, world-class beaches, and vibrant nightlife.

Create a moving budget and hold on to a few months' savings for spending on setting up your new home.

Learn about residency requirements in Brazil and choose the path that fits your needs.

Purchase travel insurance to cover your initial healthcare needs in the country until you can become eligible for public healthcare.

Create an inventory of all the items you're taking to Brazil, including household goods and vehicles.
How Long Can I Stay in Brazil?
U.S. passport holders don't need a special visa to stay in Brazil for up to 90 days—as long as at least six months of validity remain before it expires. However, even if you stay less than 90 days, there's a maximum of 180 days within a 12-month period.
Expats Work Visa
To work in Brazil, you must have a Brazilian work visa and work permit as well. First, you must have a job agreement with your Brazilian employer. After the company obtains your work permit, you must apply for a work visa while still in the US. As an employee, you're not allowed to apply for your own permit to work.
Retirees
Americans can retire to Brazil on a retiree visa. To obtain a retirement visa, you must be over the age of 60 and have a pension that earns at least $2,000 per month. You must apply at least four to eight weeks before arriving in Brazil through a consulate office or the Brazilian embassy. They'll ask for several personal documents, including a copy of your birth certificate and income information.
Student
To study in Brazil, you must obtain a student visa and enroll in a recognized school or institution of technical studies, higher learning, or University program accredited by the Brazilian Ministry of Education and Culture (MEC). Student visas are granted on one-year extendable terms until your education is complete. Working in the country isn't allowed on a student visa.
Digital nomads
The Brazilian digital nomad visa is a residence permit that allows foreign workers to live in Brazil while working remotely. This temporary permit is valid for one year and can be extended for the same amount. It's issued to self-employed individuals and remote employees working for a company outside of Brazil.
With a digital nomad visa, you're eligible for the free public health care system offered to international residents.

Getting Your Stuff to Brazil
Getting ready for your move to Brazil is thrilling, but it's also important to make sure all your belongings are prepared for the trip. It's easy to get caught up in the excitement of starting a new chapter in a new country.
Your relocation company is your partner in making sure your move goes as smoothly as possible. They're here to help you plan, organize and execute every step of the move, so don't hesitate to reach out to them with any questions or concerns you may have.
Moving to Brazil – How do I Ship My Household Items to Brazil?
Relocating overseas can be a time-consuming process, often involving container shipping. This entails placing your possessions in a large metal container, which is then loaded onto a cargo ship and transported to a seaport near your new home. The entire process usually takes between four to six weeks.
However, if you want a faster option, air freight is available, although it is more expensive. With air freight, your household items can reach destinations farther away from the coast within two to four weeks.
Additionally, you may need to consider temporary or long-term storage solutions for your belongings, especially if you are moving long distances, like in the case of moving to Brazil from the US, to keep everything organized.
How Much Does it Cost to Move My Belongings to Brazil?
Moving overseas typically costs between $1,500 and $12,000. The cost of moving to Brazil or other South American destinations depends on how much you take and where you're going.
How Can I Save Money Moving to Brazil when moving?
International relocation can be a significant financial commitment, but by taking a few simple steps, you can reduce the strain on your budget.
Start by decluttering and downsizing your belongings, as the less you have to move, the less it will cost—packing light saves cash. Next, consider packing your own possessions instead of hiring your mover for the task. You can also save money by unloading your container at your destination instead of paying extra for the service.
If your moving date is flexible, you may try negotiating a discounted rate with your mover. Use an international moving cost calculator to identify additional savings opportunities and to compare different moving companies based on their prices and services.
Last but certainly not least, talk to your mover about extra discounts, you may find unadvertised savings just for the asking.
Can I Ship my Car to Brazil?
It's possible to ship your car to Brazil. Remember that whatever you bring with you must clear Brazilian customs before entry. The Brazilian government will allow anyone to import a vehicle as long as the car is either new or a collector model over thirty years old. However, all cars and trucks must meet the country's emissions control and safety standards.
Navigating Brazilian Customs
Brazilian customs monitors everything that comes into the country, whether it's a commercial product or your personal possessions. One of the services your international moving company provides as part of your move is assisting you with the paperwork and compliance requirements for wherever you're moving. For the most part, leaving behind cleaners, liquids, food, or hazardous materials will make your experience through Brazilian customs a piece of Bolo de Rolo.
Should I get moving insurance?
Your stuff is traveling a long way. Nobody likes to talk about it, but things happen that could damage your goods. Purchasing additional international or marine insurance costs an average of 3% of your shipment's declared value, a small price for extra peace of mind.
Can I Take My Pets to Brazil?
You may take your cat or dog to Brazil. However, before promising Spot an airplane ride, Ensure that your pet is qualified to meet the long and relatively complex rules and regulations governing your furry companion's entry. Other pets are admissible but have additional regulations.
How Much Does it Cost to Live in Brazil?
The cost of living in Brazil is significantly lower than in the US. Daily living costs for groceries, internet, childcare, public transportation, recreation, and eating out are 50% to 60% less expensive than in the US. Housing is often 70% lower than you'd pay in the States.
How Much Money Should I Take to Brazil?
Plan on taking savings of at least three times your monthly expenses. Upfront fees upon your arrival will likely include a housing deposit equal to one month's rent, insurance, and setting up your new home.
The visa or residency permit you obtain may also have additional financial requirements to meet.
Top International Movers USA to Brazil
Living in Brazil
Moving to Brazil from the US is sure to supply you with a bit of culture shock. But in a good way. You'll notice an easy-going lifestyle and low prices with the exception perhaps of designer goods.
Staying Connected
Before leaving the US, make sure your phone is unlocked. Once in Brazil, buy a SIM card with a prepaid plan. You'll likely be asked to show your passport to purchase one, and some stores may even tell you it's impossible to buy one without a national ID. However, you can usually circumvent this issue by purchasing a prepaid plan.
Finding a Place to Live in Brazil
Local newspapers and online property portals are great ways to find local accommodation. Using Portuguese sites, rather than English ones aimed at tourists, can help you get better prices. Also, contacting a bilingual real estate agent will provide you with more options and a professional helper.
Brazilians and foreign nationals have almost equal rights in buying, owning, and renting property in Brazil. However, restrictions may apply if you're trying to buy land within 100 yards of the coast or in rural areas.
If you're planning to rent a property, it's worth noting that rental agreements are typically for 30-month periods but can often be negotiated down. Most property prices exclude utilities, and you'll be expected to pay a month's rent as a deposit. You will also likely need a guarantor to co-sign your agreement.
Finding a Job in Brazil
Fluency in Portuguese is crucial for working in Brazil. A transfer from your current job is likely your best bet. Finding a job without the support of an HR department can be challenging for international residents.
Starting a business in Brazil is an option. First, know that it comes with additional rules and regulations and ensure that you understand the Brazilian market and expected business practices. Or consider obtaining a digital nomad visa.
Getting Around in Brazil after moving
In Brazil, public transport outside the Amazon is generally by bus or plane, though there are a few passenger trains, too. It's worth noting that services will be crowded but plentiful and inexpensive apart from planes.
The bus system is excellent, runs 24/7 in most cities, and is widely used. Your understanding of at least some Portuguese is helpful when determining which bus goes where.
Healthcare in Brazil
Brazil's universal healthcare system is administered by cities and states and funded by local, state, and federal taxes. Healthcare and prescription drug coverage is available to anyone living legally in Brazil, including those on retiree visas, work visas, and student visas.
Although universal and free, wait times to access care can be very long. Private insurance can help avoid long wait times and is available for roughly the same cost or lower than in the US.
Education in Brazil
Public universities for undergrad studies in Brazil are tuition-free for both citizens and international students. Private universities charge tuition ranging from $2,000 to $20,000 per year. There's no central admission platform for enrollment to universities in Brazil. You can apply directly to your chosen university.

How do I Find an International Moving Company for Moving to Brazil?
To ensure a smooth and stress-free international move, it's essential to choose a reputable and qualified moving company. To find the best fit for you, look for a company that meets the following standards.
They are registered and compliant with the Federal Motor Carrier Safety Administration (FMCSA) and the Federal Maritime Commission.

They hold the proper licenses and liability insurance coverage.

They offer additional insurance options for added protection of your belongings.

They can provide verifiable customer testimonials.
Get an International Moving Quote to Brazil
Get a moving quote now by contacting your international moving company. Speak with a pro and get the info you need to start your move today.