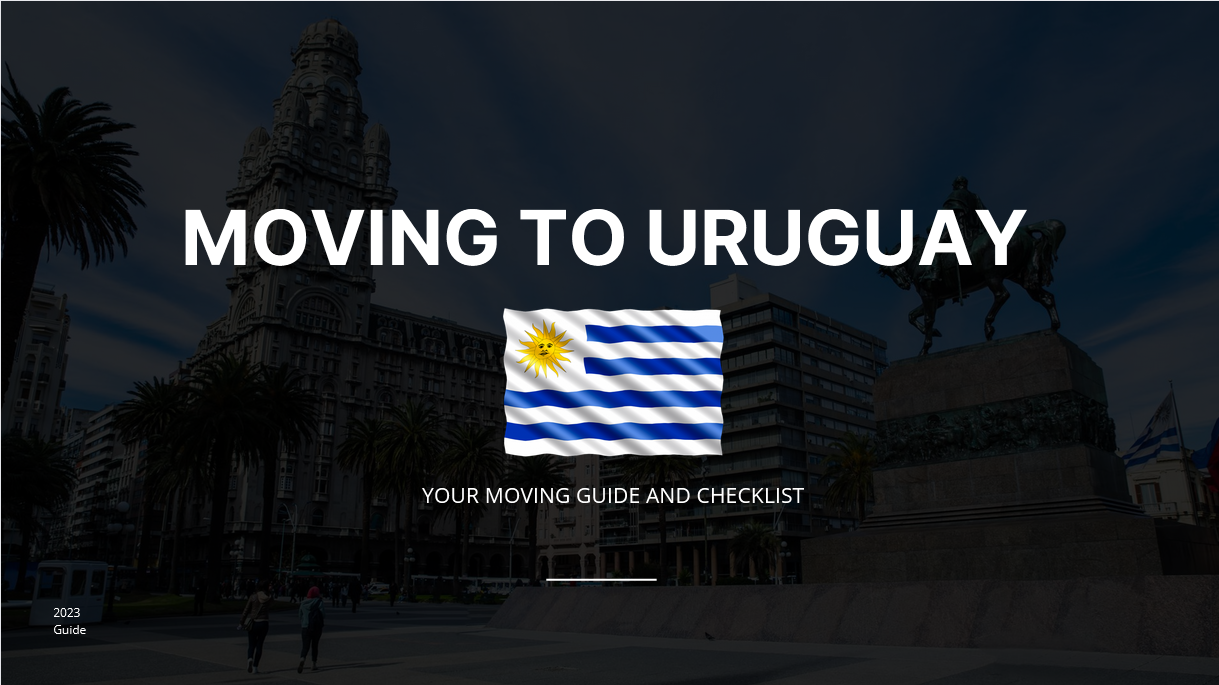 Moving to Uruguay from the US –Here is everything you need to know when relocating from the USA to Uruguay.
Moving to Uruguay From the US
Uruguay is a small South American country with lots to offer, including a stable economy, mild climate, safe drinking water, affordable healthcare, beautiful beaches, minimal taxes, and little crime. While Uruguay isn't the cheapest South American country, Moving to Uruguay from the US will allow you to experience a high quality of life due to lower expenses than you may be used to.
If you enjoy city living, then Montevideo, the country's capital, will entice you with many restaurants, local shops, and cultural events ranging from Carnival parades to musical concerts. On the other hand, if country living is more your style, Uruguay offers unspoiled countryside with gauchos still tending their herds.
Is the beach life calling you? There's simply no better place than South America's premier beach resort of Punta del Este to satisfy the desire.
How to Move to Uruguay
The key to successfully relocating to Uruguay requires doing some homework. Expect to spend a lot of time and energy researching your move and strongly consider learning Spanish. Although you can likely get by speaking only English, you'll be better received and understood if you have a fair grasp of the language.

What is the Process for Moving to Uruguay?
Relocating to Uruguay from the United States entails a number of steps. One of the most crucial is creating a comprehensive moving checklist to help you keep track of tasks and stay organized. Remember to delegate tasks when possible, particularly to a reputable international moving company to lighten your duty load.
When selecting your destination, keep in mind that Uruguay offers a diverse array of options, including a bustling capital city, picturesque beaches, and a lively nightlife. Be sure to budget accordingly and set aside enough savings to cover your expenses upon arrival.
Before making the move, familiarize yourself with the residency requirements and choose the visa that best suits your needs. Additionally, consider purchasing travel insurance to cover healthcare costs during the transition period.
Finally, make an inventory of all the items you plan to take with you, including household goods, vehicles, and anything else you may need in your new home.
How Long Can I Stay in Uruguay?
If you're a U.S. passport holder, you don't need a special visa for a stay of up to 90 days. You can often renew the 90-day permit to stay for additional time.
Expats Work Visa
Different Uruguay work visas carry slightly different requirements. However, there are some general basic requirements that most applicants will need to fulfill. You'll need the following items to qualify.
Valid passport

Job offer from an Uruguay-based employer

Application fees and proof of payment

Application forms

Passport-sized photos
Retirees
There are a couple of options for retiring in Uruguay. The most popular is a retirement visa, which will allow you to bring your vehicle with you without paying taxes. Additionally, you'll qualify for an Uruguayan passport. The visa has no income requirement but is time-consuming to obtain.
When applying for residency and a visa, you must go to immigration. A permanent residency application can take months or years to process—some people report the process taking up to two years. Fortunately, you do not need a permanent resident visa or passport to begin living in Uruguay full-time.
Student
If a foreign national wishes to pursue study in Uruguay beyond 90 days, they must obtain a study visa. Apply at the embassy or consulate in their home country to start the process.
The study qualifies only for a single entry. The validity of which will be for 180 days beginning the day the visa is stamped.
Digital nomads
Uruguay does not have an official digital nomad visa. However, the government has introduced a short-term remote work option for qualifying foreign nationals that includes the following key points.
Foreign nationals can apply for a provisional identity document to live and work remotely in Uruguay for up to 180 days without employer sponsorship.

To be eligible for the short-term remote work option, foreign nationals must be employed by a company not registered in Uruguay.

Remote workers aren't required to register with social security services in Uruguay.
Getting Your Stuff to Uruguay
Getting ready for your big move to Uruguay can be both exciting and overwhelming. But don't worry. Keep in mind that your relocation company can help with just about everything. From planning and organizing to executing your move—Together, we'll make sure your transition is as smooth and stress-free as possible.
How do I Ship My Household Items to Uruguay?
Relocating takes time, and it's important to understand the different options available for transporting your possessions to your new home. One option is container shipping, where your items are placed in a shipping container and transported via cargo ship to a seaport near your new home. From there, it's often trucked to your final destination. The process usually takes between four and six weeks to accomplish.
Another option is air freight, which is costlier, but it can speed up the moving process to between two and four weeks. This method is great for getting your household items to inland places if you're not hanging out on the coast.
Regardless of the method you choose, it's not uncommon to need storage services of some sort at your destination or in your former location. Using storage solutions can help keep things organized and simplify the moving process, especially when moving over long distances.
How Much Does it Cost to Move My Belongings to Uruguay?
Moving overseas typically costs between $1,500 and $12,000. The cost of moving to Uruguay or other South American destinations depends on how much you take and where you're going.
How Can I Save Money Moving to Uruguay?
International relocation can be a significant financial undertaking. However, there are several ways to reduce the impact on your moving budget. Here are some tips.
Minimize the number of belongings you're taking with you by downsizing. The less you must move, the more you can save.
Save money by bypassing professional packing services and consider packing your own belongings.
Save on costs by unloading your own container at your new home.

If your moving date is flexible, let your mover know. You may be able to secure a flexible price as well.

Use an online international moving cost calculator to learn about additional ways to save money.

Compare multiple moving companies by price and services offered at that price.

Ask your mover for unadvertised discounts. They may surprise you.
Can I Ship my Car to Uruguay?
It's certainly possible to ship your car to Uruguay. Remember that whatever you bring with you must clear Uruguayan customs before entry. The government will allow anyone to import a vehicle as long as it's new. Only diplomats can import used cars. Be sure to familiarize yourself with the relatively expensive duties and taxes if you're unable to use certain visas that allow the duty-free importation of new vehicles.
Navigating Uruguayan Customs while relocating.
Uruguayan customs monitors everything that comes into the country, whether it's a commercial product or your automobile and household possessions. One of the services your international moving company provides as part of your move is assisting you with the paperwork and compliance requirements for wherever you're moving. For the most part, leaving behind cleaners, liquids, food, or hazardous materials will make your experience through Uruguayan customs more pleasant.
Should I get moving insurance when moving to Uruguay?
Your stuff is traveling a long way. Nobody likes to talk about it, but things can happen that damage your goods. Purchasing additional international or marine insurance costs an average of 3% of your shipment's declared value, a small price to pay for peace of mind.
Can I Take My Pets to Uruguay?
You may take your cat or dog to Uruguay. Other pets are admissible but have other regulations. Be sure to familiarize yourself with the rules and regulations.
How Much Does it Cost to Live in Uruguay?
The cost of living is only slightly lower than in the US. Daily living costs for groceries, internet, childcare, public transportation, recreation, and eating out are 10% to 30% less costly, and housing is often 50% less than what you'll pay in the US.
How Much Money Should I Take to Uruguay?
Plan on taking savings of at least three times your monthly expenses. Upfront fees upon your arrival in the country could include a housing deposit equalling up to a few months of rent, insurance, and the cost of setting up your new place.
The visa or residency permit you obtain may also have additional financial requirements to meet.
Living in Uruguay
Living in Uruguay shares similarities with living in the US, with some notable differences.
Setting Up a bank account
Setting up a local bank account will not only provide you with a convenient way to pay your bills, but it also helps satisfy residency proof of income requirements.
Be sure to start your bank search with Uruguay's state bank, as most private banks in Uruguay don't accept US citizens as customers due to the extra paperwork involved.
Like all financial institutions, banks in Uruguay must verify the identity of depositors and the source of deposited funds. Have your documents, such as a passport, a second form of ID, and proof of income, ready to show the bank.
Top International Movers USA to Uruguay
Finding a Place to Live in Uruguay when moving
Local newspapers and online property portals are great ways to find local accommodation. Using Spanish sites, rather than English ones aimed at tourists, can help you get better prices. Also, contacting a bilingual real estate agent will provide you with many opportunities and a professional helper.
Foreign nationals have almost equal rights when it comes to buying, owning and renting a property in Uruguay. In fact, you don't even need to be a resident to purchase or rent property in Uruguay.
Finding a Job in Uruguay
Speaking a very high level of Spanish is typically necessary to work in Uruguay. In the Uruguayan business world, English will only get you so far, and chances are that only those in upper management speak English.
The most common jobs in Uruguay for foreigners are in agriculture, tourism, telecommunications, information technology, finance, construction, and aviation. To a lesser extent, you can also often find work in the medical and educational fields.
Getting Around in Uruguay after moving
Train service in Uruguay is suspended indefinitely, so everything is done by car or bus. The buses from the capital to other cities are usually excellent, with comfortable seats, air conditioning, and, most often, Wi-Fi. If you don't wish to travel by bus, renting a car is less expensive than taxi service for city-to-city travel.
In cities and towns, it's common to use bicycles to get around. There are several spots in Montevideo where you can rent bikes right on the streets. You can also use taxis or app-based rides. However, both increase their prices at night.
Healthcare in Uruguay
Uruguay has a reputable healthcare system that offers healthcare and quality medical treatment to everyone that resides in the country. What makes Uruguay stand out is its private hospital membership plan known as Mutualista. After your membership is accepted, the hospital offers members healthcare, from doctor visits to emergency room care.
Another healthcare option with no restrictions for age or preexisting conditions is Uruguay's public healthcare system from The Administration of State Health Services (ASSE). It's available to any foreign national who becomes a legal resident of Uruguay.
Education in Uruguay
Uruguay is an excellent option for students looking for an affordable, stable, and exciting country in which to study. Undergrad studies in Uruguay's public universities are tuition-free for both citizens and international students. Private universities charge tuition ranging from $2,000 to $20,000 per year.
There is no central admission platform for enrollment to universities in Uruguay. Applicants need to apply directly to their chosen university. Students staying in Uruguay for more than one year must apply for temporary residence at Dirección Nacional de Migración (the national immigration office).
How do I Find an International Moving Company?
Finding the right international moving company for you is crucial for making the adventure to your new home as easy as possible. Moving to Uraguay from the US is no exception. Ensure your mover meets the following criteria so you know they can pull off the task.
The company is listed and complies with the FMCSA
Is listed and complies with the Federal Maritime Commission

Is licensed and insured

Offers additional insurance protection for your move

Can provide valid positive referrals from past customers
Get an International Moving Quote to Uruguay
Get your journey started today by contacting your international moving company and requesting a moving quote. You'll have the opportunity to speak with a professional who'll provide you with details to get you on your way.