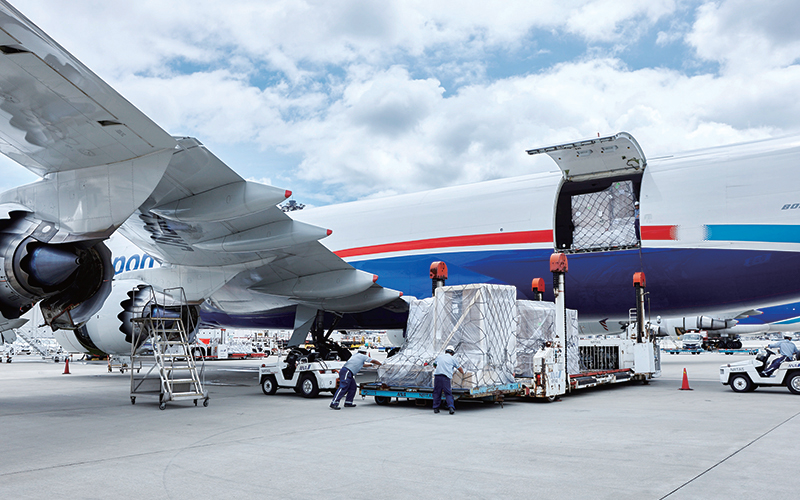 Moving Overseas using International Air Freight – All you need to know!
Moving stuff from one country to another can be time-consuming, but international air freight is the way to go if you're hurrying to get your things. It's the quickest shipping mode but can come with a heavy price tag.
This article outlines the cost of shipping household goods overseas by air shipping and the pros, cons, and tips to help you reduce the cost of your international move.
What is international air freight, and how does it work?
International air freight is shipping your goods overseas by cargo plane, airlines, or by air freight companies. The speed of air freight makes it attractive to people that want to get their stuff quickly.
Air transport is not only the fastest way to ship stuff internationally, but it's also known for its reliability and safety. Flight schedules are usually reliable, ensuring accurate delivery times.
Most international moving companies offer air shipping as part of their services. If time is of the essence, compare the cost of air freight moving to see if it's within your budget.
Read Here: How to Understand an International Moving Quote
How much will it cost to ship household goods overseas by air?
The average cost of shipping household goods by international air freight is $3500 to $13,000, making air shipping the most expensive method of transportation. Your move's size and service are the most significant cost factors.
Another thing that can affect the cost of shipping by air is the time of year. The peak moving season begins in May and ends in August, making those months about 25% higher than in winter months.
Air shipping is a specialty service; finding the best international moving company that offers air freight will help you find the best deals. Below we will provide more tips on how to reduce your shipping costs.

Who are the best international movers offering air freight?
International Van Lines, JK Moving, Allied Van Lines, Atlas Van Lines, North American Van Lines, and United Van Lines are the best international moving companies for air freight services:
Each company listed offers ocean and air transportation to over 150 countries worldwide. Additionally, they maintain an excellent reputation with the Better Business Bureau and hold accreditations from the International Association of Movers and the FIDI Global Alliance.
Read Here: Frequently Asked Questions about Moving
How are air shipping charges calculated?
Air freight costs are calculated on several factors:
Weight and volume: Air freight costs are determined by the size and weight of your move. However, it's more complicated than heavier items costing more. International movers use a measurement known as "chargeable weight," calculated on the weight and dimensions of your shipment. If your load is large but light, it may cost more due to the space it takes up in the aircraft.
Distance and route: Shipping costs can also vary based on the destination. The further the route, the higher your price can be.
Delivery speed: You may have an option of an expedited delivery which is more expensive than a standard delivery.
Service: International moving costs comprise packing, loading, supplies, shipping cost, customer, and delivery. You'll have the option to customize a shipping solution that meets your needs and budget.
What are the advantages of air freight?
Moving overseas using international air freight has a lot of advantages that make it appealing. Here is a list of some of the pros:
Speed: Air freight is the quickest way to get your stuff from one country to another. Consider it if you're hurrying to move into your new place.
Reliability: Another benefit of air transport of reliability. Although shipping delays can happen, it's less common with air freight. Airlines have strict schedules, so there's less chance of a wait.
Security: Airports have high-level security, reducing the risk of theft or damage.
Minimal handling: Unlike ocean shipping, air freight requires less warehousing and handling, so there's less risk for damage.
Tracking: Most international moving companies offer a tracking system that allows you to follow your shipment process.
What are the disadvantages of air shipping?
Although shipping household goods overseas by air transport is a great option, it also has disadvantages. Below are the main disadvantages of international air shipping:
Cost: Air freight is typically much more expensive than ocean freight. It's because of the high operating costs of airplanes, fuel, and maintenance.
Size and Weight Restrictions: Airplanes have strict size and weight restrictions for cargo, limiting what you can send. If your household goods are large, heavy, or oddly shaped, you may be unable to ship them by air.
Environmental Impact: Air freight has a larger carbon footprint than other forms of transportation.
Limited Routing: Not all locations are serviced by air freight. Some remote areas may only be accessible by sea or land transport.
Packaging Requirements: Air freight often has stricter packaging requirements to protect goods during the rigors of flight and handling. It may add additional time, packing supplies, and cost.
It's essential to weigh these disadvantages against the main advantages of air freight: speed and reliability. Sometimes, the benefits outweigh the drawbacks, especially if the items are valuable, time-sensitive, or perishable.
Know More Here: Air Freight vs Truck Freight
Is ocean freight a better option than air freight?
Whether ocean shipping or air shipping is better for sending household goods overseas depends on a few things, including cost, transit time, move size, and environmental impact. Here's what to know:
Cost: Ocean freight is significantly less expensive than air freight, especially for larger moves. Consider ocean shipping if you're on a tight budget.
Transit times: Air freight is much faster than ocean freight. If you need your stuff immediately, air shipping is a better option.
Move Size: Ocean freight would be easier if you move a two- to three-bedroom home. You'll have the opportunity of shipping by container.
If you still need to decide what direction to take, you should speak with international moving companies offering both options. Compare costs and see what works best for you.
Know More Here: How to Pack for an International Move
What are the disadvantages of using ocean shipping
Ocean shipping is the most common method for moving household goods to another country. The cost and flexibility make it more attractive than air shipping, but there are some disadvantages of using ocean freight:
Transit times: On average, you can expect shipping times of around 15 to 20 days. Transit times can take longer depending on your destination country and service. For example, a door-to-door shipment can take up to 30 or even 45 days.
Damage: Since your items will be on the ocean for a while, they are more susceptible to damage. In case of a claim, it's best to speak with your international moving company about their insurance policies.
Custom Clearance: If you're arranging your customs clearance, you may find it a more time-consuming process involving excessive documentation. Most international movers offer customs clearance services if needed.
Handling: There are more parties involved when shipping by sea. You may have movers, trucking companies, ocean carriers, and delivery companies involved, increasing the risk of damage.
Is it a good idea to self-pack for an international move?
Self-packing is a great way to reduce the cost of your move, but it comes with risk. It would be best if you weighed the pros and cons of self-packing before committing:
Insurance: If you self-pack, you may be limited as to what insurance coverage you can get.
Time-consuming: If you're in a time crunch, consider leaving the packing up to the pros. Self-packing can be a time-consuming process. You must source packing supplies and create an inventory list of what you're shipping.
Labor-intensive: Packing can also be labor-intensive, so ensure you're up for the challenge before committing.
Damage: Most international moving companies have trained packers that will ensure your household items arrive at their destination safely.
If you're still up for self-packing, speaking with a professional moving company offering tips and advice is best.
Know More Here: Pros and Cons of Self-Packing for an International Move
How does insurance work when shipping overseas by air freight?
The best international moving companies offer insurance through third parties. You'll have two options:
All-risk insurance: If you're paying your mover to pack your household goods professionally, you can get all-risk insurance. It's excellent insurance coverage based on your household goods declared value.
Total loss insurance: If you're self-packing, you can still get insurance, but it's limited to complete loss coverage. Total loss insurance covers the entire shipment loss, whether by a catastrophic occurrence or just loss.
If you choose not to take insurance, your shipment will default to limited liability coverage of 60 cents per lb per article. It's best to speak with the international mover about their insurance policies.
Know More Here: Do you need International Shipping Insurance?
Top International Air Freight Companies

Here is a table of the top International air freight companies from the US. Ratings are based on Years in Business, Reputation, and Customer Reviews.
Moving Overseas using International Air Freight
Moving overseas using international air freight is an excellent option for smaller moves or hurrying to get your belongings. Air shipping has higher protocols making it a safer way to transport items internationally.
However, air transport is costly and can sometimes be up to three times the cost of shipping by ocean. Before deciding on the best shipping method, weigh the pros and cons of both sea and air freight.
International Van Lines is an international moving company that offers air and ocean freight to over 140 countries worldwide. Getting an international moving quote is easy. Please fill out the online form or call us to gather more information on how we can save you money on your international move.
More about International Van Lines