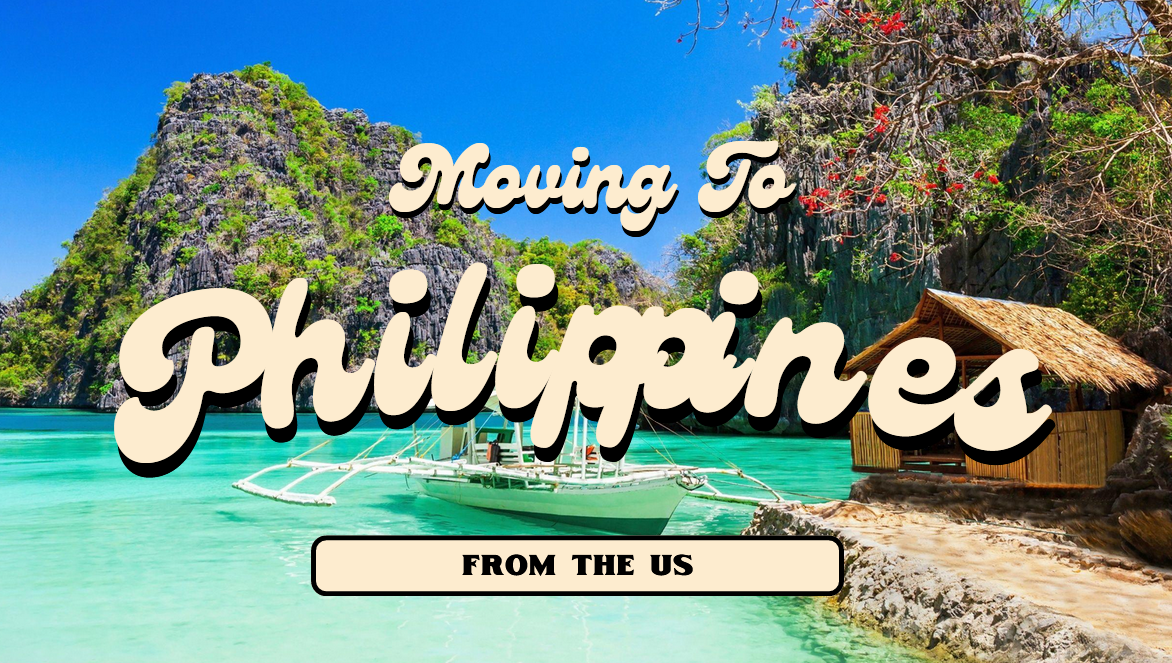 Moving to The Philippines From the US – How to move to Philipines from the US

The Philippines is called the pearl of the orient for its rich culture and beautiful landscape. It's home to centuries-old churches, turn-of-the-century mansions, ancient forts, and modern museums.
The Philippines is an archipelago comprising more than 7,000 islands. With its extensive coastline, the country offers the best of island beaches, white sand, and blue water teeming with marine life, corals, and lush foliage.
Moving to the Philippines from the US allows you to enjoy the country's moderate climate, delectable cuisine, cascading waterfalls, and welcoming people.
How to Move to the Philippines from the US

When you're moving to the Philippines, "the country of a thousand islands", you can put your organizational skills to work by creating an international moving checklist and start by talking with a moving specialist.

What is the Process for Moving to the Philippines from the US?
Moving abroad can be a breeze with proper planning. Here are some steps to get you pointed in the right direction.
Research tips and tricks for living in the Philippines

Plan ahead for budgeting, schooling, work, and moving

Gather, update and maintain current financial and health records

Purchase travel insurance

Make a detailed inventory of everything you plan to take to the Philippines

Delegate as many tasks as possible to a qualified international moving company
Read Here: Packing for an International Move
Top International Movers to Philippines from the US
How Long Can I Stay in the Philippines?
As a US passport holder, you can stay in the Philippines for up to 30 days without a visa. However, if you wish to stay longer, you can apply for a visa extension with the Bureau of Immigration.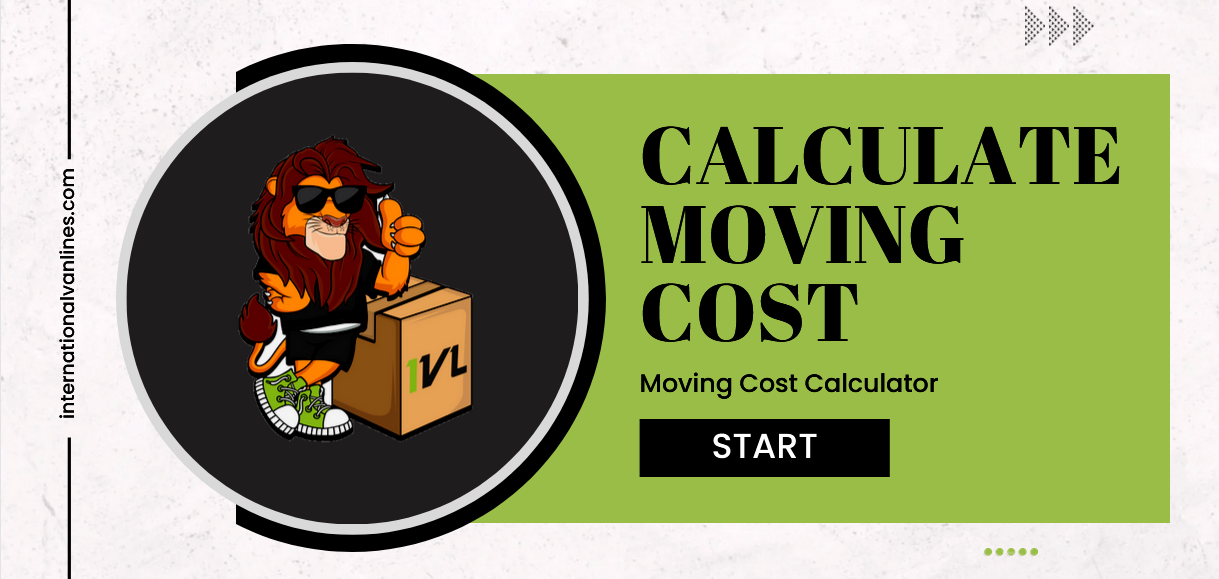 Expats Work Visa
To work in the Philippines, you'll need to obtain a work visa, also known as an Alien Employment Permit (AEP). To apply for an AEP, secure a job offer from a Philippines-based employer and provide documentation such as your valid passport, educational qualifications, and proof of previous work experience.
Additionally, your employer will need to apply for your Department of Labor and Employment (DOLE) clearance, and your new employer will also need to pay the visa application fee on your behalf.

Information for Retirees when moving to Philippines



The Philippines offers a Special Resident Retiree's Visa (SRRV) for foreigners interested in retiring in the country. The SRRV is a multiple-entry visa that allows you to live in the Philippines indefinitely. To qualify for the SRRV, you must be at least 35 years old and meet one of the following requirements.
A deposit of $50,000 in a bank account in the Philippines

A pension of at least $800 per month from a government agency or international organization

An investment of at least $50,000 in real estate or business in the country
Read Here: Moving Companies that offer Senior Discounts
Student Visa
International students can stay in the Philippines under a student visa. To apply for a student visa, you must provide documentation such as a letter of acceptance from a Philippine educational institution, proof of financial capability, and a valid passport.
You'll also need a certificate of eligibility for non-immigrant student status, which you can receive from the Commission on Higher Education. For the most current information, check with the Department of Foreign Affairs before applying.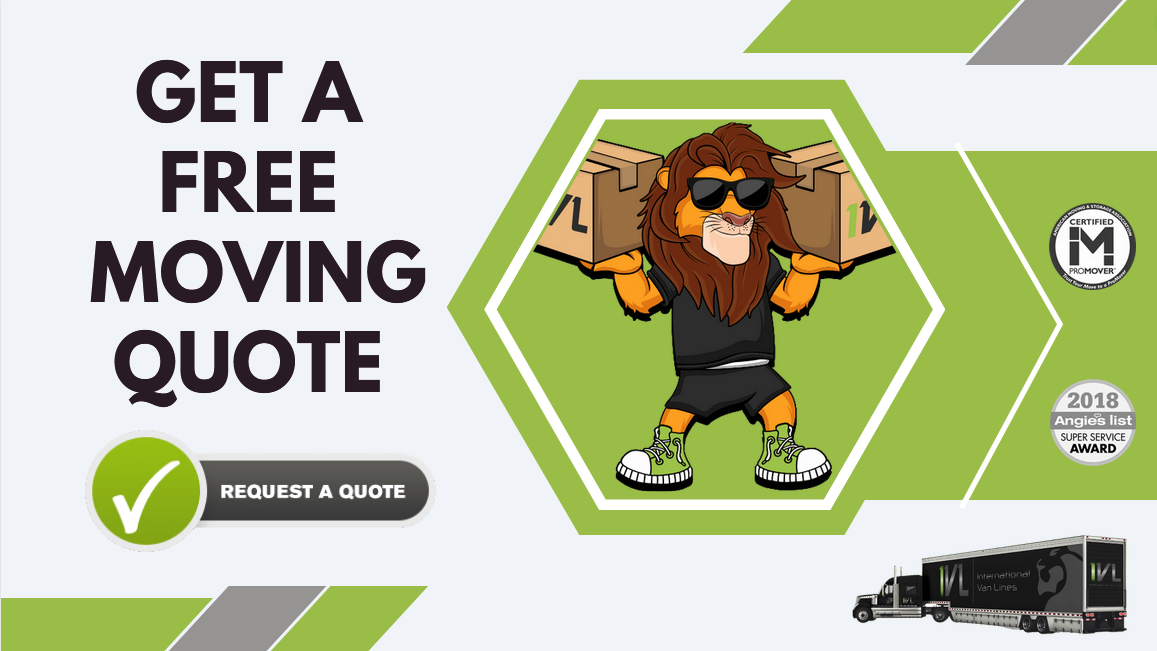 Digital nomads
The Philippines doesn't currently have a specific visa for digital nomads, but foreigners can enter the country to live and work on a tourist visa for up to 59 days. The Bureau of Immigration can help if you wish to stay for longer while working remotely.
Additionally, the Philippines has various special economic zones that offer longer-term visa options for foreign investors and employees, which may be suitable for digital nomads.
Getting Your Stuff to the Philippines when moving from the US

Working with a relocation company with years of experience and tons of moves under their belt can ease the stress of moving to the Philippines from the US.
A licensed and certified international moving company can assist you end to end by providing virtual survey estimates, packing, demystifying customs regulations, and even delivering your household goods right to your door in your new place in the Philippines.
How do I Ship My Household Items to The Philippines from the US?
When moving to the Philippines from the US, shipping your household items and personal belongings is a significant undertaking. However, it can be a relatively smooth process with the right planning and preparation.
One of the more important decisions is whether to ship your items via air or ocean freight. Air freight is generally faster but also more expensive. It's best suited for time-sensitive, high-value goods. On the other hand, ocean freight is slower but more cost-effective, especially for large shipments. It's the best option for shipping larger quantities of items at once.
Another critical factor to consider is the preparation of your items for shipping. It's important to properly pack, label, and document your items to ensure they arrive at their destination safely. You'll also need to obtain the necessary permits and paperwork for customs clearance in the Philippines—A task for which your relocation company can assist you.
Read Here: How to ship household goods overseas by ocean freight
How Much Does it Cost to Move My Belongings to the Philippines?
Moving overseas typically costs between $7,200 and $24,000. The cost of moving to the Philippines depends on how much you take and how fast you need it to get there.
How Can I Save Money Moving to the Philippines from the US?
Although moving to the Philippines from the US costs real money, there are numerous ways to cut your spending.
Research and compare moving companies to find a mover to fit your needs.

Plan your move during the off-season, if possible, to potentially enjoy cheaper rates.

Downsize your belongings to reduce the volume of items being shipped.
Pack your own belongings to save on packing costs.
Use an international moving cost calculator to discover where else you can save.

Choose a consolidated shipping option, which allows you to share container space with other people moving to the same destination.

Look into temporary storage options to save on international shipping costs.

Seek out any available discounts or special promotions.
Read More Here: Saving money on an International Move
Can I Ship my Car to the Philippines when moving from the US?
Absolutely, you can ship your car, motorcycle, or scooter to the Philippines. The process of importing a vehicle into the Philippines involves obtaining the proper clearance from the Bureau of Customs, compliance with the country's import regulations, and paying applicable taxes and fees.
Your international moving company with experience in shipping vehicles overseas will help to facilitate your move.
Read Here: Best International Car Shipping Companies
Navigating Philippine Customs
One of the services your international mover can provide as part of your move is assisting you with the paperwork and compliance requirements for wherever you're moving. Be sure to leave behind cleaners, liquids, food, weapons, even toy guns, and hazardous materials to help make your experience through Philippine customs more pleasant.

Should I get moving insurance when moving to the Philippines?
Though moving companies do everything in their power to avoid damaging your household items, it's a long trip and things can happen. Purchasing additional international or marine insurance costs an average of 3% of your shipment's declared value and can offer peace of mind should an uncommon mishap occur.
Read Here: International Shipping Insurance, Do you need it?
Can I Take My Pets to the Philippines?
Yes, we wouldn't want to leave your furry friends behind. It's a matter of doing a little homework, gathering the documents required by the Philippine government, and checking the airline rules you plan to use.
At the least, you'll need a valid health and rabies vaccination certificate from a licensed veterinarian issued within ten days before your departure date. Your pet will also need to be microchipped for identification. Additionally, your pet will undergo an examination by an accredited veterinarian upon arrival in the Philippines.
Certain breeds of dogs may be restricted or prohibited from entering the country, so it's best to check with the Philippine Bureau of Animal Industry for an up-to-date list of restrictions.
Read More Here: 5 Tips For Moving Overseas With Animals
How Much Does it Cost to Live in the Philippines?
Living in the Philippines costs about half of what it costs to live in the US. You can live comfortably in the Philippines with a budget of between $1200 and $2000 per month. The more amenities you choose, of course, the higher the price. However, everyday expenses, such as housing, food, and transportation, are significantly lower in the Philippines than in the states.
How Much Money Should I Take to the Philippines?
The rule of thumb is to take at least three times your monthly expenses, which will seem like a bargain against US prices. Add some additional cushion for unknown factors or splurges, and if you don't use it, all the better to treat yourself once you have settled in.
Living in the Philippines
One of the best things about living in the Philippines is the weather, which is warm and sunny all year round. The country is also home to many different cultures and languages, making it a great place to learn about different customs and traditions.
The nightlife and entertainment scene is also vibrant, with various bars, clubs, and restaurants to choose from. Living in the Philippines offers an excellent opportunity to immerse yourself in a new culture and experience a different way of life.
Finding a Place to Live in the Philippines
Rental prices in the Philippines are usually based on the size and location of the property. It's not uncommon for deposits to cost the equivalent of three months' rent, and you may need to pay some rent in advance. Before your move, you can start getting a feel for pricing and amenities by checking online rental sites or joining social media expat groups.
Know that foreign nationals aren't allowed to purchase or own land in the country. However, you can own property on a plot of land, a condominium unit, or an apartment in most cases. It's also not a bad idea to hire the help of a well-versed professional real estate agent to help you through the process of finding a place and avoid realty scams.
Read Here: Pros and Cons of Moving Abroad
Finding a Job in the Philippines
To work in the Philippines, you'll need a valid work visa. You'll need a work contract and an employer who will sponsor you to get one. The process can be challenging, but it's doable. Reaching out to Philippine-based recruitment agencies is an excellent way to find job opportunities in the Philippines.
Let social media and networking be your friends when seeking employment in the country. Websites such as LinkedIn, Indeed, and Upwork are great places to search for opportunities, as many companies in the Philippines use these platforms to find remote workers.
Getting Around in the Philippines
The Philippines has a variety of transportation options to choose from.
Car and Motorcycle: Cars and motorcycles are popular options for getting around the Philippines, as they offer more flexibility and privacy than public transportation. However, traffic can be heavy in urban areas, and finding parking can be a challenge.

Jeepney: Jeepneys are a popular and affordable mode of transportation in the Philippines. They're colorful minibusses that can seat around 20 people and are common on most major roads and highways.

Tricycle: (motorized rickshaw)Tricycles are another popular mode of transportation in the Philippines. They are similar to jeepneys but smaller and only seat around three people. They're excellent for short trips around town.

Bus: Buses are also a standard mode of transportation in the Philippines. They're relatively cheap and efficient but can be crowded during peak hours.

Train: The Philippines have a train service, but it's limited to certain areas in Luzon. It's a reliable mode of transportation and a good option for long-distance travel.

Boat: The Philippines is an archipelago, so boat travel is also a common way to get around. There are many ferries and boats to take you between the different islands.
Healthcare in the Philippines
The Philippines has lower medical costs than in the US, but the quality of care may not be as advanced or consistent. Obtaining private healthcare before your move is highly recommended.
Education in the Philippines
University classes in the Philippines are almost always taught in English, which makes for an easy transition for those who don't speak Filipino. Although tuition isn't free in private universities, it's quite inexpensive by western standards. However, the admission process is highly competitive, so research your options to gain an admissions advantage.
How do I Find an International Moving Company?
Finding the right international moving company for your move can make a world of difference in how smoothly your international move happens. Ensure your mover is right for you by first meeting these basic criteria.
Your mover is listed and in compliance with FMCSA
They're also listed and in compliance with the Federal Maritime Commission

The company is appropriately licensed and insured

Your mover can offer additional moving insurance protection

They have verifiable referrals from past customers
Get an International Moving Quote to the Philippines
To answer questions concerning your international move, or how to get a quote to move to the Philippines, give us a ring or contact our customer support.