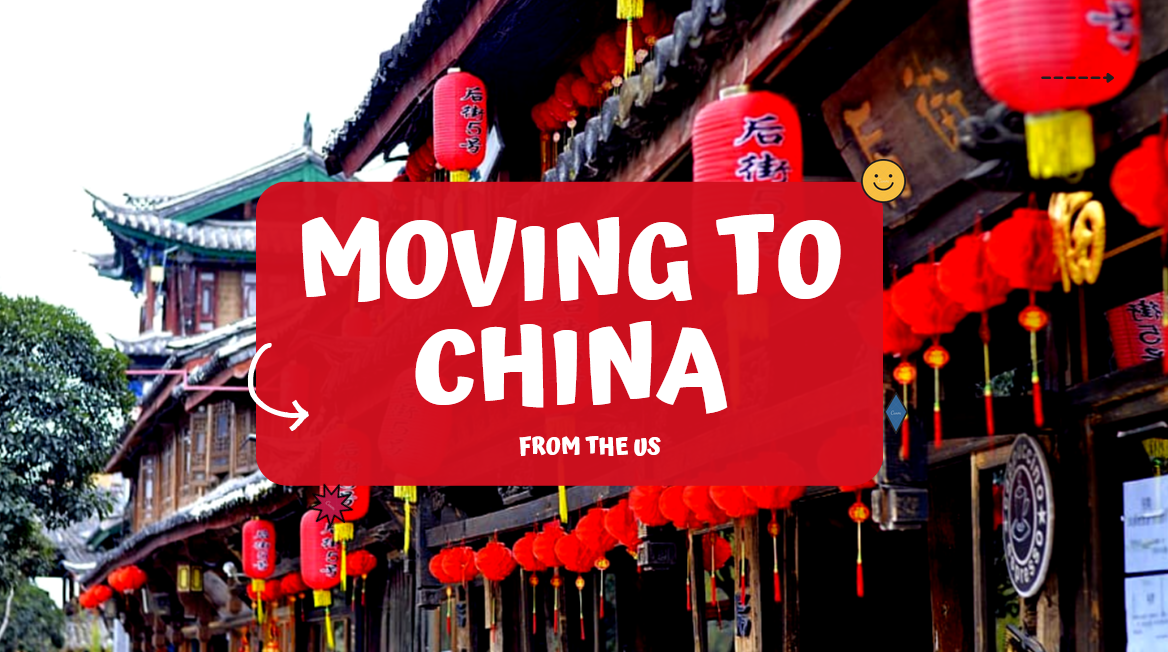 Moving to China From the US – All you need to know.

Whether you're looking for new adventures, career opportunities, or a chance to immerse yourself in a different way of life, moving to China from the US is an experience like no other.
With a rich cultural heritage, cutting-edge technology, and a booming economy, China offers many personal or professional growth opportunities.

How to Move to China
Keep things organized and manageable during this exciting time by creating an international moving checklist. where you can make notes for each task you need to handle, such as updating your address, enrolling in school, finding work, gathering essential documents, or packing up your home.

Here are some key things to focus on before moving to China from the US.
Obtain a visa: This is a crucial step when moving to China. Make sure you understand the requirements and restrictions of the type of visa you need and plan ahead to have enough time to complete the application process.
Research the cost of living: China is a vast country with a wide range of living costs, depending on the location. Research areas you're considering living in and make sure to budget for housing, food, transportation, and other expenses.
Secure housing: Start your housing search early so you can find a suitable place to live before you arrive. Consider factors like location, safety, and cost.
Plan for healthcare: Make sure you have adequate health insurance coverage, and research local hospitals and clinics in case of an emergency.
Plan for transportation: Research the local transportation options in your new city, including public transportation, taxis, and ride-sharing services.
Pack appropriately: Consider your new location's climate and cultural norms when packing. Always pack essential documents, such as your passport, visa, and medical records.
Read More Here: Best time to start planning your international packing.
Moving to a new country is both exciting and challenging. It's essential to be well-prepared and flexible. Seek advice from friends, family, or professional resources, such as a visa specialist, an international moving company, or an immigration attorney, to help ensure a smooth transition.
Best International Movers to China from the US
How Long Can I Stay in China?
A tourist visa for China is typically a single entry visa with a stay duration of 30 days. You may be eligible for a 10-year multiple entry visa as a US citizen. You'll need to obtain a permanent residence permit to live in China. If you choose to work in the country, you must first obtain a work permit and then apply for residency in China.
Work Visa
If you secure a job offer from a Chinese company. The company will be responsible for sponsoring your work visa application. Once the visa application is submitted, processing times can vary but can take up to several weeks. Consulting with a visa specialist or an immigration lawyer to ensure the process goes smoothly is highly recommended.
Retirees
China offers a retiree visa, also known as the "L visa," for foreign citizens who are 55 years of age or older if you wish to retire in the country. Your visa is issued for up to five years, and you'll need proof of a stable income and sufficient health insurance coverage.
Student
Be sure to start your research with the Chinese embassy or consulate if you choose to study in China. The rules are changing and being updated frequently. In general, there are two types of student visas—one for long-term study longer than 180 days and a short-term option for less than 180 days.
Digital nomads
China doesn't currently offer a digital nomad visa. If you want to move to China as a digital nomad, you can apply for a tourist L-visa that allows you to live there for three to six months.

Getting Your Stuff to China
You have a couple of options to choose from for getting your stuff to China. Airfreight is best if you want your items to arrive quickly. Sea freight is a more budget-friendly option if you're looking to save money and aren't in a hurry. Shipping by air takes just three to eight days, while ocean shipping requires 50 to 54 days to make the journey. When working with your relocation company, balance your moving budget with your shipping timeline.
Whichever way you choose, your possessions may also require temporary or long-term storage at your destination or in your former location. Using storage solutions is common for people moving long distances to keep everything simple and organized.
Read More Here: How to ship household goods overseas by ocean freight
How Much Does it Cost to Move My Belongings to China?
Moving overseas typically costs between $7,200 and $24,000. The cost of moving to China depends on how much you take and how fast you need it to get there.
How Can I Save Money Moving to China?
Moving to China from the US costs real money. However, there are several steps you can take to lighten the load on your moving budget.
Less is more. Packing light is essential for moving internationally. Purging and downsizing are the most effective ways to reduce your moving costs.
Your mover is likely to offer professional packing services. However, packing your own possessions can save a significant amount of money.
Unloading your own container at your destination instead of your moving doing it will reduce costs.

If your moving date is flexible, exchange your flexibility with your mover for a discounted rate.

Use an international moving cost calculator to discover where else you can save a few dollars.

Compare individual moving companies based on price and the services they can provide.

Ask for discounts from your mover. Moving companies understand that flexibility on their part is good for business.

Can I Ship my Car to China?
Yes, you can ship your car overseas to China. Taking your car from the United States to China is possible but can be complex and expensive. Business or tourist visa holders won't be able to import a car, only "Z" visas, or permanent residence card holders, are allowed to import a vehicle. Before deciding to take your car, research the requirements and costs involved, and weigh the benefits and challenges.
Read More Here: The Best International Car Shipping Companies
Navigating Chinese Customs
Part of your move to China will include navigating Chinese customs if you plan to take household furnishings, vehicles, or items that won't be with you on the plane. One of the services your mover provides as part of your move is assisting you with the paperwork and compliance requirements for clearing Chinese customs.
If you have any items that may require special clearance, be sure to talk that over with your moving company. Leaving liquids, cleaners, food, firearms, and corrosives behind is always a good idea.
Should I get moving insurance?
Moving insurance is a wise investment when moving abroad as it protects the value of your belongings during transit. For an average cost of 3% of your move, you can buy yourself peace of mind, knowing that if something unfortunate does happen, you're not on the hook for much of the replacement cost of your belongings.
Read Here: The best way to pack for an overseas move.

Can I Take My Pets to China?
Prepare well in advance and ensure you understand the regulations thoroughly if you'd like to bring your pet to China. Only one dog or cat per person is allowed; no other animals. If you'd like to bring more than one cat/dog, assign a fellow traveler to accompany each of them—
If not accompanied, additional pets require an Import Permit to travel as cargo.
Read Here: Moving overseas with Pets
How Much Does it Cost to Live in China?
The cost of living in China varies depending on location, lifestyle, and personal spending habits. On average, as a US citizen, you can expect to live comfortably in China by budgeting around $1,500 to $2,500 per month to cover expenses such as housing, food, transportation, and entertainment. Compared to many Western countries, the cost of living in China is relatively low, making it an attractive destination for stretching your dollars.
How Much Money Should I Take to China?
The amount of money you should take to China depends on factors such as your housing arrangements, lifestyle, and financial goals. Considerable expenses include the cost of moving, rental deposits and monthly rent, food, transportation, insurance, and entertainment. A general guideline is to gather three to six months of living expenses before moving.
Read More Here : Money saving tips while moving abroad
Living in China
Moving to China from the US offers new experiences and challenges. Whether navigating a new language and culture or discovering new cuisines and landmarks, you're in for an adventure. .
Finding a Place to Live in China
To begin finding a place to live in China, reach out to local real estate agencies or consult online resources for information on rental options and pricing. It can also be beneficial to connect with foreign nationals who've already made the move, as they can offer valuable advice and recommendations.
Read Here: Moving Overseas Checklist
Finding a Job in China
Similar to finding a job in the US, to work in China you'll need to have your paperwork in order. Using job search websites or a recruiter work well for finding employment, especially if you start your search early. Some recruiters in the country specialize in finding work for immigrants and can connect you to multiple potential employers. Remember to be persistent and flexible, as finding a job in China can take time.

Getting Around in China
In China, there are several ways to get around, including public transportation, taxis, ride-hailing services, bike-sharing, and personal vehicles.
Public transportation options include buses, subways, and high-speed trains, which offer convenient and affordable travel.

Taxis and ride-hailing services such as Didi Chuxing are also widely available and easy to use.

Bike-sharing is a popular mode of transportation in cities, providing a low-cost and environmentally-friendly way to get around.

Personal vehicles, including cars and motorcycles, can also be used, but traffic congestion can be a challenge in major cities.
Healthcare in China
China's healthcare system provides access to high-quality medical services, but it's not free and can be expensive for those who do not have insurance. Expats working for multinational companies in China usually have access to international health insurance plans that cover medical expenses.
These insurance plans allow you to receive medical care at international hospitals and clinics, which typically offer services at a high standard and in English.
However, you can still access medical care in China's public hospitals if you don't have insurance. The public healthcare system in China is large and provides low-cost medical services. Still, it's not as well equipped as private hospitals, and the language barrier can be a problem if you don't speak Mandarin.
Read More Here: How International Moving Costs are calculated
Education in China
Getting a higher education in China as a foreign national can be a unique and enriching experience.
While it may not be free for international students, tuition and living expenses are generally lower than in other countries. The quality of education in China has improved dramatically in recent years, and there are now many world-class universities throughout the country.
Studying at these universities can expose you to a different culture and educational system. Additionally, learning the Mandarin language while studying in China can be a valuable asset in today's globalized world.
How do I Find an International Moving Company to China?
Having the right international moving company working for you is essential for making your adventure to a new life and home as simple as possible. Check your mover's credentials before trusting them with such an enormous task.
Is the company is listed and in compliance with FMCSA?
Are they listed and in compliance with the Federal Maritime Commission?

Do they carry the appropriate licensing and insurance?

Can they provide additional moving insurance protection?

Are the referrals they provide verifiable?
Get an International Moving Quote to China
To get an international moving quote to China, research and get a quote from reputable moving companies. Provide accurate information about the amount and type of items you plan to move and your desired moving dates. Consider factors such as insurance, customs clearance, and storage options, and ask the movers about their experience with moving to China.
More about International Van Lines