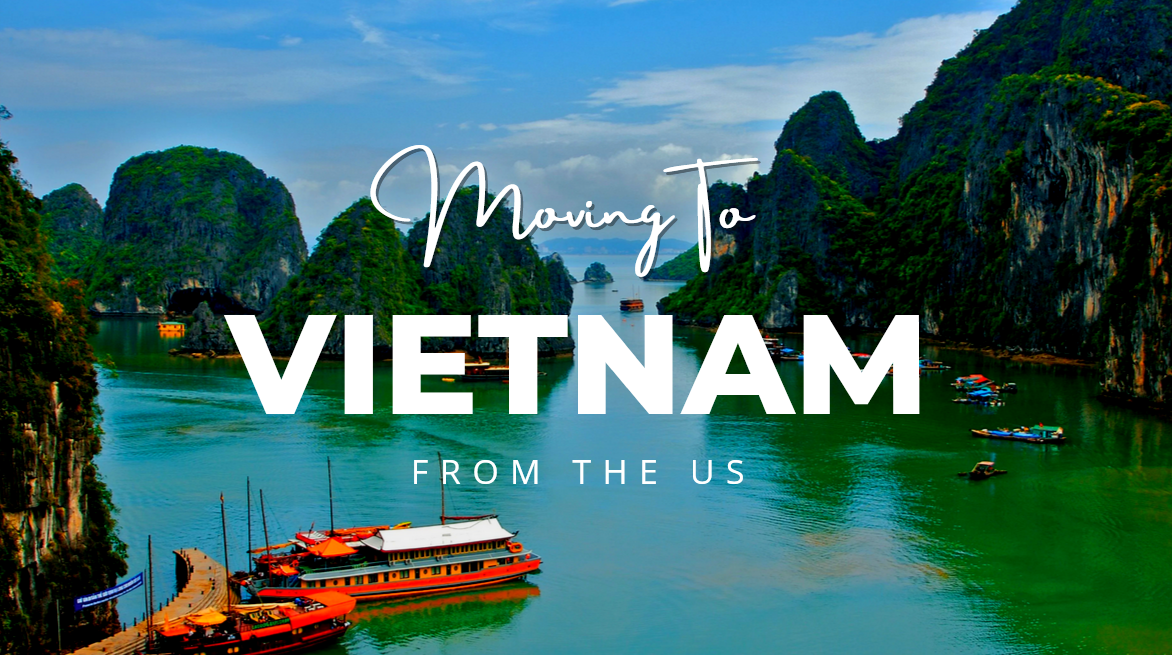 Moving to Vietnam From the US – Complete Relocation Guide

You'll be hard-pressed to run out of things to do when moving to Vietnam from the US. From exploring bustling markets and trying delicious street food to heading out of the city to discover lush forests and attend cultural events.
Vietnam is home to many historical and cultural landmarks such as temples, museums, and famous attractions like Ha Long Bay, Hoi An ancient town, and the War Remnants Museum in Ho Chi Minh City. Make sure to add these must-see spots to your itinerary.
Additionally, locals are hospitable and ready to help, but it's best to brush up on basic Vietnamese language skills as not everyone can speak English fluently.
How to Move to Vietnam from the US

Stay organized during your move to Vietnam by creating a digital or paper notebook. Divide it into sections for tasks such as updating your address, enrolling in school or finding a job, gathering essential documents, and packing. Assign specific tasks under each heading to keep track of progress and ensure nothing is forgotten. Be sure to start your moving company search early in the process.

What is the Process for Moving to Vietnam?
Moving abroad can be a breeze with proper planning. Create an international moving checklist and research as much as possible about living in Vietnam. Plan ahead for budgeting, schooling, work, and moving. Keep records up to date and purchase travel insurance. Don't forget to delegate tasks to your mover whenever you can.
Read Here: Do you need International Shipping Insurance?
Top Moving Companies to Vietnam

Here is a table of the top International Movers to Vietnam from the US. Ratings are based on Years in Business, Reputation, and Customer Reviews.
How Long Can I Stay in Vietnam?
If you're a U.S. passport holder, you'll need a tourist visa for a stay of up to 30 days. The visa is also called a Vietnam E Visa (electronic visa), and you may apply for it in two ways.
Apply online and receive the Evisa electronically from the Vietnam Immigration Department within three to seven working days.

You can apply for the visa upon arrival if you're flying in (not ground) and have a Letter of Approval with you. Your passport must have 6 months of validity remaining from your date of arrival.

Expat's Work Visa when moving to Vietnam

You can receive a work permit in Vietnam from the Ministry of Labor, Invalids and Social Affairs (MoLISA). Applications must be submitted by your employer. Individuals cannot apply for work permits themselves. The permit is issued for up to 12 months and you can apply to renew it before it expires.
A visa agent can assist you with the paperwork and liaise between the government, your employer, and you for a fee.
How to Retire in Vietnam

Vietnam doesn't currently offer retiree visas. However, that doesn't stop people from retiring there.
American citizens can apply for visas that are valid for periods of one month up to one year. The six-month and one-year visas allow continuous stays for up to three months at a time, and traveling abroad and returning at any time after leaving the country is legal and permissible within the visa period.
You may be eligible for a 5-year visa stay if you have a Vietnamese parent or spouse. Yet another option is to apply for a temporary residence card by investment (DT).
Read Here: Moving Abroad with Seniors
Studying in Vietnam after moving from the US



There are two ways to obtain a student visa to study in Vietnam. Choose from starting the process in the US and working with the Vietnamese consulate or entering Vietnam on a tourist visa and converting it while in the country.
You'll need to secure acceptance from a Vietnamese educational institution in either process. Once you have received approval, you must submit a visa application form, a valid passport, and proof of financial support for the duration of your stay in Vietnam. You may also need to provide a police clearance certificate or present other background check documents. The process typically takes a few weeks, so plan ahead and allow enough time for your visa to be processed.
Education in Vietnam
American students can study at universities in Vietnam. However, it's not free, and tuition fees vary depending on the institution and program. Contact your specific universities in Vietnam to inquire about costs and admission requirements. Additionally, consider factors such as language requirements, cultural differences, and housing before deciding to study in the country.
What digital nomads need to know when relocating to Vietnam



Unfortunately, Vietnam currently doesn't have a specific visa program for digital nomads. But don't let that discourage you.
There are still options available for those looking to work remotely in Vietnam. One option is to work as an independent contractor if your clients are based outside the country.
However, if you're looking to work as a freelancer with Vietnamese companies or individuals, a work visa is a must.
Getting Your Stuff to Vietnam from the US



Preparing for your move to Vietnam involves more than just getting yourself ready. It's important also to ensure your possessions are ready for the journey.
Working with a relocation company with years of experience and tons of moves under their belt can eliminate the stress and uncertainty of the process.
A licensed and certified international moving company can assist you from start to finish by providing virtual survey pricing, full-service packing, demystifying customs regulations, and even delivering your household goods right to your new living room.

How do I Ship My Household Items to Vietnam from the US?
Moving internationally is a big decision, and it's important to consider all your options. The first thing to consider is what items you want to bring. That can include furniture, a car, and even your pets. Different rules apply depending on what you're moving, so gathering information in advance is essential.
One crucial factor to consider is your budget and how quickly you need your items to arrive. Shipping by boat is typically more cost-effective but can take several weeks. Shipping by air is faster, taking just a couple of weeks, but it'll cost more.
The other major budget factor is the quantity of stuff you take to the country. A popular option in long-distance moving is using short or long-term storage solutions to manage costs and keep things organized.
How Much Does it Cost to Move My Belongings to Vietnam?
Moving overseas typically costs between $7,200 and $24,000. The cost of moving to Vietnam depends on how much you take and how fast you need it to get there.
How Can I Save Money Moving to Vietnam?
Moving to Vietnam from the US has plenty of costs to consider. However, there are also many ways to shave those costs. Consider these tips to reduce the wear and tear on your moving budget.
Research and compare moving companies to find the best provider to meet your needs and budget.

Plan your move during the off-season for the best rates.

Downsize your belongings to reduce the volume of items you're moving.
Pack your own belongings to save on packing costs.
Use an international moving cost calculator to discover where else you can save.

Choose a consolidated shipping option, which allows you to share container space with other people moving to the same destination at lower rates.

Consider storage options to save on international shipping costs.

Seek out available discounts or special promotions.

Can I Ship my Car to Vietnam?
Yes, you can ship your car, motorcycle, or scooter to Vietnam.
Before shipping a vehicle from US to Vietnam, verify your vehicle's specifications and compliance with Vietnamese requirements, and know that your car will be subject to local customs duties levied by the Vietnamese government. Motorcycles and scooters have separate requirements.
Ensure your moving company has adequate experience to ship vehicles internationally and to help navigate meeting the requirements.
Read Here: Best International Car Shipping Companies of the Year.
Navigating Vietnam Customs during transit.



When moving to Vietnam, it's important to keep in mind that customs will check everything that enters the country, including your household items and vehicle.
One of the services your international moving company provides as part of your move is assisting you with the paperwork and compliance requirements specifically for the country you're entering.
Should I get moving insurance when moving to Vietnam?
Your stuff is traveling a long way. It's not fun to talk about, but things can happen that can cause damage to your possessions. Purchasing additional international or marine insurance costs a fraction of your shipment's declared value, which is a small price to pay for your peace of mind.
Can I Take My Pets to Vietnam from the US?
You can take your pets to Vietnam. However, your pet needs a checkup and health certificate from a vet, as well as vaccinations and parasite treatment records. Make sure to acquire these at least a month before you move to Vietnam and no more than a year ago. You'll also need to provide a copy of your passport to Vietnamese authorities, and in some cases, there may be additional fees.
Read Here: Tips for relocating with pets overseas.
How Much Does it Cost to Live in Vietnam?
The cost of living in Vietnam will depend on which city you choose to live in and your lifestyle.
Rent and municipal services are low compared to the US, but you can also opt for more luxury and amenities than you're used to for less than you would pay back home.
Vietnam also offers the opportunity for frugal shopping at local markets and street vendors, or you can indulge in fine dining or shop in stores that cater to foreign nationals and offer products comparable to US standards.
How Much Money Should I Take to Vietnam?
Living in Vietnam will likely be very different from your current situation. The rule of thumb regarding cash on hand is to take at least three times your monthly expenses and add some additional padding for unknown factors or splurges. It's better to have more than you need after you've settled in instead of too little.
Know more here: Money Saving Tips when moving abroad
How is it to live in Vietnam

Living in Vietnam as an expat from the US can be a unique and enjoyable experience. The country boasts a rich culture and history, delicious food, and friendly people. The cost of living is also relatively low, making it a great destination for those looking to stretch their money further.
One of the most significant differences you may notice is the pace of life, which tends to be slower and more relaxed than back in the states. It can take some getting used to, but many expats find it a refreshing change of pace.
Additionally, the bustling cities and teeming streets can be overwhelming at first, but as you get used to it, you'll likely find it part of the country's charm.
Finding a Place to Live in Vietnam before moving

You can start your search at home by checking online rental sites or joining social media expats groups. Online, you can get a good idea of what's available and ask others which neighborhoods can meet your needs.
If you choose to start searching for your new place after you arrive, you can rent a guesthouse or apartment by the month while searching for more permanent solutions.
Know More Here: The best time of the Year for Moving abroad
Finding a Job in Vietnam when moving from the US

To work in Vietnam, you'll need a valid work visa. You'll need a work contract and an employer to sponsor you to get one. Contact HR departments in Vietnamese companies to inquire whether or not they're hiring and providing sponsorship. Referrals and social media can also be helpful. High-tech occupations such as engineering, data science, AI specialist, or TEFL-certified native English speakers are in demand.
Getting Around in Vietnam after moving

One word. Scooter. But seriously, scooters are the most convenient way to travel short distances, and they're everywhere.
Newcomers to driving in Vietnam should initially move with caution and be aware of the local driving style, which is more fluid and adaptable than you may be used to.
Flying is the quickest and most convenient way to explore multiple destinations in Vietnam. Don't underestimate the time it takes to travel by bus or train, as it can take up to 30 hours from Hanoi to Ho Chi Minh City.
Save time by taking a one or two-hour plane ride and be rewarded by having more time at your destination. Plus, domestic flight prices are affordable, and daily flights are available to top destinations.
Buses and trains move very slowly but are reliable. Use them for short scenic trips and where the ride is part of the adventure.
How is healthcare in Vietnam?

Vietnam is moving towards a universal healthcare system. Although the country is making good strides, the current system is considered low by western standards. The private sector offers more substantial healthcare, better-equipped facilities, and more multilingual doctors.
Taking out private healthcare insurance before moving to Vietnam is highly recommended.
Get several quotes to compare coverage and costs. Determine how reimbursement for expenses works and which private facilities are affiliated with the plan.

How do I find an International Moving Company to Vietnam?
Finding the right international moving company is crucial when moving to Vietnam. Ensure your mover is up to the task by meeting these criteria.
It complies with and is listed with the FMCSA
The organization is listed with the Federal Maritime Commission

The company is properly licensed and insured

They offer additional moving insurance protection

The company is willing to provide checkable referrals.
Get an International Moving Quote to Vietnam
Contact your international moving company and request a moving quote. Once you've made contact, you can speak with a moving professional who'll provide you with the information you need to get your journey started.
More about International Van Lines