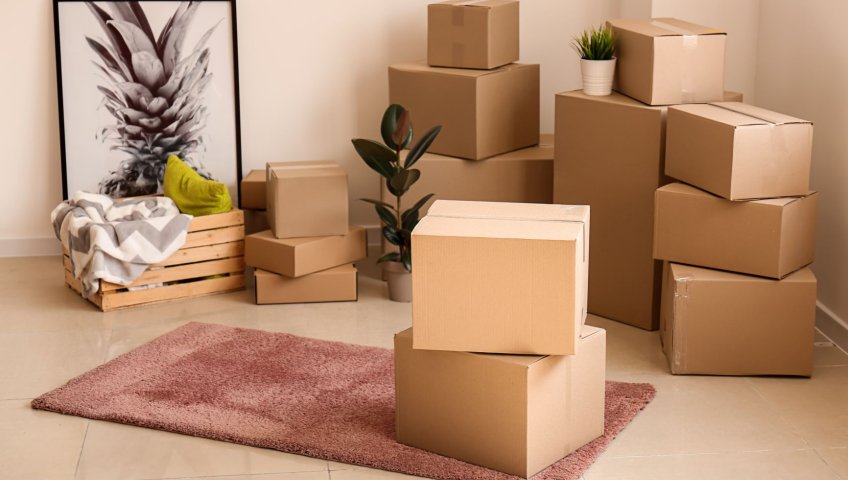 Cost of a Long-Distance Move: What to Expect
The average cost of long-distance moving ranges between $950 and $17,000. The national average is $5,500. A move of over 100 miles is considered a long distance, and its price varies depending on the size of your home, volume, and distance, among other factors.

Long-distance moving is a significant process. Even if you hire professional movers, there are a lot of details and tasks that can be overwhelming. That's why planning with time, setting a budget, and a list of expenses can be very helpful. If you're unsure where to begin with budgeting for your long-distance move, here are some guidelines to consider.
Read Here: The Complete Checklist for Long-Distance Moving
Factors Affecting the Cost of a Long-Distance Move
How Distance Impacts the Cost of a Long-Distance Move

Long-distance moves involve greater distances than local moves, making them inherently more expensive due to additional fuel and labor costs. Here's a list of average prices based on distance for the moving of an average three-bedroom house:
250 miles: $2,100 – $4,800
1,000+ miles: $3,100 – $6,600
2,500+ miles: $4,300 – $8,900
Know More Here: Average Cost of Hiring a Mover
Volume of Belongings
Whether you're moving across the country or internationally, the volume of your belongings is a significant factor in determining the cost of your long-distance move. Moving companies often calculate the price based on the weight or cubic footage of the transported items.
Read Here: How to Choose the Best Long Distance Movers
Add-on services that affect the cost of a Long-distance Move

Moving companies provide packing and unpacking services that save you time and effort during your long-distance move. They include packing your belongings, labeling boxes, and ensuring they are adequately protected for transportation.
The cost of packing and unpacking services typically depends on the size and complexity of the job and the level of packing you choose. Moving companies often offer different levels of packing services to cater to individual needs. These levels range from partial packing, where selected items are packed by professionals, to full packing, where all items within your household are expertly packed for you.
Read Here: How to Pack for a Small Move
Top Long-Distance Companies in the US
Here is a table of the top Long-distance Moving Companies in the US. Ratings are based on Years in Business, Reputation, and Customer Reviews.
Packing Supplies for a Long-Distance Move

Long-distance moves may require additional supplies such as:
Custom Crating: Custom crating protects delicate or valuable items such as artwork, antiques, or sensitive electronics.
Climate-Controlled Packing: If you're moving to a region with extreme temperature or humidity variations, consider using climate-controlled packing materials to safeguard items sensitive to moisture or temperature fluctuations, such as wooden furniture, musical instruments, or electronics.
Security Seals: Using tamper-evident security seals on your boxes adds extra security, providing peace of mind knowing that your belongings are less likely to be tampered with during transit.
Know More Here: Pros and cons of Self-Packing for a move
Transport Options for a Long-Distance Move
Self-Drive
The classic U-Haul or similar rental truck is the DIY option. You rent a truck, pack and load your stuff, drive it to the new location, and then unload and return the truck. This is usually the most budget-friendly option, but you are responsible for every aspect of the move, including driving, which may not be feasible for everyone.
Here's a list of the average prices of moving from the East Coast to the West Coast with a rental truck, including fuel costs:
NYC to L.A. (2,793.8 mi): $2,182 – $3,155
NYC to San Francisco (2,904.8 mi): $2,308 – $3,337
Miami to L.A. (2,335.14 mi): $2,182 – $3,155
Miami to San Francisco (3,040.6 mi): $2,308 – $3,337
Know More Here: Hiring a Mover vs Renting a U Haul
Full-Service Moving Companies
This is the most comprehensive option. The company handles everything: packing your belongings, loading them onto the truck, driving to the new location, unloading, and sometimes even unpacking. This is often the most expensive choice but offers the most convenience. A full-service move for an average 2- to 3-bedroom household can cost up to $7,000. This includes, besides transportation, professional assistance on packing and unpacking.
Read Here: Average Cost to Move a 3 Bedroom House
Truck and Pod Combo
Some companies offer a blend of self-service moving with portable storage containers. They drop off the container for you to pack up, then pick it up and drive it to the new location, where you unpack it yourself.
Shared Load
Some companies offer a shared load or consolidated move option for long-distance moves. Your belongings share truck space with other customers going in the same direction, making it more cost-effective but potentially increasing the delivery window.
Read Here: Air Freight vs Truck Freight – A Comparative Guide
Additional Costs to Consider
Besides the main cost factors of long-distance moving, other details affect the overall price.
Knowing the Insurance Cost during a Long-Distance Move

Getting insurance for a long-distance move is essential for protecting your belongings from loss and damage. The cost of moving insurance varies based on the distance of the move and the total value of your goods. You can always ask your selected company for the cost breakdown. However, expect to pay around 1% to 5% of the total estimated value of your property for insurance coverage.
Due to the inherent risks of long-distance moving, where your belongings are subjected to various unpredictable situations and can be separated from you for extended periods, moving insurance provides peace of mind by ensuring a specific amount of reimbursement in case of any issues.
Storage
Renting a storage unit costs $75 and $300 monthly. During long-distance moving, there can be a time gap between moving out of your current residence and moving into your new one. During this transition, renting a storage unit allows you to securely store your belongings until you can move them to your new location.
Know More Here: A Guide to Moving & Storage
Additional Services
Moving companies often provide additional services that can impact the total cost of your move by several hundred dollars. Some of these add-ons are:
Disassembling and reassembling furniture

Providing felt pads for furniture protection

Applying stretch wrap to safeguard items

Handling specialty items
Specialty Items
Moving special items, such as a piano, a hot tub or a boat, can add a cost to your long-distance move of $300 and $2,000. These items require special and customized packing material, more labor hours and may need a different type of transportation than your other belongings. It's crucial to inform your movers about any specialty items you have before requesting a quote, especially if you obtain a quote over the phone.
Read Here: Is Self-Packing for a Move Worth it?
Tips for Saving Money on Long-Distance Moves
Long-distance moving is a process that's already considerably expensive. However, there are ways to make the move cheaper. That's why we provide you with a list of tips on how you can save money when crossing the country or going overseas:
Decluttering. Since the cost of your move across the country or overseas depends on how heavy your belongings are, decluttering is a way to lighten your load and reduce packing and transportation expenses. Consider selling, donating, or recycling any possessions you no longer need or may not be suitable for your new living space.
Consider DIY long-distance moving. If you have enough time to plan your move, including acquiring moving supplies, planning the route and transportation and packing, going DIY saves almost half the cost of hiring a professional moving company.
Ask for help from family and friends. As a part of DIY moving, or maybe you didn't select a plan that includes packing when hiring your moving company, ask for help from your closest friends and family for packing and loading your belongings.
Select an off-peak season for your long-distance move. Spring and summer are peak seasons for moving, leading to increased prices and longer wait times for hiring and rental companies. To avoid these challenges, consider selecting a move date during a less busy time of the year when traffic is less congested.
Ask for quotes from different moving companies. Obtaining at least three free quotes from other moving companies is advisable to make effective comparisons. Remember that the cheapest option may not always be the best, as several factors need to be considered, including customer service, offered services, and client reviews.
The Bottom Line
Making a long-distance move is a big deal. And with so many variables to consider—from costs and timing to packing and transportation—it's easy to feel overwhelmed.
When you choose International Van Lines, you're not just hiring a moving company; you're enlisting a team of experts committed to making your move as smooth as possible. We offer a range of options tailored to fit your needs and budget, whether you're moving across the country or the world. From full-service, all-inclusive moves that take the weight off your shoulders to flexible, budget-friendly options, we have the right plan for you.
Get a personalized quote from International Van Lines and take the first step toward a stress-free transition to your new home.
More about International Van Lines