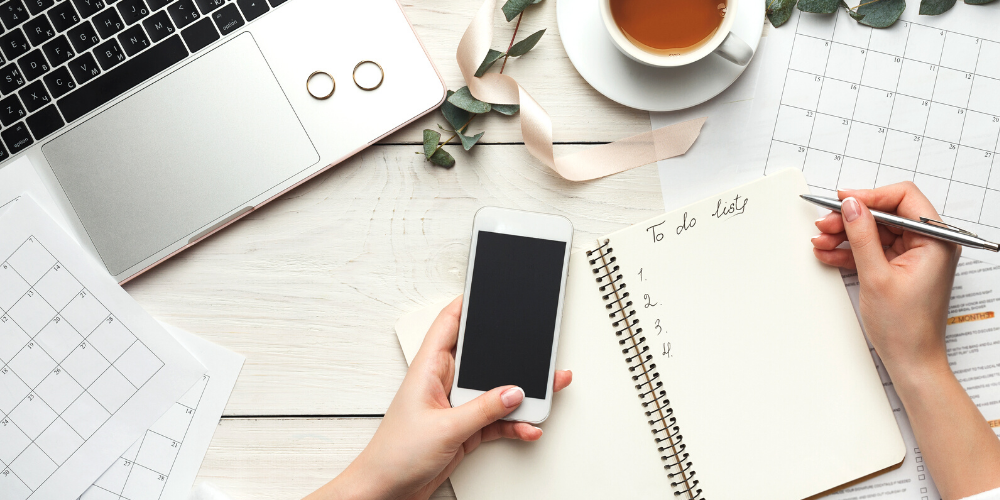 The Complete Checklist for Long-Distance Moving
A moving checklist can help you take control of your moving process and save you the stress it all takes, especially when it is a long-distance move. Long-distance moving requires planning from at least three months away from the big day. You need enough time to check moving companies, organize your belongings, pack, and prepare for your journey.
At International Van Lines, we know firsthand how overwhelming this can be. To help you, we've prepared the ultimate checklist for long-distance moving.

Step 1: Pre-Move Planning
The pre-moving process involves organizing and preparing tasks that help you create a plan from today until the moving day. Some pre-moving goals involve budgeting, breaking down and prioritizing tasks, and starting the process of packing. Here are the three critical aspects of pre-moving.
Create a Moving Timeline
First, picture the long-distance moving process in your head, then settle it down on paper with a schedule and deadlines. It's crucial to be realistic about the time needed for each task and prioritize the important ones. For example, prioritize packing fragile items or scheduling the moving company over less time-sensitive tasks. Creating a timeline helps you stay organized, complete tasks on time, and reduce last-minute stress.
Read Here: Pros and cons of Self Packing for a move
Create a Budget
When creating a moving budget, set how much you can and are willing to spend. Then, list all necessary moving expenses and set aside money for an emergency costs fund. Hiring a full-service moving company or professional movers usually costs between $2,300 and $9,000. You can compare professional moving prices with DIY moving, including truck rental costs, containers, and moving supplies.
Know More Here: DIY vs. Hiring Long Distance Movers
Step 2: Hiring Professional Movers
Now that you've visualized what you're taking, it's time to choose who you're taking it with. Although you can try DIY moving, long-distance routes involve more effort and will likely be less costly if you hire professional movers. Movers are skilled and experienced in handling all parts of the process, doing it fast and well, and giving peace of mind.
Top Long-Distance Moving Companies
Here is a table of the top Long-Distance Moving Companies in the US. Ratings are based on Years in Business, Reputation, and Customer Reviews.
Research Moving Companies
It's recommended to start searching for moving companies at least eight weeks before the move. During your research, consider the following:
Budget. Many moving companies offer free online quotes, so get at least three and compare each other. However, it's always better when the company does an in-person inspection or a video survey of your belongings to give them an idea of the work to do and receive an accurate quote.
Reputation. You'll want to choose a reliable and reputable company. Consider their USDOT number and Better Business Bureau rating and determine if they are associated with the American Moving & Storage Association.
Read the Fine Print
Read Here: How to Choose the Best Long-Distance Movers
Choose a Company
Once you've completed your research, book your chosen company right away! The further in advance you book the company, the more time you'll have to organize everything. We recommend you book our services at least 2 months before your move to ensure you secure your desired moving date and we can offer a better experience.
Read Here: Top 10 Questions to ask before hiring a moving company
Step 3: Packing
If you hire a moving company, they typically offer different levels of services for packing. You can select full-service, partial, or self-packing, depending on your budget and preferences. No matter which one you choose, you'll still have to inventory your belongings.
Know More Here: Pros and Cons of Self-Packing for a Move.
Downsize
Sorting and decluttering help you figure out what to leave behind when moving. Assess your belongings and identify any possessions you no longer need or may not be suitable for your new living space.
We recommend that you try the 3-pile system:
The Selling Pile: Items that are valuable but you're not planning to bring with you. List these items for sale online or hold a garage sale to get rid of them.
The Donation Pile: These are items in a fairly good state but not good enough to be sold. These items can easily be donated to local charities or friends and family.
The Chosen Pile: These items will eventually come with you on the truck. Separate them from the rest of the piles to prevent any confusion.
Gather Packing Supplies
If you're planning to do some of the packing yourself, you'll need:
Boxes

Packing tape

Packing paper

Plastic wrap

Bubble wrap

Shipping tape

Labels

Markers

A basic tool set for disassembling and reassembling furniture

Furniture pads or moving blankets to protect your belongings

Lifting and cargo straps for secure handling
Keep in mind that the supplies you'll need depend on the type of moving services you contracted. We always recommend hiring professional movers for fragile items and furniture for long-distance moves, as they have the experience and expertise to package them in a protective way.
Read Here: Is Self-Packing for a Move Worth it?
Create a Packing Plan
Packing your life in a set of boxes can be overwhelming, so here's what we recommend:
Pack non-essential items first: Decorative items, seasonal clothing, books and magazines, specialty kitchenware, holiday decorations, extra linens and towels, hobby supplies, board games and puzzles, and barware.
Pack commonly used items not needed for daily life: Small appliances, extra electronics, office supplies, sports equipment, guest room items, formal and special occasion clothing, secondary cooking tools, memorabilia, accent furniture, and non-daily dishware.
Pack items you use daily: Essential clothing, daily toiletries, important documents, daily medications, first aid kit, basic kitchen items, bedding essentials, laptop and charges, essential cleaning supplies, and pet essentials.
Know More Here: Quick Packing Tips
Pack Room by Room
Focus on packing the items in one room before moving on to the next. Have a checklist for each room to help maintain organization and prevent items from different rooms from getting mixed up. Pack similar items together and label each box with the room it belongs to and a brief description of its contents.
Step 4: Last Minute Items
Preparing for your move involves the final steps before moving. At this stage, you are already more than halfway towards completing the process and reaching the finish line.
Read Here: How Much Does a Long-Distance Move Cost?
Make an Inventory List
Schedule Cancellations Services
Contact your utility providers to schedule the cancellation or transfer of services. Set a date for the disconnection of services at your current home and arrange for activating services at your new home, if applicable.
Utilities:
Electricity

Gas

Water and sewage

Internet

Cable/Satellite TV

Phone

Trash and Recycling

Security Systems
Subscriptions and Memberships:
Magazines/Newspapers

Gym membership

Streaming services

Meal delivery services

Online shopping accounts
Miscellaneous:
Post office

Bank

Auto insurance

Healthcare providers

Child's school

Other local services (lawn care, pool cleaning, etc.)
Read Here: Bedroom Packing Tips
Request Time Off
If you're employed, notify your employer well in advance about your moving plans and request time off for the moving day(s) and any additional time for settling into your new home. This ensures you have time to focus on the move without work-related obligations.
Confirm Details with the Moving Company
Reach out to your moving company to confirm the moving date and time, the address for pick-up and delivery, and any additional services you've requested. Clarify any questions or concerns you may have and confirm the payment arrangements.
Prepare Your Home
It's crucial to do a final clean-up after moving out, even if you already cleaned your home before. Clean up all trash, vacuum and sweep floors, and wipe down previously unreachable surfaces after the first cleaning.
Know More Here: Cost of Moving a One Bedroom Apartment
Step 5: Get Ready for Moving Day
The big day has arrived; hopefully, everything's packed and ready to go.
Pack Personal Essentials
Here's a comprehensive list of what to consider, including:
Wallet/purse

Keys

Mobile phone and charger

Snacks and water

Toothbrush and toothpaste

Hand sanitizer and wet wipes

Facial cleanser

Deodorant

Hair care

Change of clothes

Sleepwear

Footwear
Read Here: How to Pack Clothes for a Move
What to Expect on Moving Day
When hiring a professional moving company, they must offer you the professionalism and preparedness you need on your big day. This includes:
The moving crew should arrive on time to load your packed boxes, furniture, and other belongings onto the truck.

Offer open communication with you throughout the moving process.

Unload your belongings and place them in the designated areas as instructed by you.
It's important to remember the specific services and procedures may vary between moving companies. Before moving day, discussing the details and expectations with your moving company is recommended to guarantee everything is clear, and there are no misunderstandings.
Read Here: Top 9 Successful Tips for Moving Day Preparation
Supervise the Loading Process
Although hiring a professional moving company is all about leaving it to the experts, you can work with them through a plan based on what items you are loading first through last. Remember, as a final step, to tip your movers.
Settling In
You've crossed a major milestone once the boxes have been delivered and the moving truck has pulled away. However, settling into your new home is its own process.
Essential Setup
Unpack the "Open First" boxes containing your immediate essentials. You also want to spend some time assembling key furniture. At a minimum, you'll want your bed set up for a good night's sleep. And you want to check that all utilities (electricity, gas, water, and internet) are functioning correctly.
Once you have all that, head over to the grocery store to stock up on easy-to-prepare foods and snacks. While you're there, get some cleaning supplies, toiletries, and personal care items to make the first couple of days more enjoyable.
Organize and Unpack
Start with your "high-priority" boxes with the things you'll need soonest, like work clothes, daily toiletries, and kitchen essentials. As you start to unpack, tackle one room at a time to avoid feeling overwhelmed. The room-by-room approach will also help you organize the furniture faster, as you can experiment with different layouts before settling on a design.
Read Here: Why Moving Rates have increased over time.
Take Care of Logistics
Don't forget to update your address with the post office, your driver's license, banks, etc. If you've moved far, you may need to find new local healthcare providers. If you have children, ensure they're registered in their new school and have the necessary supplies.
While making the last checks in your new house, remember to verify that smoke and carbon monoxide detectors are working. Familiarize everyone with the quickest ways out in case of an emergency. Double-check that your first aid kit is fully stocked and accessible.
Wrap-Up

Finalize all your utility bills and close out or transfer any old accounts from your previous home. If you had a good experience with your movers or any other service, a review can help them immensely.
Take a breath. You did it! Take a moment to appreciate your new beginning.
Know More Here: Things to consider when moving to a new city.
Need Help for Your Long-Distance Move?
Moving long distances can be an overwhelming experience fraught with planning, packing, and paperwork. However, with a comprehensive checklist, you can take charge of your move, turning chaos into calm.
But let's be honest. A checklist can only do so much. That's where we come in.
Our expertise ensures your long-distance journey is as smooth as possible, allowing you to transition seamlessly into your next chapter. We're your one-stop solution for a hassle-free move. Request a free quote today and experience a relocation that's efficient and exceptionally tailored to your needs.
More about International Van Lines