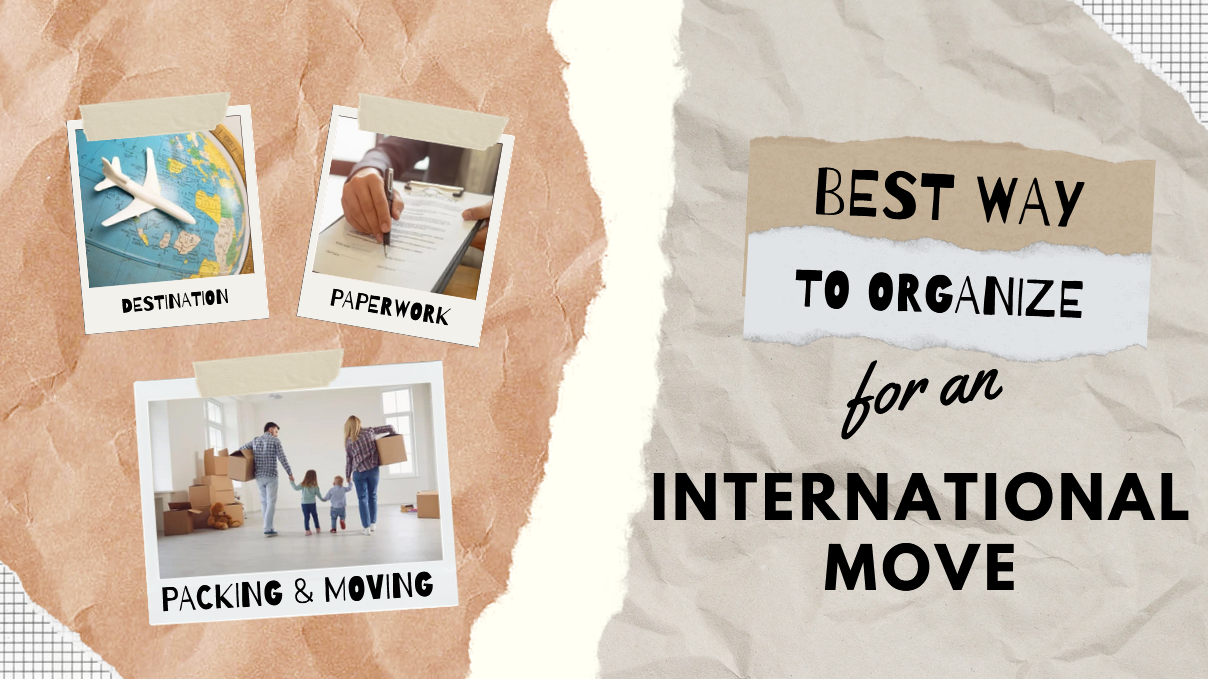 The best way to organize yourself for an international move
Moving abroad is exciting and, at the same time, daunting. With so much to think about, where do you start? This article outlines the best way to organize yourself for an international move, providing a step-by-step guide and preparation tips to help make your experience seamless.
Before we start, knowing that every situation is different is essential. However, we will outline the most important things to plan. The best international moving companies can also walk you through the process, providing tips and suggestions on properly organizing yourself for an international move.
Read Here: 10 Family Tips While Moving Abroad
Start by researching the destination country
It may go without saying, but researching the country's history, culture, and customs can go a long way. It helps get you acclimated and understand the lifestyle better.
Additionally, you can check out the county's official Government website for information about the country, including its political system, economy, demographics, and laws.
Last, research the cost of living and plan your finances accordingly. Websites like Numbeo and Expatistan can provide more information regarding living and housing costs.
Read Here: How to Understand International Moving Quotes Online
Use a checklist to help with organization
A moving checklist lists tasks and things that need to be completed before, during, and after your overseas move. It's a valuable tool to help you stay organized and ensure that everything necessary is noticed during the moving process.
You can create a checklist by noting everything that needs to be completed in phases. Start three months before your move date and work your way down. Make sure to check off each task to help you stay on track.
Additionally, you can find an international moving checklist online that you can download for free. Either way, a checklist is a great way to help stay organized for an international move.
Read Here: More about International Moving Checklist

Plan your finances
Moving internationally is a significant step, and financial planning is crucial in making this transition as smooth as possible. Here are some steps to consider:
Research the Cost of Living: Research the cost of living in your destination country. It includes costs for housing, utilities, food, transportation, healthcare, taxes, and other daily necessities.
Create a Budget: Establish a detailed monthly budget based on your research. This budget should account for fixed costs (like rent and utilities), variable costs (like food and transportation), and one-off expenses like furniture or home goods if you must purchase these items upon arrival.
Save for Unexpected Costs: Moving internationally often involves unexpected expenses. It could be anything from an additional baggage fee at the airport to an incidental housing deposit.
Housing Expenses: Will you be renting or buying a house? Both have significant financial implications. For renting, you'll likely need to pay a deposit upfront. Consider your down payment, mortgage process, and real estate market if buying.
Banking: You may need to open a new bank account in your destination country.
Tax Implications: Understand the tax implications in both your home and destination countries. You may need to file tax returns in both countries.
Moving and Shipping Costs: Compare up to three international moving quotes and add that to your budget.
Legal and Visa Costs: Consider any costs associated with obtaining a visa or residency permit, and consult a legal expert if necessary.

Remember, financial planning for an international move is a significant task that requires time and effort. Start as early as possible and consider working with a financial advisor or a relocation consultant to ensure you make the best decisions for your situation.
Get your documents and paperwork organized
Below is a list of the most common documents you will need to collect before moving overseas:
Passport

Birth Certificate

Medical Records

Marriage Certificate

International Certificate of Vaccination or Prophylaxis (If necessary)

Academic Certificates

Tax documents

Bank records
It's best to check the specific requirements of the country you're moving to, as these can vary.
Know More Here: How to save money when moving overseas
Secure a visa
Securing a visa when moving overseas can be a tricky process that varies depending on the destination. However, here are some general steps you can follow:
Research: The first step is understanding the type of visa you'll need. It depends on the purpose of your stay: for work, study, to join family, etc. Every country is different.
Eligibility: Check the specific eligibility criteria for your desired visa category. These may include particular job skills, financial requirements, health requirements, and more.
Documentation: Gather all required documentation. It may include your passport, proof of financial support, a job offer or acceptance letter from a school (for work or study visas), health and police clearances, and more. Make sure everything is up-to-date.
Application: Submit the visa application, usually through an online portal or in person at an embassy or consulate. You'll need to fill out the required forms and attach your documents.
Approval: If your application is approved, you'll receive your visa, which may be a physical document or an electronic record. Ensure you keep a copy of the document somewhere safe.
Remember, each country has different rules and regulations, so it's crucial to research the specific visa requirements for the country you're moving to. Information can be found on the country's official immigration or consulate website.
Read Here: What are prohibited items when moving overseas

Look into healthcare options
Moving to a new country requires a fair amount of planning and preparation, especially regarding healthcare. To ensure you have access to medical care and support, you can follow these steps:
Research healthcare in your new country: The first step is to understand the healthcare system in the destination you're relocating to. Some countries have universal healthcare, while others rely primarily on private insurance.
Find out if you're eligible for public healthcare: If the destination you're moving to has public healthcare, find out if you're eligible. In some countries, permanent residents and even temporary workers are entitled to use national healthcare.
Look into international health care: If you're not entitled to public healthcare or want better coverage, consider international health care. Companies like Cigna offer excellent plans that cover a range of services.
Follow these steps, and you'll be able to secure healthcare seamlessly.
Read Here: How to ship household goods overseas by ocean freight.

Find the right international moving company
With all the planning and preparation for moving overseas, you'll want to find the best international moving company for your needs. Finding international movers with experience with your destination country is essential. Below is a list of the best international moving companies in the US:
Each listed company is accredited with the International Association of Movers and FIDI Global Alliance and maintains an excellent reputation. Finding the right international relocation company can differentiate between a seamless transition and a stressful situation.
Get organized by decluttering
There's no better time to declutter than before an international move. It will help minimize the number of items you need to pack and ship, making the moving process easier and more organized. Additionally, it will help reduce your international moving costs.
If you donate items, you can contact a non-profit organization to pick up your unwanted stuff for free. Decluttering is a great way to get organized before an international move.
Start packing none essential items
Packing non-essential items early will help get you organized for your international move. You can start by creating an inventory list of your belongings and categorize them into what you intend to keep, donate, sell, or get rid of.
Ensure the non-essential items you ship are packed securely to withstand the journey. Remember that most international moves ship by ocean transportation. Make sure to wrap fragile items in bubble wrap or packing paper to prevent damage. You can fill empty spaces with peanuts, linens, or old t-shirts.
Once packed, label each box with its contents and the room it belongs to. It will help you stay organized. Remember to check any customs regulations of your destination country to avoid prohibited items.
Also check out: The best way to Pack for an international move
Look for housing
Finding a home overseas requires research, planning, and due diligence. It would help to familiarize yourself with the local real estate market and legal requirements. Consider finding a real estate agent experienced in dealing with international clients; it can be a major asset.
Additionally, it's beneficial to use online platforms like I-Housing.com to find listings and information about potential properties. Understanding and preparing for costs, such as utilities, property tax, insurance, and maintenance fees, is crucial.
Notify relevant parties about your move
There are many things to plan when moving overseas, including notifying various parties about your overseas move. Here's a list of the most important parties you'll need to contact when making an international move:
Postal service

Utility companies

Financial institutions

Insurance providers

Employer

Government agencies

Health care providers

Schools

Membership/Subscriptions
Remember to plan and give these parties ample notice to ensure a smooth transition and minimize disruptions. Additionally, consult the specific requirements and procedures of your destination country, as there may be additional parties to contact or government-related formalities to address.
Top International Moving Companies of the Year

Here is a table of the top International Movers from the US. Ratings are based on Years in Business, Reputation, and Customer Reviews.
Travel arrangements while organizing for an international move

Planning and preparing in advance is the best way to organize yourself for an international move; travel arrangements are something to consider. Generally, plan your flights and accommodations three to six months in advance. It will give you ample time to organize the logistics, including visa application, housing, shipping, and finding better deals.
However, the timeframe can vary depending on the destination country and their requirements, time of year, and your circumstances. Regardless, beginning as early as possible ensures a smooth transition to your final destination.
Read Here: How to prepare for an overseas move
Book a moving date with your international moving company
Ideally, you should book your moving date two to three months before your move. Many complexities are involved in arranging an international move, such as service options, customs regulations, planning, and coordinating.
Booking your move date early will give the international moving company enough time to organize your move efficiently, accommodate your preferred moving dates, and provide you with peace of mind.
Remember that summer is the peak season for the international moving industry, so booking your move date in advance is ideal.
Let your friends and family know about your move
Before your big adventure, you should contact your friends and family. Sharing the important decision of moving overseas will inform them of your whereabouts and allow them to provide support and stay in communication with you.
Information in advance allows for proper planning and helps maintain strong relationships. Your family and friend will appreciate being kept in the loop and will want to stay involved in your life.
Organize yourself for an international move (Conclusion)
The best way to organize yourself or an international move is to start planning and preparing early. Ensure you gather all necessary documents to secure a visa and housing. Moving overseas should be exciting; the earlier you start planning, the smoother things will go for you.
International Van Lines is an international moving company that offers ocean and air shipping services. Whether you need advice on steps to get yourself organized or if you're looking for an international moving quote, give us a call!
Good luck with your adventure, and we look forward to speaking with you soon.
More about International Van Lines