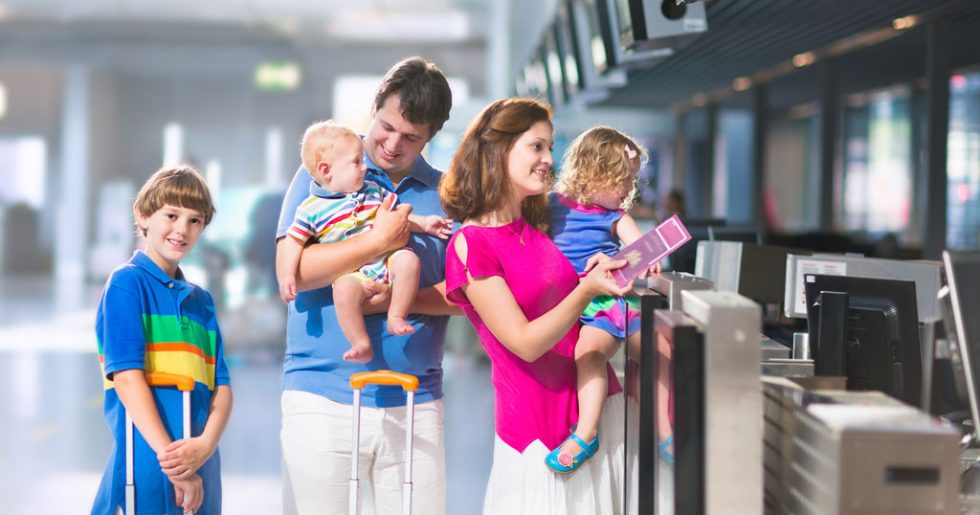 Moving Overseas from the US? Here is everything you need to know about moving overseas
Preparing for an international move can be nerve-wracking. There's so much to consider, from researching your destination country to finding your perfect match to visa requirements, expat communities, cost of living, language barriers, and more! To make your life easier and your international move more structured and successful, we've created a moving checklist with everything you need to keep in mind moving forward.
1. Preparing for Your Overseas Move from the US

Deciding you want to relocate abroad is just one piece of the puzzle. Many of our movers are surprised when we say the planning starts months before they hire us. You want to start with some foundational steps that will help ensure everything throughout your move goes smoothly.

Research the Destination
Picking a random country on the map isn't enough. You want to take the time to research the destination of your dreams truly. Ask yourself:
How easy is it to get a visa there?

How will your personal life and support system be affected due to the move?

Can you afford the cost of living in the cities you're interested in?

How capable or willing are you to learn a new language?

Is there a strong job market for your profession?

Is that country a good option for retirees?

How friendly are people there to expats or immigrants?

How similar or different cultural customs and cultures are from your home country?
The answers to these questions will help you narrow down your search.
Create a Moving Budget before moving overseas from the US

Creating a moving budget means accounting for all (or at least most) expenses, such as:
Visas and other legal fees

Customs and taxes

Airfare

Accommodations abroad
Apply for a Visa and Get the Necessary Documents
The process of applying for a visa changes from country to country, so you'll need to thoroughly explore the specifics before deciding which type of visa is best for your situation and needs. While many countries have resources outlining the visa types, you may consider hiring a lawyer to help with the process.
Furthermore, you need to start collecting the necessary documents, including:
Passport

Financial statements

School records

Health records

Driver's license

Child custody papers (if applicable)

Proof of health insurance

Marriage or divorce certificate

Pet vaccination records (if applicable)
To inform yourself about the process for your destination and plan accordingly, you may benefit from hiring an immigration professional.
Look Into Housing Options
Once you've secured a visa and already have a moving date, travel to your destination country beforehand (one or two months earlier) and house-hunt until you secure a home. Another option is to secure short-term accommodations like Airbnb and other rentals while you get settled and seek long-term housing.
Top Moving Companies for Moving Overseas from the US

Here is a table of the top International Movers for moving overseas from the US. Ratings are based on Years in Business, Reputation, and Customer Reviews.
Organize Your Finances
Sorting out your finances is complex and highly dependent on your home country, but the least you should do is handle your bank account and taxes. Visit your bank's local branch and explain your situation to a consultant. They will advise you on structuring your bank accounts to operate overseas.
Second, sort out your taxes. Depending on where you live, you may be legally obligated to pay taxes to your home country from abroad and your new country. This is a complex process, so it's best to work with your accountant to ensure you don't pay double.
Read More: The Best Way to Organize Yourself for an International Move
2. Arranging Your Move
Once the research is complete, it's time to start arranging your international move. You should start this process six months before your ideal departure date; even better if you start planning a year before your move.
Explore Shipping Companies
You want to hire an international moving company with a track record and experience moving people from your country to your final destination. Many moving companies offer international shipping services, but not all of them have a support network abroad.

Shop around and narrow your choices to three moving companies. From there, pick the one that doesn't necessarily offer the best pricing but one that serves your needs best. Remember, the best international moving companies offer full-service options, insurance, and support throughout the process.
Read Here: Tips for Raising a Family Abroad
Choose Packing and Unpacking Services
Packing for an international move is different from packing for a local move. For starters, there may be items that you can't bring to your new country. Then, you have to consider the shipping method to determine the best way to pack. For most items, you can DIY-pack things like clothes and essentials. But if you plan to ship furniture and specialty items, you must work with professional movers.
Read Here: Items Prohibited when Moving Overseas
Pro Tip: Choose a company that offers unpacking or door-to-door services abroad so the movers can furnish your new home abroad.
Schedule a Moving Date
The packing and moving dates depend on your visa timeline, lease agreements, the shipping company's availability, school years, and more. Try to set a moving date that works for you and your family. Remember, the moving date doesn't have to coincide with your travel dates. Shipping can take two to four weeks, depending on where you're relocating. Coordinate with your international moving company to set the best date.

3. Finalize Your Move
Once you've set the date, it's time to complete last-minute paperwork and processes. You should start this checklist three to one month before your departure date.
Read Here: A Guide to Understanding International Moving Quotes Online
Close Financial Accounts
Check bank accounts, credit cards, store cards, and subscriptions. You want to start closing all accounts you won't be using abroad. This will help you save on international fees, late payments, and other financial penalties.
Schedule Utilities Shut Off
Call your utility company to schedule a shut-off date. Again, don't schedule your shut-off for the same day of your departure, as you still want water and electricity. Schedule it for the date after your departure and double-check reports to ensure you don't get billed after the shut-off date.
Redirect Your Mail
Now, you have to decide what to do with your mail. If a family member or friend is willing to receive your mail, contact USPS to redirect it to their address. Another option is to get them to mail you to a P.O. Box.
Additionally, some companies redirect your mail overseas. However, these are usually third-party companies. In any case, you can also direct USPS to send mail to a designated address; this other company will redirect the mail to you abroad.
Make Travel Arrangements
Since you're relocating to a new country, your travel arrangements involve much more than getting a plane ticket. You want to visit a doctor to ensure you're up-to-date with vaccinations and health checks. Also, ensure you have copies of all necessary documents and visa paperwork. And arrange for transportation abroad.
Know More Here: Moving Overseas using International Air Freight
Make Arrangements for Your Pets
Moving a pet abroad is complex and costly, as regulations and restrictions vary depending on the species and destination. Research the requirements by checking with the country's Department of Agriculture (which generally oversees animal transit) while considering the types of animals permitted, required tests and vaccinations, and whether you'll need a microchip for identification and tracking.
Gather all legally-required documents like photos, health certificates, and import permits, and determine if your pet will undergo mandatory quarantine. Finally, explore pet transportation methods through regular airlines or specialized pet transportation services.
Moving Week Checklist
The last week before your move will feel hectic and overwhelming. A printed checklist of what to do will help ensure you don't miss any important steps.
One Week Out:
Decide which personal items you want to pack yourself and put them aside.

Identify valuable items of jewelry and personal things and pack them carefully.

Double-check your plane tickets, hotel reservations, passports, and documents.

Double-check your inventory and keep a copy.

Clean your old place, starting with the rooms you don't use.

Defrost the freezer and clean the fridge.

Arrange for someone to look after your children and pets on moving day.

Confirm all moving details and paperwork.
Moving Day:
Do a final walk-through of your old place (check closets, cardboard, and cabinets)

Plan to be at home when the movers arrive.

Sign the Bill of Lading and inventory paperwork.

Sort all your keys into two bunches: your new ones and your old ones.

Pack a "survival kit" of everything you'll need when you arrive.

Organize with neighbors to leave enough parking space for the moving trucks.
Post Move Checklist
It's time to set up and settle into your new home abroad. There's a lot to complete, and hopefully, you hired door-to-door services, as we recommended to help make the post-move process easier.
Check your inventory copy to ensure all items arrive.

Unpack your belongings. Start with essential items.

Check the utilities in your new home.

Donate, recycle, or repurpose packing materials.

Get some rest. You did it!
Know More Here: How to Make an International Moving Checklist
Making A Long-Term Checklist Ensures A Successful Move
Creating an organized checklist and sticking to it long-term will ensure a smooth transition as you settle into a new country with new life opportunities ahead of you. With proper planning and organization, your international move will be more manageable.
Read Here: How to find the best International Movers in minutes
Reach out to International Van Lines today, and let us assist you in taking the first step toward a successful and memorable international relocation. Our dedicated team will provide guidance and support throughout the entire process and take care of crucial tasks such as secure packing and handling customs procedures.
With our assistance and your well-prepared checklist, you'll be prepared to embrace the opportunities and excitement in your new home.
More about International Van Lines